Streaming steams ahead: streamed TV doubles over the past year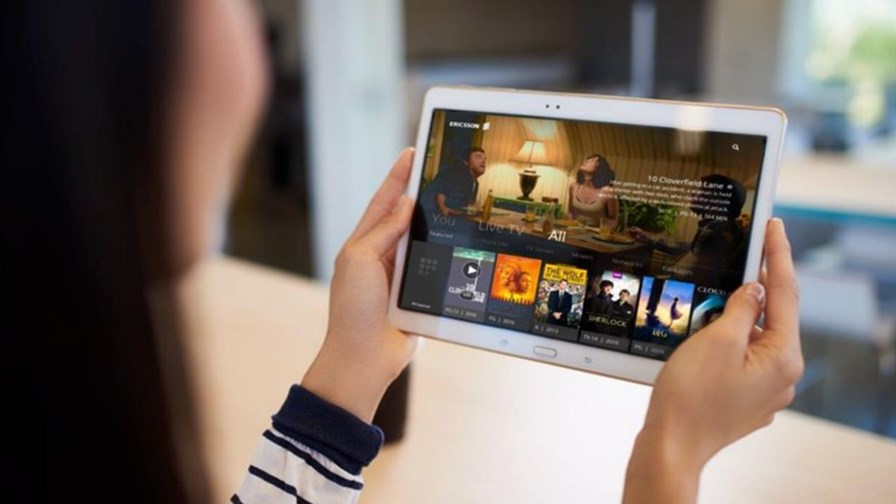 Apps dominate in the streaming domain, browser-based watching not so much

Viewers are ditching PCs for mobiles and connected TVs

Market further boosted by diversity of viewing devices
Conviva, a company which measures streaming on the network, has released its latest quarterly global report. It claims it currently measures most of the world's big video streaming platforms and boasts that its activities make it the largest multi-publisher, independent census data collection and measurement network in the world.
Conviva's platform enables the participating players to 'benchmark' their video performances against their peers, or rather an anonymised statistical representation of their peers. As a video streamer you get to know in minute detail your own stats, but you're only told your performance ranking rather than exactly who is better, worse or the same as you. This gives you an ability to work out where you might want to improve your metrics and thus burnish your customer experience.
It's a good way of ratcheting up performance across a sector. But it also yields some interesting general stats on how the market is performing. According to Conviva, all-screen streaming is steaming ahead.
It identifies three trends it thinks most important:
The growing appetite for streaming TV has seen consumption more than double over the last 12 months
A trend that we highlighted once before has continued: a shift to mobile and connected TVs, away from PCs, especially for short form content. Long form content has swung decisively to large screens and connected TV.
At the same time stream quality has improved greatly, says Conviva.
Conviva says its stats indicate that apps dominate in the streaming domain, while browser-based viewing is on the retreat. It claims this supports the theory that app-based environments offer a better user experience as compared to browsers. Nevertheless, viewing hours (31%) are growing slightly faster than plays (19%) within browsers while the opposite is true with apps (127% vs 159%).
This is likely due to the broader scope of short-form content and search capabilities available on the web versus the limited catalogs and app-specific searches on video-centric apps. Thus, publishers will want to continue to support their browser-based experiences, which offer a critical path for many viewers to explore and try new content, it says.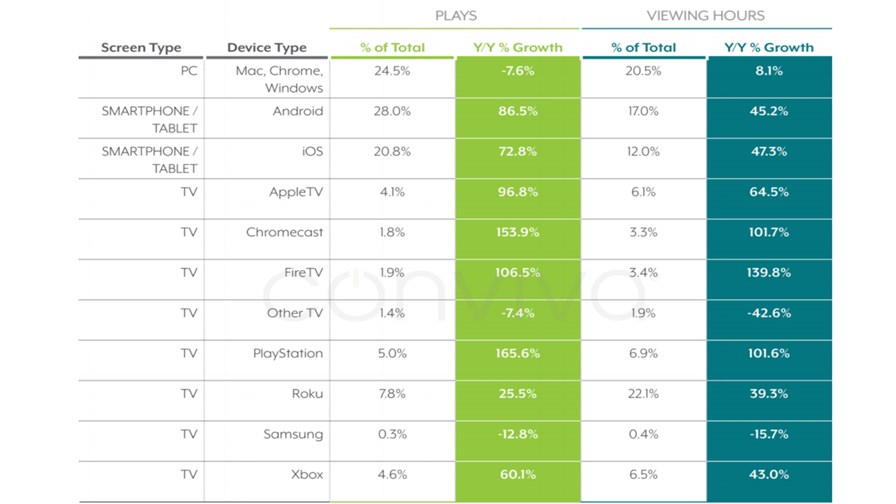 Plays and Viewing hours by Device in Q2 2018
Another boost for streaming TV is the growing diversity of viewing devices. Conviva classifies devices into three groups: mobile (smartphone & tablet), desktop computers (PCs), and TVs (internet-connected TV devices that allow streaming).
It says that overall, all groups experienced growth except PCs which saw a decline in plays, but not in viewing hours. In terms of share of total plays, mobile devices lead the way with 49% of all plays, followed by TVs and PCs at 27% and 24% respectively. Among connected TV platforms, Roku remains a leader with nearly 8% of all plays, while Sony's PlayStation Vue and Google's Chromecast experienced the fastest YoY growth, both with more than 150% increases.
Conviva claims that when breaking down the same classification by viewing hours, mobile only accounted for 29% of the total, while TVs and PCs accounted for 51% and 20% respectively. This highlights how consumers continue to prefer a larger screen to consume long-form episodic content and movies. When considering viewing hours instead of plays, the shift away from PCs is less drastic.
Email Newsletters
Sign up to receive TelecomTV's top news and videos, plus exclusive subscriber-only content direct to your inbox.