From MPEG to open source: will telcos get the video codec they need?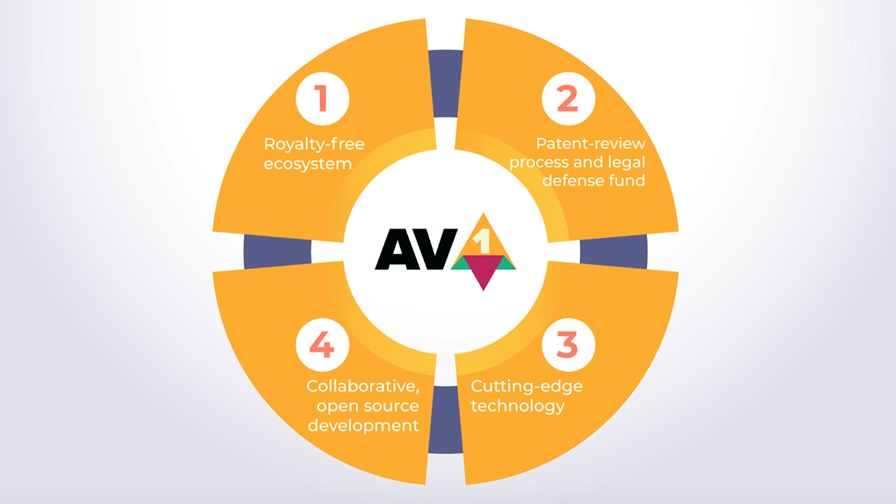 New video codec optimised to meet the rising growth in online video traffic
AV1 codec is royalty free and open source
Members include Amazon, Apple, Facebook, Google, Intel and Netflix
First players on show this week at NAB broadcast event in Las Vegas
As the NAB broadcast show gets into full swing in Las Vegas, expect to hear plenty of news about the continued convergence of telecoms and broadcast (the longest engagement of all time, with still no marriage date set…) in terms of back-end IP production pipelines, online delivery and mobile consumption. One of the more interesting announcements pre-show concerned the development of online video players.
For many years, we have been using the tried and tested MPEG standards for online video delivery. Yes, it works, but at a price. For a start, the codec is subject to IPR royalty payments, plus it has arguably not evolved rapidly enough to support the new needs of the telecoms industry – with video consumption showing no sign of slowing down, telcos need a far more efficient pipeline.
This is a problem being addressed by the Alliance for Open Media, a group dedicated to developing and promoting an open source alternative under the Joint Development Foundation non-profit organization. Its founding members include Amazon, Apple, Facebook, Google, Microsoft, Intel, IBM, Cisco and Netflix, and "promoter members" include the BBC and CableLabs along with many others.
In time for NAB, the alliance has launched the AOMedia Video Codec 1.0 (AV1) specification, which it describes as an open-source alternative technology for delivering video over the internet. "AV1 will be a game changer," according to the alliance's news release. "It represents a shift in the balance of power in online entertainment that challenges traditional business models and enables innovation in social video, mobile video, VR and online TV – all without having to pay historical IP owners."
AV1 has been three years in the making and promises to deliver cross-platform, 4K UHD or higher online video, royalty-free and with lower data usage. Unlike the MPEG specifications, which were first created to encode video for optical CD and DVD discs and then enhanced to support wider use cases, AV1 has been built specifically for internet video.
"The AV1 codec addresses real bottlenecks for unleashing the highest-quality video for the entire ecosystem, allowing for better viewing experiences across all screens and data networks," said AOMedia Executive Director Gabe Frost. "By listening to the industry's feedback in an open and collaborative manner and bringing together leading experts to develop AV1, an entire ecosystem can begin creating video products and experiences that customers love."
The alliance says the new codec will deliver 4K UHD video at an average of 30 per cent greater compression over competing codecs according to independent member tests. It will also be available as an open-source codec, scalable to any modern device at any bandwidth. The AV1 releases includes a bitstream specification to enable the development of new silicon; an unoptimized software decoder and encoder to create and consume the bitstream; reference streams for product validation; and a set of binding specifications to allow content creation and streaming tools for user-generated and commercial video.
"We expect that the installed base of 4K television sets to reach 300 million by the end of 2019 and therefore there is already latent demand for UHD services over today's infrastructure," said Paul Gray, Research Director at IHS Markit. "AV1 will be widely supported across the entire content chain, especially including services. We forecast rapid introduction of AV1 content delivery to help the widespread proliferation of UHD streaming."
Browser adoption
Alliance member Bitmovin has already announced a supporting video player, the Player v8, which it describes as a totally modular and customised player that allows service providers to select the exact functionality they need for their networks and content, reducing the typical time load time on a HTML page by up to one second. It says a customised player can be up to 75 per cent smaller than a fully loaded player (i.e. one containing multiple functions such as ad insertion, DRM, Flash support etc).
Based on HTML5, Bitmovin's modular player can run on any platform, from smart TVs to set-top boxes, games consoles, smartphones and desktop. The player supports any video content, including High Dynamic Range (HDR) and 8K.
"The new royalty-free codec AV1 will be a game changer, enabling a huge array of companies to deliver services without payments to historical intellectual property owners," said Stefan Lederer, CEO and co-founder of Bitmovin. "This creates healthier competition and supports innovation in social media, online or mobile video, or next generation experiences such as 360 video, AR and VR."
However, it's still early days for AV1. It is hoped that this year the codec will be used by content creators and desktop browser support will commence (it would appear that all the major browser owners are involved in the Alliance), and that next year will start to see hybrid software and silicon implementations. But it will be 2020 before AV1-enabled devices will become available on all modern silicon.
Email Newsletters
Sign up to receive TelecomTV's top news and videos, plus exclusive subscriber-only content direct to your inbox.