Vodafone says 76% of companies believe IoT is critical to future success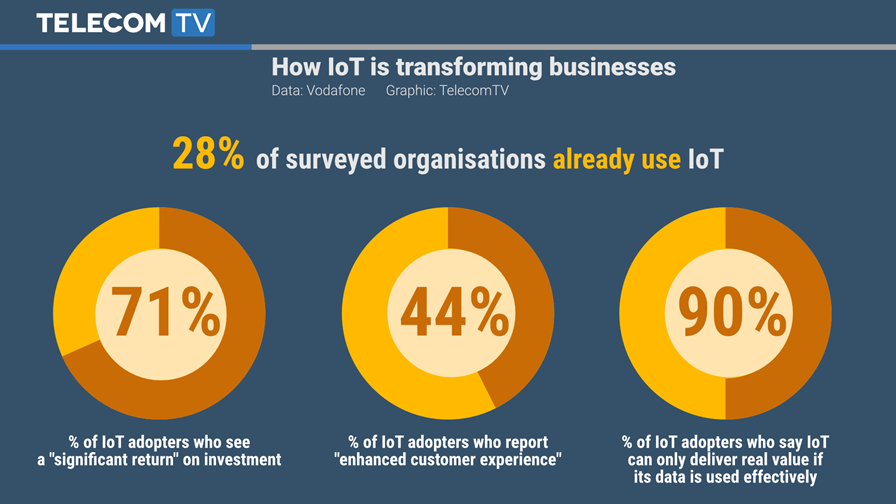 IoT investment accounts for 24 per cent of the average IT budget
Vodafone believes 2016 is the year the IoT entered the mainstream
46 per cent of companies intend to develop new IoT-based products and services over the next two years
Vodafone has published its fourth annual IoT Barometer Report, appropriately renamed from the previous M2M Barometer Reports, to gauge business sentiment regarding innovation and investment in the Internet of Things. The survey was conducted by Circle Research in April and May this year and involved more than 1,096 companies (from small businesses to large multinationals) across 17 countries and nine major industry verticals
"Three-quarters of the companies we interviewed now recognise that the Internet of Things is a new industrial revolution that will change how people work and live forever," said Erik Brenneis, Vodafone Group IoT Director, "and almost half the companies surveyed across multiple countries and sectors told us they're already planning to bring connected network intelligence to millions of devices and processes over the next two years. 2016 is the year the Internet of Things entered the mainstream."
Highlights from the report include the following nuggets of information:
89 per cent of companies investing in IoT have increased their budgets over the last 12 months;
76 per cent of all companies interviewed believe that taking advantage of IoT technologies will be critical for the future success of any organisation;
63 per cent of IoT adopters are seeing "significant" returns on investment, up from 59 per cent in last year's Report;
IoT investment now accounts for 24 per cent of the average IT budget, on a par with cloud computing or data analytics.
The report also found that IoT technologies play an increasingly important role in mainstream business activities in a growing number of companies. For example:
48 per cent of companies interviewed are using IoT technologies to support large-scale business transformation, rising to 61 per cent in the Asia-Pacific region;
52 per cent of consumer electronics companies interviewed are using IoT technologies as the basis for a new generation of applications for connected homes;
46 per cent of all companies interviewed said they intend to develop new IoT-based products and services over the next two years.
Vodafone believes that within the next two years, the majority of businesses will be using IoT and that the mere use of IoT will no longer be a differentiator. IoT will increasingly be treated as indistinguishable from business processes; it will be part of the fabric of the organisation. The telco expects business-led approaches to procuring and managing IoT will dominate, in order to drive measurable business results and more effective governance. At the same time, it expects that IoT, cloud, mobile and analytics will increasingly be conceived of and purchased together as elements of an integrated solution.
"Enterprises rolling out IoT initiatives within their organisations must set tight parameters around what they want to achieve and what success looks like," said Matt Hatton, CEO of Machina Research and contributor to the report. "Deploying IoT is complex and enterprises would benefit from having a third party not only to pull together the various elements of the proposition but also to act on their behalf in areas such as security, privacy and data management."
You can download the free report here.
Email Newsletters
Sign up to receive TelecomTV's top news and videos, plus exclusive subscriber-only content direct to your inbox.