Verizon believes that IoT may mark the end of "Big Data" as we know it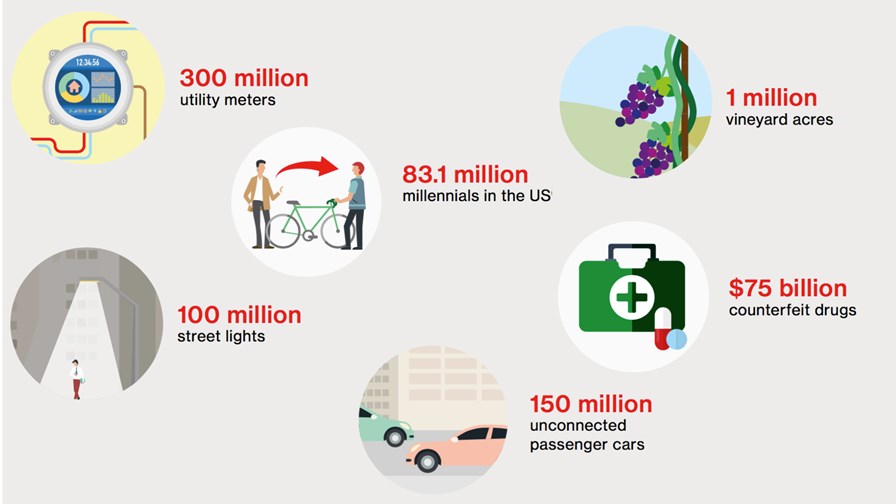 Opportunity for revenue growth biggest factor driving IoT adoption
Only 8 per cent of businesses are using over 25 per cent of their IoT data
CAGR for worldwide IoT market of 17 per cent to 2019
Energy sector experienced biggest annual increase in IoT connections
The Internet of Things (IoT) is now mainstream, according to a new report released yesterday by Verizon. To support this bold statement, it cites an addressable market that includes more than 150m cars that are not currently connected, over 300m utility meters, nearly 1m vineyard acres and 45m people sharing goods and services in the US alone. Yes, vineyard acres, that globally recognised unit of IoT deployment…
Throughout 2016 and beyond, Verizon says that IoT will continue to be a revenue driver for businesses. It says that in three to five years, average consumers will experience a much higher level of automation in their daily lives through the ability to engage with IoT applications through a more simplified interface. Even today, according to the report, 81 per cent of IoT adopters in the public sector believe that their citizens increasingly expect them to offer enhanced services from data and IoT.
The report finds that the worldwide IoT market spend will grow from $591.7 billion in 2014 to $1.3 trillion in 2019 with a compound annual growth rate of 17 per cent. The installed base of IoT endpoints will grow from 9.7 billion in 2014 to more than 25.6 billion in 2019, hitting 30 billion in 2020.
In terms of network connections, Verizon calculated that the energy and utility sector saw the biggest growth from 2014 to 2015, with a 58 per cent increase in connections. Home monitoring was second with 50 per cent, closely followed by transportation with 49 per cent.
The new IoT economy
"The view has been that IoT is a mashup of complex technologies used only by early adopters," said Mike Lanman, SVP IoT and Enterprise Products at Verizon. "In the past year, we've seen compelling examples of how IoT is being deployed by a wide-range of enterprises, entrepreneurs, municipalities and developers to address relevant business, consumer and public needs. Meanwhile, consumers are more willing to try new technologies and apps that introduce a better way of life. The end result will not only give rise to thousands of new use cases over the next two years, but will also create an accelerated pipeline for innovation and a new economy."
Data monetisation will become a required competency, says Verizon, with nearly 50 per cent of businesses expecting to use more than 25 per cent of their data over the next two to three years. However, currently only 8 per cent of businesses are using over 25 per cent of their IoT data. Data analytics will help with this necessary increase, as they evolve from descriptive data collection to a more sophisticated model of predictive and prescriptive data analytics and as industries seek to derive meaningful insights to benefit their customers.
Interestingly, Verizon predicts that there will be a major shift from "big data" to domain experts. As virtually all industries will be inundated with a deluge of IoT data, contextualising that data for different kinds of businesses will become crucial. So along with analytics capability, subject matter expertise will be an increasingly critical component of IoT platforms and the overall IoT ecosystem.
The end of Big Data as we know it? Or rather, the next logical evolution of Big Data, as sector experts bring their expertise to data modelling and the creation of algorithms that go into predictive and prescriptive analytics. As we know, IoT is about far more than devices – data, and understanding and using that data, is what will drive the commercial success of IoT.
Email Newsletters
Stay up to date with the latest industry developments: sign up to receive TelecomTV's top news and videos plus exclusive subscriber-only content direct to your inbox – including our daily news briefing and weekly wrap.