UK takes steps to help the development of the IoT sector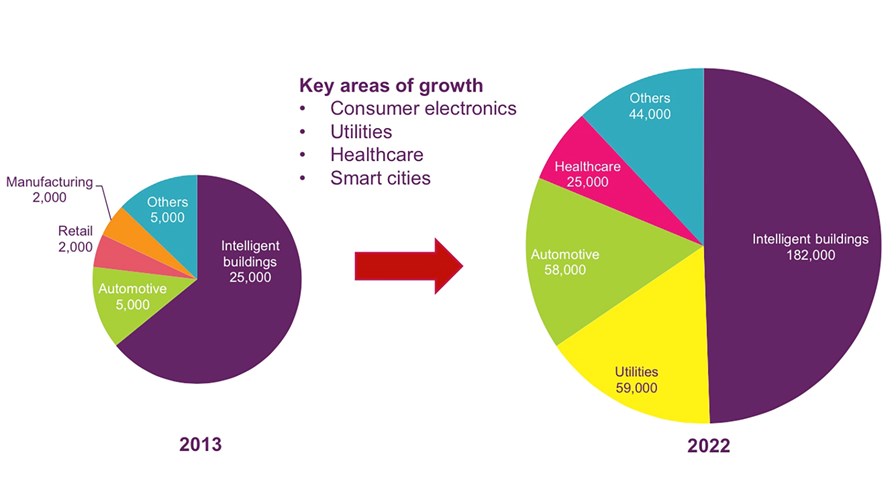 Telecoms regulator Ofcom wants to ensure that the UK plays a leading role in developing the Internet of Things (IoT), by creating a regulatory environment that will stimulate investment and innovation. To achieve this, Ofcom intends to work with the government and industry, calling on interested stakeholders to get in touch.
It says that there are already over 40 million devices connected via the IoT in the UK alone, and this is forecast to grow more than eight-fold by 2022 to 360 million devices and more than a billion daily data transactions. Whether or not we achieve the much-hyped figure of 50 billion devices or more within five years is a moot point, but what is certain is that service providers will have to operate and manage a vast number of relatively low powered connected devices, each requiring access to spectrum.
Last year, Ofcom released spectrum for M2M use, making the UK among the first countries in Europe to do so. It authorised the use, through licence exemption, of 870-876MHz and 915-921MHz for short range devices. It also noted some IoT devices could make use of the spectrum at 2.4 and 5GHz, which is used by a range of services including Wi-Fi.
However, Ofcom believes that as the IoT sector develops there may be a need for additional spectrum in the longer term, in particular below 1GHz. It will therefore continue to monitor IoT spectrum utilisation, in particular in licence exempt bands, to help identify when additional spectrum may be needed.
For now though, it has identified several priority work areas following input from last year's industry consultation process. These are:
Spectrum availability: Ofcom's analysis has shown much of the IoT's short to medium-term spectrum demands are met with current initiatives. That said, Ofcom will continue to monitor the IoT's spectrum needs to help identify when additional spectrum may be needed.
Data privacy: protection of individuals' personal information is a key part of the development of the IoT and will be covered under existing legislation. However, Ofcom believes that traditional approaches to data privacy may have limitations in the context of the IoT, and so it will explore specific solutions to data privacy issues in the IoT.
Network security and resilience: This, together with data storage, will become increasingly important, and so Ofcom will investigate how its existing activities on security and resilience of the UK's networks can include IoT.
Network addressing: IoT services will likely use bespoke addressing systems or addresses based on IPv6. To support this, Ofcom will continue to monitor the progress being made by ISPs in supporting IPv6 connectivity.
"The Internet of Things will bring benefits to a range of sectors and could change the way we live our lives," said Steve Unger, acting Chief Executive of Ofcom. "As a result of this growth, we have listened closely to industry and want to develop a framework for this technology to evolve in a way which will ultimately benefit citizens and consumers."
Ofcom's report is available to download here.
Email Newsletters
Stay up to date with the latest industry developments: sign up to receive TelecomTV's top news and videos plus exclusive subscriber-only content direct to your inbox – including our daily news briefing and weekly wrap.