They used to say "Change is inevitable, except from a vending machine". Not any more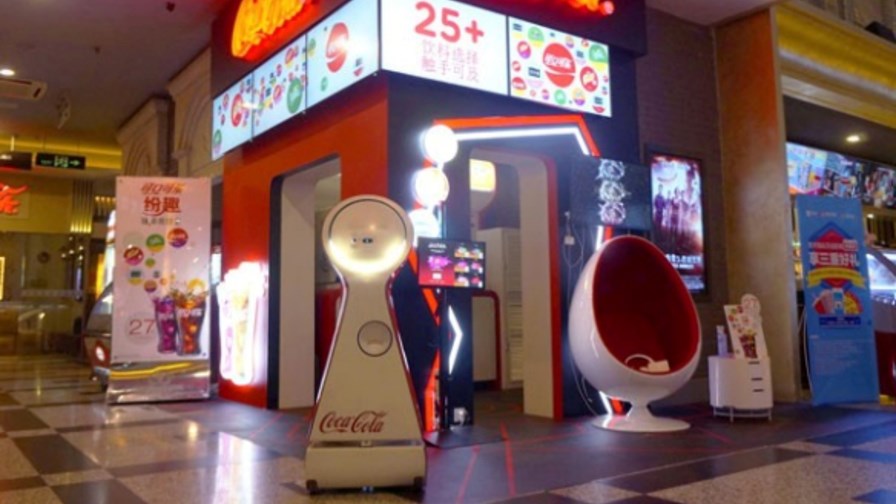 IoT-attached intelligent vending machines are changing the face of retail
Vending machines have been around for 100 years – they were tough but dumb!
Now Coca Cola's state-of-the-art "Freestyle" machines connected via 16m IP addresses – and that's just the start
Smart networked vending machines are now "The New Retail Centre"
As far as the general public is concerned, in the near future one of the most striking and commonplace examples of the proliferation of IoT will be the rise and rise of the intelligent networked vending machine. Soon, ubiquitous, smart, connected vending machines capable of continuous monitoring of inventory and of understanding and acting on changing consumption patterns will permit the industry and individual companies quickly to introduce new products and customised services by making use of virtualisation, the Cloud, big data and smart payments.
Those of you who have visited the Coca Cola museum in Atlanta, Georgia, in the US, will have seen examples of the earliest vending machines. Installed in drug stores across America more than a century ago now, the big, heavy but remarkably secure machines provided access to cooled bottles of the fizzy beverage and were so robust that many of them stayed in use for well over 50 years.
Coke vending machines are now in situ across the globe, but the difference is that the latest iterations of them, the Freestyle vending machines in place in the US and the UK, are interconnected via 16 million IP addresses that allows the parent company not only to identify, trouble-shoot and manage each machine but also to undertake real-time test marketing of new or adapted products and also to monitor trends and changes in the popularity of different brands of drink and snacks.
What Coca Cola wants to do (along with many others in the vending machine sector) is to move it on beyond the (comparatively) simple matter of dispensing drinks and snacks and so develop what is being called "the new retail centre".
That's why, these days, it is possible to buy from a smart vending machine a massive range of goods and services ranging from the "traditional" drinks and food through to clothing, office supplies, medicines and over-the-counter drugs, computer and mobile phone accessories, tickets and even hot meals.
Japan has long led the way in terms of the sheer variety of hot and cold drinks and snacks that can be dispensed from a vending machine but plucky little Belgium (the place that recently was effectively without a government for getting on for a year without much of the population knowing or caring about it) has been dispensing the national staple food (frites), freshly fried and piping hot from street vending machines for quite a while now. Sure, the street furniture catches fire now and again but that's all part of the fun, and the chips themselves are pretty good if sometimes a bit singed around the edges.
Out with the old, in with the new and the weird
The traditional vending machine sector is on its last legs. The choices of goods available from the dumb machines are limited and maintenance and repair is a constant bugbear and costs the companies a fortune in engineers and truck rolls. And when old-fashioned style vending machines do fail (and they certainly do) they will often be out of action (and even more liable to vandalism) for a week or more.
Coke, Pepsi and others, tapping into the zeitgeist as they do and must, are aware that Generation Z (and whatever comes later) are steeped-in and more-or-less permanently attached night and day to mobile comms devices. Thus, the focus is increasingly on attracting and keeping their attention via gamification and geo-fencing - and this is something companies with a big stake in the vending machine sector are finding so difficult that they, like others entering the brave and strange new world of virtualised networks comms, are looking for help, collaborations and partnerships from telecoms and IT operators and service providers.
Market evidence from North America and the UK shows that virtualisation and the Cloud allows smart vending machine operators to increase sales via promotional strategies such as vouchers, coupons, gifts, dynamic pricing and consumer loyalty programmes and clubs. That approach, combined with new machines featuring touch-screen controls, video, audio, rich graphics, gesture-based interaction, cashless and contactless payment and even the dispensing of (allegedly) alluring scents to entice punters to use the machines is changing the face of the vending industry.
Never slow to spot and exploit an emerging opportunity, Intel has already introduced its own Reference Design for Intelligent Vending, that it describes as a "scalable and flexible solution that quickly and cost-effectively adds intelligence to vending machines by enabling them to connect to the Internet."
Intel's estimate is that there will be over 2.7 million intelligent, networked vending machines in use around the world by 2020 and that the number will increase spectacularly in the five years thereafter.
The US and the UK lead the way at present with Europe not far behind but, in the long run, the Asia-Pacific will be the fastest growing market with a projected compound annual growth rate of more than 15 per cent expected by 2020.
A five-point plan for the future? Please put your money in the slot
In essence the case for intelligent, IoT-networked vending machines has five main clauses, which, taken together, can result in an enhanced user experience, improved revenues and greater profitability. They are:
Digital content delivery whereby intelligent software solutions deliver digital content to every screen of a vending system. Thus the machines become digital billboards displaying customised content including video, games, advertising and special offers on a touch screen. Machines so enabled are best placed and most effective at sites such as stadia and cinemas where there is high passing traffic and footfall and prices are very considerably higher than they are on the street outside. Putting the machines in places like that lets the industry make what it likes to call "an immediate connection with consumers" and enables brands to "reach unique audiences in a timely manner and allows the brand to remotely manage messages in real time and launch customised content dynamically", which, "helps generate new sources of content and advertising revenues that can be distributed between the machine operators, the venues or any entity that controls the facility where the machines are stationed." In other words, "This is how you maximise returns from a captive audience who will have to pay over the odds because of where they are."
Smart payments via NFC, credit and debit cards and mobile apps. The Coca Cola Company has developed its own "cashless gateway" that reduces its transaction costs and "increases control" over payments. Google is doing something very similar and many others are sure to get in on the act as smart vending machines proliferate.
Social commerce. This is shorthand for brands being better able to "engage" with customers in a "personalised way" where consumers use smartphones to "identify themselves, build profiles, connect to their social networks, play social games and receive promotions and tailored advertising" as well as using "gifting" processes and apps to send presents to friends and family. When "gifters" give a present, what they actually do is, via their social media accounts, provide the vending company with even more free personal data (on themselves and the intended recipient of the "gift") that will allow the vending machine to send a notification message to that friend or family member, along with a code that allows the recipient to pick up the gift at a participating vending machine. Whoopee! eh? A corollary of this is the aforementioned "gamification" which is a basically a ploy to get consumers to check-in and interact, thus "increasing overall user engagement" and, of course, sell more stuff.
Inventory management is a rather less cynical capability flowing from the spread of intelligent vending machines as connected platforms that permit manufacturers and distributors to track shipments to distribution centres and on to an individual vending machine. Inventory management also collects consumer data from the machines to allow companies to track and monitor usage and sales trends by geography and time of day and year and remotely to troubleshoot system problems. The program combines service and stock alerts with sales data so that service engineers can be sent to the most profitable machines first.
Enabling savings to be made on maintenance and energy. Specialist device management apps permit vending machine owners remotely to identify, diagnose, and repair machines whilst the latest in controllable cooling technologies can result in big savings on energy bills.
What you can buy and where you can buy it
Among the more exotic and/or strange items and services that are now available from smart vending machines in place in various parts of the world are:
Hot mashed potato (with or without gravy). Yum! (Singapore)
Poetry pamphlets (pretentious or potentially potent) (Vancouver, Canada)
Sexaids. (South Korea)
Duplicate keys (Dodgy in so many ways) (across the US)
Ginseng eyedrops (Shanghai, China)
Fresh eggs (The Netherlands and Romania)
Ballet shoes (a very strange one that) (Australia and the US)
Cupcakes (sticky, sugary and fattening) (Chicago, Dallas Los Angeles and Washington DC)
And, talking of cupcakes, in Japan it is possible to buy a bra from a vending machine. (So handy for that unexpected moment)
And finally, let's not forget that once upon a time (back in the 1950s and 1960s actually) vending machines sited on railway station platforms across Britain used to sell the Reader's Digest to the somewhat-literate about to undertake the dreadful rigours of a train journey across Blighty. Happy Days.
Email Newsletters
Stay up to date with the latest industry developments: sign up to receive TelecomTV's top news and videos plus exclusive subscriber-only content direct to your inbox – including our daily news briefing and weekly wrap.