The connected washing machine? Well that's a load off my mind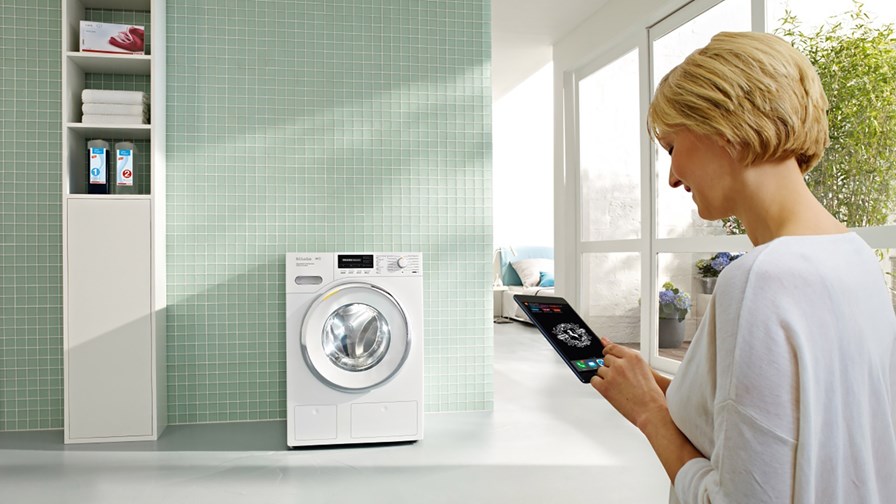 Deutsche Telekom partners with Miele
New solutions and members for the QIVICON platform
Samsung on openness, collaboration and the human approach
Updates SmartThings Hub and services
Trend spotters take note: the latest buzz product for the ever-increasing IoT sector appears to be the connected washing machine. Yes, step aside connected fridge, you were cool once but now need to go and defrost for a while. Today's connected white goods champion is the washing machine.
At the IFA consumer technology geek-fest in Germany this week, both Samsung and Deutsche Telekom made announcements around the once-humble washing machine. Because after all, using a washing machine is a very difficult and arduous task that is just crying out for the IoT treatment. Oh dear, I believe the end of the world is nigh.
Home team advantage here goes to Deutsche Telekom, who has collaborated with high-end and high-priced manufacturer Miele to demonstrate a washing machine with a "connected detergent dosing system". The machine operates with a dual-phase liquid detergent in replaceable cartridges, so that when the detergent in one of the cartridges gets low, an app sends a message via the home's WiFi router to the user's smartphone so that they can order refills. See how easier washing becomes when you use the power of IoT?
According the Deutsche Telekom, "nowadays, housewives and househusbands still usually fill up the liquid or powder detergent in their washing machines by hand". Leaving aside the notion that domestic chores are all done by one half of a partnership, presumably whilst the other is out doing paid work to allow for this extravagant lifestyle, it appears that such an old-fashioned approach means we tend to overfill the machine with detergent, just to be on the safe side (although I suspect that most people out there in the real world put in too little, as detergent isn't cheap and money surprisingly still doesn't grow on trees).
So, assuming we overfill rather than underfill, the result is that apparently "the washing, the machine and, ultimately, the environment all stand to lose". Hence Miele's "TwinDos" system, where detergent is dosed precisely and automatically to suit each washing load and program. This results in "up to 30 per cent less detergent consumption", which as all good mathematician know can mean anything as low as zero per cent.
Deutsche Telekom enters the equation because the Miele system uses DT's IoT platform (Connected Industry Platform) hosted at one of the telco's secure data centres. This then contacts the smartphone app ([email protected] from Miele, for all you IoT washing fans) to Miele's procurement and processing system where the housewife or househusband can then order replacement detergent, which is delivered straight to their door at some unspecified later date.
See how easy it all is?
Whose sock is this?
Meanwhile, Samsung knows a hot trend when it sees one and isn't afraid of pushing out new products faster than you can say WW8500 AddWash – which, coincidentally, is the name of its new smart washing machine. Unfortunately it's not as sophisticated as the Miele offering (although we suspect it will be substantially less expense), and its key feature is the ability to add laundry to the wash mid-cycle – which is what 90 per cent of absent-minded consumers in Europe say they wanted to do, apparently – which it says is now "super easy".
The smart element though comes in the form of smartphone alerts. You can now monitor the progress of the laundry programme via your smartphone, and can set alerts just before the start of a new washing cycle. For example, if they want to add a few delicate or hand-wash items towards the end of the wash cycle. Thank goodness, as it's so difficult to remember to go and check to see if the machine has finished washing your laundry.
Excuse us for an exceptionally high degree or sarcasm and scepticism today, but come on, this is TelecomTV after all. Whilst there's nothing wrong with either of these new products, they do nicely highlight the state of the smart home IoT sector today. The industry is merely messing around at the edges. It knows that we'll all be buying into the connected home at some point, but it has no idea how or when that will happen. So let's push out some wacky and trivial ideas, generate some media coverage, and see if consumers take the bite.
It's not good enough. How long has the idea of the connected fridge been around for? Years. And who has one? Practically nobody. Why? Because these ideas have not been fully thought through. We still don't know if home IoT functionality will be a premium purchase option, sold as a luxury, or built into products more for the benefit of manufacturers and pretty much invisible to consumers (such as performance monitoring and diagnostics). And whilst there are thousands of companies producing niche solutions for the home, the ecosystem remains fragmented and disjointed.
Developing the IoT ecosystem
To be fair to Deutsche Telekom, the telco is promoting its IoT platform for the benefit of other white goods manufacturers; it's Miele which is focusing on the consumer. And whilst the PR might be over the top, the idea behind automating supplies is a good one – although in this instance not good enough (why involve an app and human interaction? Why not just have the new supplies delivered automatically, and paid for as part of the machine purchase price or ongoing contract?).
Likewise Samsung; the smartphone alert feels like more of a bolt-on to the product, rather than the key selling feature. However, Samsung did make many more IoT announcements at IFA, although its PR team really does need to learn how to correctly spell collaboration (hint: there is no "u" in collaboration, which actually sounds like a joke bumper sticker and could well be a subliminal hidden message from Samsung…)
Samsung says its approach to the IoT ecosystem is deeply rooted in its core philosophy for IoT, namely "openness, cross-industry collaboration, and a human-centric approach".
"We are certain that IoT will revolutionise the world of consumer electronics, and this is our opportunity to update you on how far we have come in just a year," said Dr W.P. Hong, CMO for Samsung Electronics. "Every year, Samsung sells more than 300 million products to European consumers. No organisation is better placed to ensure that the latest industrial revolution is driven not by technology, but by people's expectations. Our vision is of an IoT that's 'In Sync With Life', that's an IoT for you."
The company launched its new SmartThings Hub, sensors and updated mobile app in the US this week, with a UK launch next week followed by a roll-out across Europe in 2016. The new SmartThings Hub has a more powerful processor that enables video monitoring, and includes a battery backup that lasts up to 10 hours in case of a power outage. The video monitoring capability allows people to access a livestream at any time, yet only records video when an unexpected event, such as motion by the front door, is detected. A Smart Home Monitor also provides unified access and control against intrusion, smoke and fire, leaks and floods by delivering real-time notifications and video clips from multiple cameras via the SmartThings app.
It also announced that SmartThings will soon integrate with BMW cars by displaying notifications from the SmartThings Hub directly on the dashboard. In addition, the SmartThings app can check the technical status of your car, and lock and unlock doors remotely.
"At the heart of all Samsung's IoT innovations," said Dr Hong, "is our long-standing approach of researching and observing people's daily lives, and looking beyond the obvious to find innovative ways of enriching them, by turning everyday moments into enjoyable experiences."
Interestingly, there was no mention of QIVICON, Deutsche Telekom's smart home solution comprising of an alliance of several companies that include Miele and Samsung, in the smart washing machine announcement. But his morning the telco has issued an update on its activities.
ENTEGA, a leading green electricity suppliers in Germany, will soon offer the QIVICON Home Base with a monthly usage license, enabling customers to expand their smart homes incrementally with QIVICON-compatible components to meet their individual needs. One of which comes from Swedish company ASSA ABLOY, which plans to launch a QIVICON-compatible security solution in 2016, enabling users lock and unlock their front doors directly with their smartphones (an area where Europe lags woefully behind the US). And the QIVICON platform is making tentative steps to expand internationally, with Austrian energy firm eww Group being the first to launch a new service.
All well and good, but for the present IoT in the home is a fragmented global market sector with no clear strategy. Until the industry finds one, consumers aren't going to be in a rush to sign up for a connected future. Now then, has that washing machine finished its cycle yet?
Email Newsletters
Stay up to date with the latest industry developments: sign up to receive TelecomTV's top news and videos plus exclusive subscriber-only content direct to your inbox – including our daily news briefing and weekly wrap.