The automotive and ICT sectors share the same goal, but remain rivals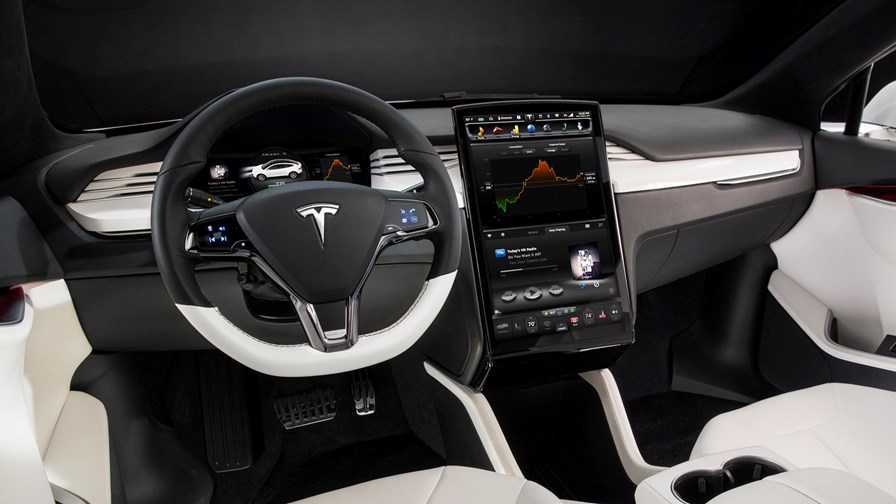 Ericsson unveils its Automated Networked Transport concept
Jasper debates the role of IoT in the connected car
Mobility as a Service
The increasingly important role of software
The automotive sector is finally showing signs of the disruption and innovation that has been sorely missing for decades. Tesla is pushing the capabilities of electric power (and unveiled its latest $135,000 SUV yesterday), Uber is disrupting the ownership and usage model with its taxi-like service (although its French executives are currently standing trial in court and could face two years' jail time), and we're all getting worked up into a frenzy about the rumoured Apple car. All this, and we've got 5G around the corner waiting to offer the industry 1ms latencies and edge computing that will truly enable autonomous driving.
Meanwhile though, the connected car sector will converge in Bordeaux, France, next week for the ITS World Congress, which, as its name suggests, covers intelligent transport systems. Much has changed since I visited ITS back in 2000 in Torino, Italy. Back then, the car manufacturers and associated vendors were squaring up against the telecoms operators and vendors over the question of who would provide connectivity to vehicles and transport infrastructure. Come to think of it, perhaps not that much has really changed – you can bet that the automotive industry is eyeing up the potential of 5G as a way to circumvent operators and retain "ownership" of their customers, as cars become dumb boxes and all the intelligence and relationships resides within user smartphones.
But for now, the two sides appear to be playing together nicely.
Connected transport solutions
Ericsson has today announced that it will be demonstrating its Automated Networked Transport concept at ITS, showing mobile network data can optimise public transport. Very sensible, considering that even the automotive industry is thinking in terms of overall transportation solutions, rather than just cars (remember the Ford bicycle at Mobile World Congress).
The Automated Networked Transport concept should make it possible to use network data to analyze the movements of people in cities and to learn where, when, how and why they use public transport. This can be used to create bus schedules based on existing commuter needs and adjusted dynamically in real time.
"We have developed a system that collects this information and analyzes it so that transport operators can gain an in-depth understanding of commuter travel patterns," said Orvar Hurtig, Head of Industry & Society at Ericsson. "Since we remove any information that could be used to identify individuals, their privacy is guaranteed. Using distributed computing, a tremendous amount of data can be analyzed and transport networks can be dynamically modified to better serve the needs of commuters."
Ericsson will also be demonstrating other cloud-based solutions, including the Connected Vehicle Cloud, which is a commercial platform that enables manufacturers and third parties to provide drivers and passengers with services and information; and the Connected Traffic Cloud, which is a managed cloud concept that enables the sharing of real-time traffic and road condition data between connected vehicles and road traffic authorities.
It will also showcase Mobility as a Service – a concept that facilitates multi-modal transport, whereby various means of private and public transport can be combined and e-tickets stored on smartphones. Again, the idea of looking holistically at all transport options, rather than focusing on just the one.
IoT for the connected car
Last week, US-based IoT platform company Jasper hosted a panel discussion on IoT's role in the acceleration of connected car innovation across the ecosystem.
"Over a decade ago, the auto industry was one of the first to recognise that a manufacturer's relationship with their customer doesn't have to end with a product sale," said Macario Namie, VP of Strategy for Jasper. "Introducing safety and security services enabled them to stay connected with customers long after they drove off the dealer's lot."
Now though, the car has become a hub that enables the delivery of a host of services – from in-vehicle WiFi to the location of electric vehicle charging stations to stolen vehicle recovery. And a prevailing view is that IoT isn't really about "Things", it's about connected services.
"The connected car industry is a perfect example of how, with IoT, products become a means to a much bigger end," said Namie. "By embedding connectivity into vehicles, companies can deliver an array of new services and experiences that enable them to provide greater value to the driver while introducing new revenue streams."
However, consumer adoption of connected vehicles won't be achieved by one major innovation or feature, and leveraging different platforms to create a frictionless driving experience could be the solution to mass-market acceptance.
"There is no one killer app; it's the aggregation of everything. It's not one thing; it's all," said Win Williams, VP IoT Solutions at AT&T, and one of the panelists. "That's what makes it exciting. There's a little bit of something for everybody."
"It's all about personalization," said Steve Schwinke, Director of Advanced Development and Concepts, Global Connected Customer Experience, GM. "When you get a new car, you want to make it your own. People's love affairs with their cars harken back to the fifties and sixties when they spent time tuning up and customizing their vehicles. Now with connectivity and IoT, you can give your vehicle digital tune-ups, personalize it at will and make it your own."
"Software is transforming the car in the same way it changed the phone; turning what was once a static experience into a personalized, smart and responsive one," said Ajay Agrawal, CTO of ChargePoint.
Disruption is coming
But is it? Yes, software is transforming the in-car experience (whether for drivers or passengers), but where is the user interface? At the moment, it's inside the car, or at least those cars newer models fully loaded with all the extras. But roll forward five years to when we will really start innovating and disrupting around the car and what then? Is it really going to be in the car? Or will the owner interface reside within the smartphone (or whatever the smartphone evolves into?)
And so we return to the two fundamentally different approaches of the automotive and ICT industries – they both want control. The car companies want to sell us smart cars, but the telecoms and internet companies want to sell us ever-smarter personal devices that can engage and interact with essential dumb equipment – from light bulbs to door locks and even to cars.
Imagine all those dumb cars out there, mass produced and inexpensive, that only really "wake up" when you connect them to your personal smartphone – when they receive all your personal settings and preferences, maps and routes, entertainment choices, etc. Most of us already use our smartphones for mapping and music, as well as communications, rather than use in-vehicle intelligence. It's a very clear trend: the transportation sector is about to get seriously disrupted.
Email Newsletters
Sign up to receive TelecomTV's top news and videos, plus exclusive subscriber-only content direct to your inbox.