Telefónica sows the seeds for agro-technology growth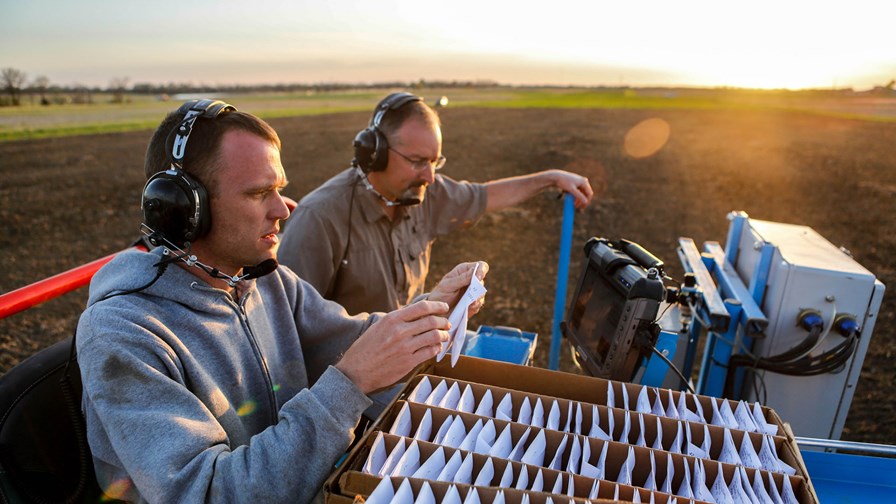 $4.3bn investment in agro-technology in the US this year
Brazil's SAA first company to benefit from Telefónica Open Future_ China partnership
70% increase in food production needed by 2050
IoT applications for farming set to be a booming sector
There's an old saying from the north of England, "Where there's muck, there's brass". If you're prepared to get your hands dirty, then there's every chance you can make some money. Now it appears that farming and agriculture is the hot sector for the IoT and connected technology treatment. According to Telefonica, investment in technology for agriculture is expected to reach $4.3 billion in the US alone this year, making it the sector with the greatest investment, ahead of technology applied to the financial and medical sectors.
The telco has just announced that Brazilian agrotechnology firm SAA is one of the first two companies (the other being Chinese online games developer Xcloud Game) to benefit from the partnership between China Unicom, Tsinghua Holdings Technology and Innovation and Telefónica Open Future_. The partnership is designed to promote mutually beneficial entrepreneurial initiatives within their respective accelerators, and has seen SAA entering the Chinese market, with Xcloud Game expanding into Brazil.
SAA has evolved to become the first online market to connect agricultural technology companies around the world with distributors from emerging markets such as China and Brazil (the two countries apparently have very similar agricultural features). The next step for SAA is to move into Binggo, the acceleration space co-sponsored by Telefónica Open Future_ and China Unicom, which it will use as its base for the launch of its Smart Ag platform.
"With the support of our partners, we aim to continue creating ecosystems of entrepreneurs and innovation that invigorates the local economy by attracting and supporting talent," said Ana Segurado, managing director of Telefónica Open Future_, adding that she was pleased with "the results of the work that we committed ourselves to doing to bring the entrepreneurial markets of China, Europe and Latin America closer together."
VisualNACert is another start-up working in the agrotechnology, having developed a tool for managing information and making decisions in farming ventures. Clicking on a map interface maximises the efficiency of planting through geo-positioning and visualisation of plots and applying criteria such as quality, health, sowing periods and productivity. The company was an investee of Telefónica's Wayra programme last year and is on track to report revenues of €1 million this year with operations in Spain, Australia, the US and Latin America.
Telefónica Open Future_ is a global, open programme designed to connect entrepreneurs, start-ups, investors and public and private organisations from around the world. The programme already has investments in over 550 start-ups worldwide, has invested €647m with a further €733m pledged.
Growth in Agrotechnology
A report from the CleanTech Group at the end of last year revealed that equity investment in agriculture and food technology reached $269m across 41 deals in the third quarter of 2014, an increase of 48 per cent year-on-year (14Q3 was the most recent report available) in terms of value. In November last year, Eric Schmidt's Innovation Endeavors and Flextronics Lab IX launched Farm2050, a collective to support agrotechnology start-ups with a focus on solutions designed to boost global food production.
A report by Beecham Research released earlier this year suggested that IoT could be the key to the farming industry meeting the challenge of increasing food production by 70% to feed the 9.6bn global population expected by 2050.
"In Europe, the move towards smart farming is being encouraged through various projects and programmes funded by public and private money," said Saverio Romeo, principal analyst at Beecham Research. "While the M2M agricultural sector is still emerging, M2M and IoT technologies will be key enablers for transforming the agricultural sector and creating the smart farming vision."
Romeo says the US market is leading the way in smart farming, particularly in areas such as arable farming. Europe, meanwhile, is increasingly looking into small-sized field farming, precision livestock farming and smart fish farming; and this trend will soon expand into other important agricultural economies.
"In terms of time scale, the next two years will be exploratory for smart farming, but the pace of change will intensify from 2017 to 2020," said Romero. "While the M2M/IoT industries will not see the light from the agricultural sector immediately, they need to be prepared, because it will be soon strong and bright."
Email Newsletters
Sign up to receive TelecomTV's top news and videos, plus exclusive subscriber-only content direct to your inbox.