3GPP completes the standardisation of NB-IOT for Rel-13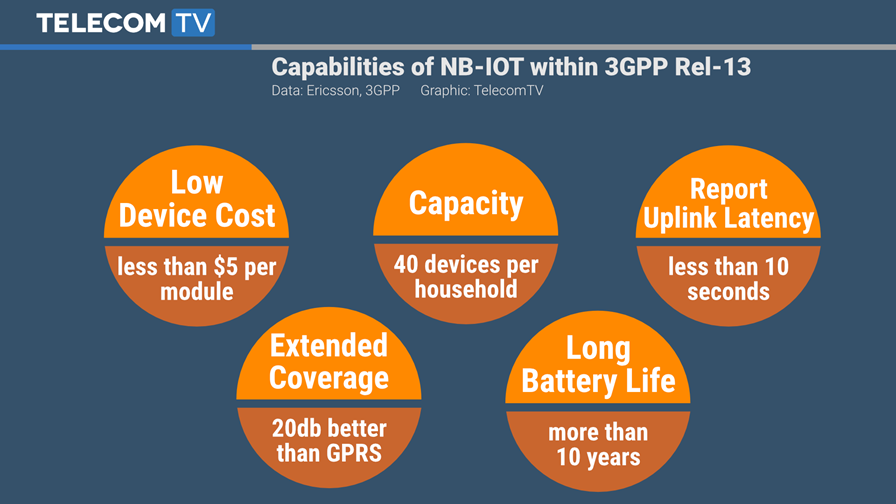 Last week, the 3GPP standards group completed the long-awaited work on the standardisation of NB-IOT, the new narrowband radio technology developed to support IoT deployments by cellular operators. All relevant changes have now been incorporated into Release 13, which is now effectively complete. Although the main elements of Rel-13 were frozen a couple of months ago, the NB-IOT work was delayed . While corrections are still possible in the coming months, 3GPP say the feature is now frozen in the specification, and only essential backward-compatible changes will be allowed from now onwards.
"It took us only nine months to standardise the new technology after the study phase," said Dino Flore, the Chairman of 3GPP RAN. "Once again 3GPP demonstrated the ability to quickly respond to the emerging market needs."
With the completion of the NB-IOT, 3GPP has concluded a major effort in Release 13 to address the IoT market. The portfolio of new technologies that 3GPP operators can now use to address their different market requirements of the Internet of Thing includes NB-IOT, eMTC and EC-GSM-IoT. There's a more comprehensive discussion on the various options here on TelecomTV.
"The GSMA established the Mobile IoT Initiative with the specific purpose of aligning the mobile industry behind common and complementary LPWA technologies in licensed spectrum and we are pleased that the industry has moved so quickly to adopt them and that they have now been ratified by 3GPP," said Alex Sinclair, Chief Technology Officer, GSMA. "Mobile operators have already started a number of pilots around the world and this agreement over common standards will help accelerate the development of commercial solutions and ensure they are in market much faster, providing customers with more choice."
The GSMA says these new standards will allow operators to optimise their existing mobile network infrastructure through an upgrade to EC-GSM-IoT for 2G networks and LTE-MTC for LTE networks, while NB-IoT can use both 2G and 4G spectrum. As for 3G, it's just not that useful for IoT requirements (although NB-IOT can technically be deployed in 3G WCDMA guard bands).
Towards 5G
Release 13 is also known by the commercial description "LTE Advanced Pro" – it builds on the improvements of LTE Advanced (true 4G, as it was always meant to be) whilst also easing the way to the introduction of 5G.
It also marks the evolution of LTE from being focused on faster mobile broadband to opening up new markets and use cases, through new functionality and efficiency gains. LTE-Advanced Pro (Rel-13) features the following network improvements (our thanks to Marcin Dryjanski for his concise overview):
LTE-WiFi Aggregation (LWA): Uses carrier WiFi to improve capacity, whilst anchored in LTE spectrum
Licensed Assisted Access (LAA): Aggregates the licensed LTE signal with spectrum in the unlicensed 5GHz band
Device-to-device (D2D): Direct communication between devices, for public safety use cases
Massive CA: Enables up to 32 carrier signals and so provide a theoretical 640MHz of aggregated bandwidth for a single device
Dual Connectivity (DC): Spectrum aggregation where small cells act as local capacity boosters for an anchor macro-cell
MTC enhancements: Supports reduced bandwidth operation (1.4MHz), lower power and longer device battery life
3D-MIMO: Adds the vertical plane to horizontal beam steering, using up to 64 antenna ports
Multi-RAT Joint Coordination: Coordinates radio resources between various access technologies, including dynamic spectrum access.
Narrowband IoT (NB-IOT): Optimised support for IoT services using GSM and LTE networks in licensed spectrum.
Work is now well underway on Release 14, which will add a "version 2.0" element to LTE-Advanced Pro, and which should become available in the middle of 2017. Features will include enhanced LAA, enhanced LWA and various operational efficiency improvements. It will also add Vehicle-to-Vehicle (V2V) communications. All of which raises the LTE standard towards true 5G capability.
Of course, new 5G-specific radio access technology will provide a better fit for the various envisioned use cases, as well as offering a more flexible architecture. Then there's the 5G core network to be considered. But for now, the evolution towards 5G is well underway.
Email Newsletters
Stay up to date with the latest industry developments: sign up to receive TelecomTV's top news and videos plus exclusive subscriber-only content direct to your inbox – including our daily news briefing and weekly wrap.