Smart Tortillas: marketing gimmick or a timely warning for telcos?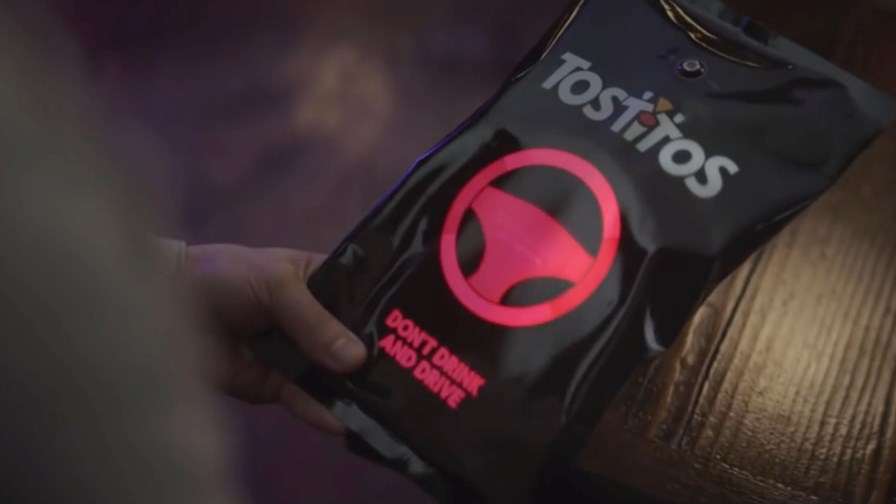 Snack food promotion uses NFC for connected services
Emergence of IoT solutions that are "network free"
Leave the cost of connectivity to consumers
How can telcos play roles in these new ecosystems?
Behold the smart tortilla packet. Yes, even the humblest of snack foods can't escape the inexorable march of "smart" functionality. But is Frito-Lay's latest launch simply a fun marketing gimmick, or is it a portent of how telcos could miss out on the wider IoT opportunity?
The answer is both, in our opinion. Yes, Frito-Lay is having a bit of fun and creating a huge amount of media buzz with their smart tortilla packet, but there is a very serious side to all of this that service providers would do well to study and take on board.
The smart crisp packet can be found on selected bags of Tostitos tortilla chips in the US, to coincide with the company's marketing around the Super Bowl. But don't get too excited or fly out especially to track one down, as they are apparently few and far between. The limited-edition "Party Safe" bag that can tell when you've been drinking, and will help you get home safely from your Super Bowl party this coming weekend (where, of course, you are expected to consume vast quantities of alcohol and even vaster quantities of snack food). It does this by detecting how much alcohol is on your breath and if it decides you are over the limit it then orders you an Uber at a discounted rate.
Pure genius. A snack food that comes with its own breathalyser. What's not to like? The only thing better would have been if Bud Light had bundled them with tins of its beer. Of course, anyone actually relying on a crisp packet to determine if they are safe to drive is an utter idiot, let's be clear about this. But as a concept, it portends to a rather interesting connected future and one that doesn't necessarily favour service providers.
The bag was created by Goodby Silverstein & Partners and features a sensor and microcontroller calibrated to detect small traces of alcohol on a person's breath. If alcohol is detected, a display on the front of the packet turns red and shows the image of a steering wheel and a "Don't drink and drive" message. There's also a handy $10 discount code for an Uber ride, but an NFC chip will make a direct connection to Uber so long as a person simply taps their smartphone to the image.
"Our goal is to remove 25,000 cars from the roads that Sunday evening," Jennifer Saenz, Frito-Lay's chief marketing officer, told Ad Week magazine. "Whether watching the big game at a friend's house or at a local bar, a safe ride home is just a few easy taps away."
According to the US National Highway Traffic Safety Administration, 45 people were killed in drink driving accidents on Super Bowl Sunday in 2015, which was nearly half of all traffic fatalities on that day.
"For a football fan, there is a lot of emotion involved with a game," added Roger Baran, creative director of Frito-Lay's agency. "It's easy to drink more than you planned. And a lot of times all you need to stop short of driving after drinking is a friend who calls you off. On Sunday of the big game, we want Tostitos to be that friend."
New value chains
So why should service providers be concerned? Yes, the bag is a marketing gimmick that was created with good intentions at heart. But it's not just a crisp bag, it's an IoT device. It has a sensor, it has input and output interfaces, it analyses data, it delivers actionable results. The only thing missing from the ideal IoT scenario is a cellular network. But there is still a network – one of smartphones. It's the smartphones that are providing the connectivity, via an NFC link, and the data usage is simply coming out of the bundled subscriptions of the smartphones' owners. Where's the opportunity for service providers?
Yes, scaling this model today would no doubt be prohibitively expensive, as a tear-down of the bag from the Next Web shows a considerable amount of hardware. What would that do to the price of a party bag of Tostitos (currently retailing for around $4)? An NFC tag alone can cost about 40 cents. And is there really any long-term benefit for such a service? No, but the model is a good one. Add some smarts to everyday items and use smartphones to provide the connectivity that then links services together (in this case, the direct integration with the Uber car service). How many other "if this then that" type of connections could be attractive to consumers? Thousands of them. And how many need their own direct network connections? Very few.
Fast forward to life after 2020 when, according to every analyst, vendor and operator you speak to, we'll be surrounded by billions of connected IoT devices. The assumption that they will all need their own direct connectivity and associated data subscriptions is wrong. We already have phenomenal global cellular and WiFi coverage for our smartphones, and short-range contactless technology is being increasingly used by these devices (especially Apple Pay and Android Pay). The advent of 5G will only increase this coverage. So how can service providers tap into this emerging opportunity and integrate themselves into these new value chains? Because not every IoT sensor or device is going to have its own cellular or LPWA modem, not by a long stretch.
Email Newsletters
Stay up to date with the latest industry developments: sign up to receive TelecomTV's top news and videos plus exclusive subscriber-only content direct to your inbox – including our daily news briefing and weekly wrap.