Smart home IoT device market at risk from "frustrating" companion apps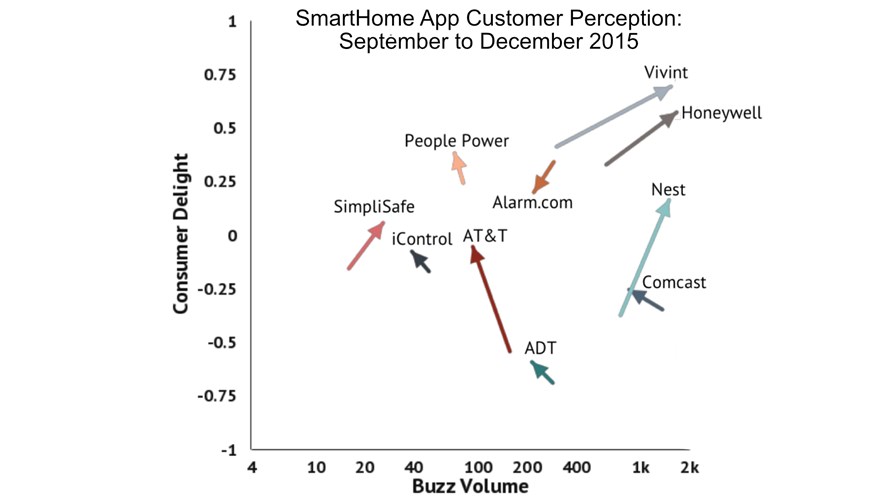 Consumers more frustrated by smart home apps than devices
Disappointing apps break the user experience
Consumers forced into using device-specific apps
Incumbent home security firms failing to impress
A new report from Argus Insights, the Silicon Valley data analytics research firm, shows that consumers are overall more frustrated with the applications that dictate, schedule and manage their smart home IoT device than with the actual devices themselves. The Smart Home ecosystem comprises both hardware devices and software apps and together they are supposed to make an efficient system for consumers. However, the reality is not so simple.
Using US-based data compiled from nearly 50,000 smart home device and app reviews from the past six months, the report says incumbent home security companies like ADT, Comcast and AT&T are failing to delight consumers with their apps, while the more innovative and competitive smart home-focused companies such as Vivint and Honeywell appear to be doing a far better job at creating a more synchronised hardware and software ecosystem.
For example, Philips devices receive a higher "delight score" than Honeywell devices, but Honeywell's apps are the most delightful according to the research, while Philips apps are the least liked. This leads to Honeywell providing a better overall experience across the entire smart home ecosystem, while Philips consumers report a worrying gap in the experience between hardware and software.
"Companies like Philips must mind the gap between the devices and the experience of using the app," said John Feland, CEO and founder, Argus Insights. "Once consumers have installed and connected their device, the app becomes the primary touch point for their new smart home. Unfortunately, our analysis shows a looming lag in app experience which are a blemish on an otherwise improving end-to-end user experience."
One of the key findings from the research is that app functionality is a major consumer pain point, with frequent complaints of slow video streaming, long load times and the video blacking out (something I can personally attest to with regards so-called "door bots" for remote video call answering – unacceptable 10-second delay between ringing the door bell and being pinged on my iPhone, rubbish video codecs, and disappearing video archive – great, if expensive, hardware, but useless software).
"Companies that have aligned their entire ecosystem to delight consumers will outperform the rest of the market in the long term," said Feland. "Look how Honeywell came from behind to beat Nest with an overall better experience."
Argus reports that whilst Nest devices rate slightly higher than Honeywell's, the app performance is far lower, dragging the whole unified experience down. As the graph above shows, there's every sign that Nest is seeking to improving the situation, especially as all of its smart home products are controlled by the one app, and the graph shows a long arrow for the Nest app, heading in a positive direction (showing how consumer delight and buzz have both improved in the last four months).
Generally with apps, users can pick and choose which ones they want, discarding bad ones and converging on the best of class. But with smart home apps they have no choice – if you own a smart home device, you have to download and use the manufacturers app. And that appears to be where the whole home IoT market is currently falling down. What we need are platforms, and these are taking a ridiculously long time to arrive. Until then, prepare to be disappointed.
Email Newsletters
Stay up to date with the latest industry developments: sign up to receive TelecomTV's top news and videos plus exclusive subscriber-only content direct to your inbox – including our daily news briefing and weekly wrap.