Qualcomm looks to strengthen IoT interoperability with broader wireless support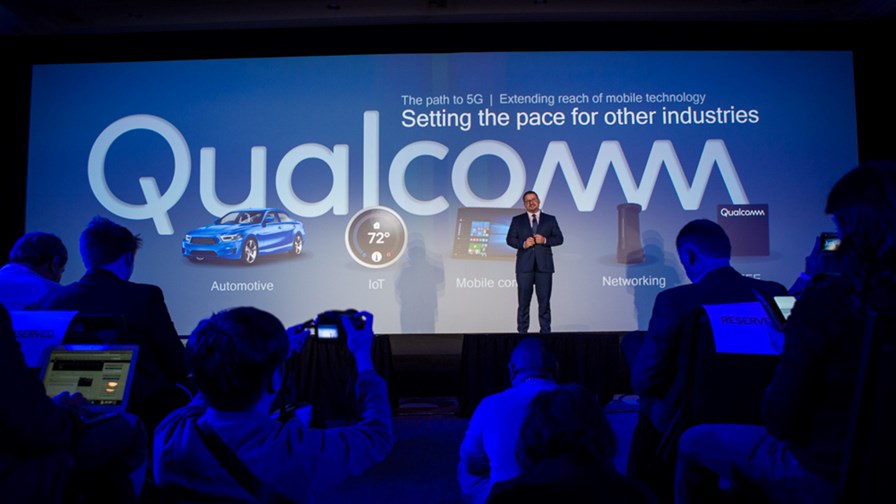 Highly integrated development kits based on Qualcomm SoCs
Featuring multiple radios and hardware-based security
Allow manufacturers to develop IoT devices that can work across ecosystems
Oh, and several other IoT and WiFi announcements as well…
Qualcomm has announced a plethora of new products and solutions, ahead of both MWC and the Embedded World event in Germany next week. Of particular note are new IoT development kits based on the QCA4020 and QCA4024 system-on-chips (SoCs). They are designed for developers working across a wide range of IoT applications, from smart city solutions to smart home control and automation. What these applications have in common is there need to work in concert with a wide variety of other devices and cloud ecosystems.
The new kits from Qualcomm provide interoperability among diverse IoT devices, wireless standards, protocols and communication frameworks, and have been optimised to ease connectivity to various cloud and application services.
"By including the rich capabilities of the QCA4020 and QCA4024 in these development kits, we are helping streamline innovation for developers and manufacturers looking to build devices for smart homes, appliances, smart cities, home entertainment, toys, and many other exciting areas of IoT," said Joseph Bousaba, VP product management, Qualcomm Atheros. "These kits provide connectivity, interoperability and hardware security, allowing the creation of IoT devices that customers can quickly productize and integrate easily across multiple ecosystems."
The QCA4020 is a tri-mode solution with what Qualcomm calls "advanced smart coexistence", integrating several wireless communication technologies into a single SoC, an approach designed to address fragmentation in the sector. It combines the latest specifications of WiFi, Bluetooth LE 5 and 802.15.4 technologies, including ZigBee and Thread. The QCA4024 retains the Bluetooth and 802.15.4 support, but drops WiFi.
The integration of these multiple radios is designed to allow the development of products capable of understanding and translating information in environments using disparate wireless technologies – such as a smart home where light bulbs and switches use ZigBee, speakers communicate via Bluetooth, and TVs and thermostats communicate via WiFi.
Both kits feature dual core processing, integrated sensor hub, and a high degree of software flexibility to support multiple protocols, connectivity frameworks and cloud services. They come with pre-integrated support for Apple HomeKit and the Open Connectivity Foundation (OCF) specifications, as well as support for Amazon's AWS IoT services and Microsoft's Azure IoT Devices SDKs . Security capabilities include secure boot from hardware root of trust, trusted execution environment, hardware crypto engines, storage security, debug security with lifecycle control, key provisioning and wireless protocol security.
In other Qualcomm news…
Qualcomm has also introduced its Artificial Intelligence (AI) Engine, which is comprised of several hardware and software components to accelerate on-device AI-enabled user experiences on select Qualcomm Snapdragon mobile platforms. It says the key benefits of on-device AI include real-time responsiveness, improved privacy and enhanced reliability. This heterogeneous computing approach, it says, gives developers and OEMs the ability to optimize AI user experiences on smartphones and other edge devices.
Ruckus Networks has collaborated with Qualcomm on the industry's first announced trial of Carrier WiFi enhancements based on the Wi-Fi Alliance's Wi-Fi Certified Vantage program, using Vantage 2 features. The trial was conducted on KDDI's public WiFi network at the Shibuya train station in Tokyo, Japan, and using test devices from Qualcomm and access points from Ruckus. The trial reportedly showed up to 10x faster connection set-up and 30 per cent more efficient use of network capacity, resulting in quick connection when users enter carrier networks, as well as more reliable voice and data performance, virtually consistent speeds and seamless roaming when moving around in the network coverage area.
The Qualcomm Snapdragon 820E embedded platform is another new release from the vendor, alongside an extension to its embedded computing portfolio to support premium tier applications for IoT. The 820E embedded platform is designed to support connected computing and power-efficient multicore processing for computer vision, artificial intelligence and immersive multimedia – all in one package for next generation of IoT applications such as virtual reality, digital signage, smart retail and robotics.
And finally, Qualcomm has introduced the industry's first integrated 2x2 802.11ax-ready solution for smartphone, tablet and notebook OEMs, in advance of full standardisation and certification. The WCN3998 solution for client devices will increase security through support of the WPA3 security protocol and will also enhance the WiFi experience by doubling the network throughput and reducing WiFi power consumption by up to 67 per cent, as compared to previous generation 11ac Wave-2 solutions.
Email Newsletters
Stay up to date with the latest industry developments: sign up to receive TelecomTV's top news and videos plus exclusive subscriber-only content direct to your inbox – including our daily news briefing and weekly wrap.