No power source for your IoT sensor? Not a problem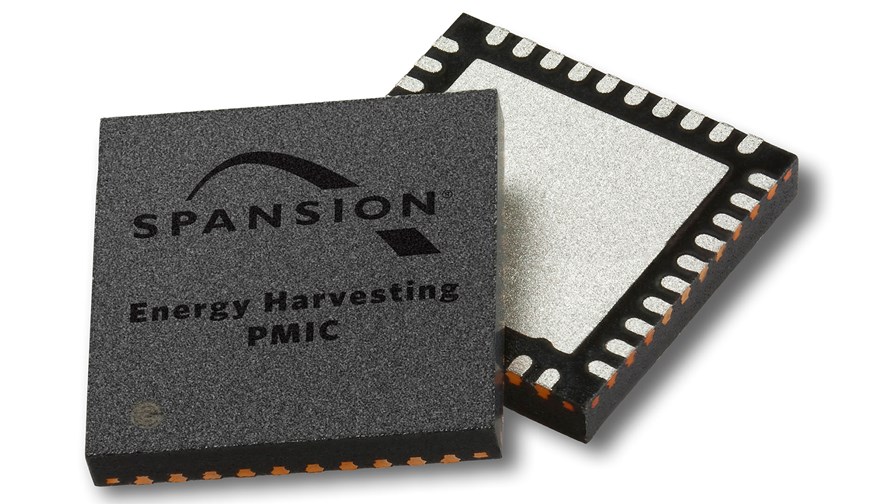 The amount of connected devices and sensors that will likely emerge in the next few years, under the moniker of the Internet of Things, is staggering. But in order to connect to the net and perform their functions, they need a power source. Whilst that may be fine in handhelds, home peripherals or large wearables, it's going to be more of a problem for very small devices and especially sensors.
Or maybe not. US-based embedded systems manufacturer Spansion has today announced a new family of power management integrated circuits (PMICs) for energy harvesting that can eliminate the need for batteries in IoT devices. Or for devices with power sources, it can extend the battery life.
Energy harvesting is the process of capturing and storing energy from ambient sources – including light, vibration and temperature changes – and converting this energy to electricity.
"Our customers can say goodbye to battery usage in their next-generation electronics," said Tom Sparkman, SVP of Spansion's Analog Business Unit. "Coupled with our low-power MCUs, the Spansion Energy Harvesting PMICs offer a differentiated solution that can help our customers offer more eco-friendly devices across a broad spectrum of applications."
The new ICs include the MB39C811, an ultra-low-power voltage converter with dual input that enables efficient harvesting from both solar and vibration energy; and the MB39C831, an ultra-low-voltage boost PMIC for solar or thermal. They are both designed to work seamlessly with Spansion's MCU microcontrollers for industrial and cost-sensitive applications with low-power requirements.
"Spansion's Energy Harvesting PMICs will bring a positive impact to the IoT market," said Atsushi Hitomi of TDK. "These PMICs harvest natural energy to enable wireless sensor terminal/node to operate without batteries. We can enable wireless sensors to connect to the network everywhere and accelerate cloud-based services."
It's been estimated that the cost of maintaining an installation equipped with IoT sensors (assuming that 20 per cent of sensor batteries need to be replaced every year) is around 20-40 per cent of the initial capital outlay – every year. If you are spending $100,000 on fitting wireless sensor nodes to a factory, say, then you are looking at upwards of $40,000 to ensure they keep working each year.
Spansion's new devices are a result of the purchase of Fujitsu's memory chip division last year. The devices are available now.
Email Newsletters
Sign up to receive TelecomTV's top news and videos, plus exclusive subscriber-only content direct to your inbox.