NB-IoT isn't the only game in town, as Verizon launches its Cat M1 network for IoT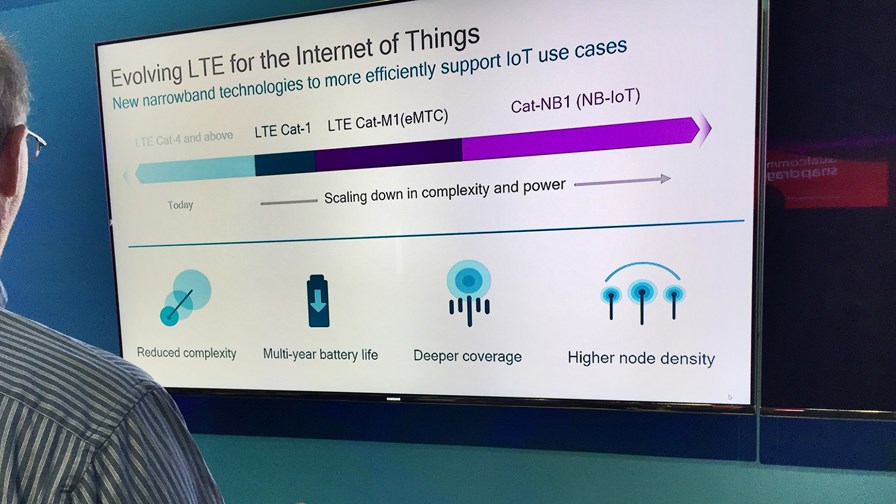 Verizon launches first US nationwide commercial LTE Cat M1 network
Data prices from $2 per device per month
Certified chipsets, modules and devices from six vendors, including Qualcomm and Telit
Adds that 14,000 developers are now using its ThingSpace platform
Verizon has today launched the first US nationwide commercial LTE Category M1 (Cat M1) network, which it says spans 2.4 million square miles. Verizon adds that this is the first and only Cat M1 network providing scale, coverage and security for customers seeking wireless access solutions for IoT.
With all the recent hype and interest around NB-IoT, you could be forgiven for thinking that is the only modern, future-proofed solution for IoT. LTE Category M1 is – as its name implies – also based on LTE technology. However, tests and early deployments show that Cat M1 (or eMTC as it was once known) has some coverage and power consumption advantages over NB-IoT, although it works out slightly more expensive. It's a case at the moment of 'horses for courses'. Cat M1 requires 1.4MHz of bandwidth in standalone mode and peak downlink data rates of 1Mbit/s, whereas NB-IoT requires 200kHz for standalone operation and peak rates of 250kbit/s.
Verizon says its Cat M1 network is built on a virtualized cloud environment which enables rapid and agile IoT solution deployment and nationwide scaling aimed at increasing IoT adoption for developers and businesses with new and more economical IoT data plans.
"As the natural shift from CDMA-based IoT solutions to the more robust and cloud-based LTE technology occurs, it's important we stay ahead of that technology evolution for our customers so we can continue to provide them service on the best and most advanced wireless network," said Mike Haberman, Network Vice President at Verizon. "Our commercial deployment of the nationwide LTE Cat M1 network does just that."
Verizon is collaborating with industry partners to create an open ecosystem for Cat M1 that includes infrastructure providers and manufacturers of chipsets, modules and devices. It currently offers certified chipsets, modules and devices for Cat M1 from Sequans, Telit, Qualcomm, Encore Networks, Link Labs, and NimbeLink. The telco is offering data plans for Cat M1 devices from $2 per month per device, with customised options available for bulk activations and volume purchases.
"By launching this network with a fresh set of connectivity rate options, we're not only continuing to lead the way for IoT, but we're also enabling true scalability from millions to billions of IoT devices in a simple, secure manner and at a reduced cost to connect, all on America's most reliable LTE network," said Mike Lanman , SVP Business Products and IoT at Verizon, adding that the launch is "a game changer for the industry, enabling a broad range of sensors and new categories of devices with better power efficiency and longer battery life than current IoT solutions."
Internet of ThingSpace
Verizon is also keen to promote the relationship between its new Cat M1 network and its ThingSpace global IoT Platform. ThingSpace is the telco's web-based IoT platform that enables developers and customers to create new IoT solutions and manage their IoT environments end-to-end from the device to the application level. It says there are now around 14,000 developers using the platform today, with new APIs added regularly and global agreements to support connectivity in more than 175 countries.
IoT use cases for ThingSpace include asset management, industrial automation, wearables, smart city technologies and consumer. Verizon's new pricing for Cat M1 data plans includes a framework for developers with global customisation options for APIs and connectivity, designed to reduce costs and speed to market on the ThingSpace platform.
Verizon says that when Cat M1 LTE chipsets that are pre-loaded with Verizon ThingSpace client are deployed, customers, developers and end-users will receive a better, more turnkey experience. By way of an example, it suggests that the use of the ThingSpace client on a connected washing machine would allow the machine to securely and seamlessly connect to the LTE network and communicate with the consumer or manufacturer regarding status and diagnostic information.
BONUS FACTOID: As a special treat for reading this far, some additional news today from Verizon: the telco has hired Hans Vestberg, ex-CEO of Ericsson, as EVP for Verizon's new Network and Technology team. It continues a spell of Euro-poaching from Verizon, following the hire last August of ex-CEO of O2 UK, Ronan Dunne, to head its Wireless Unit. It's beginning to look like the telco equivalent of one of those superhero team-up movies...
Email Newsletters
Stay up to date with the latest industry developments: sign up to receive TelecomTV's top news and videos plus exclusive subscriber-only content direct to your inbox – including our daily news briefing and weekly wrap.