Microsoft enhances its Windows IoT capabilities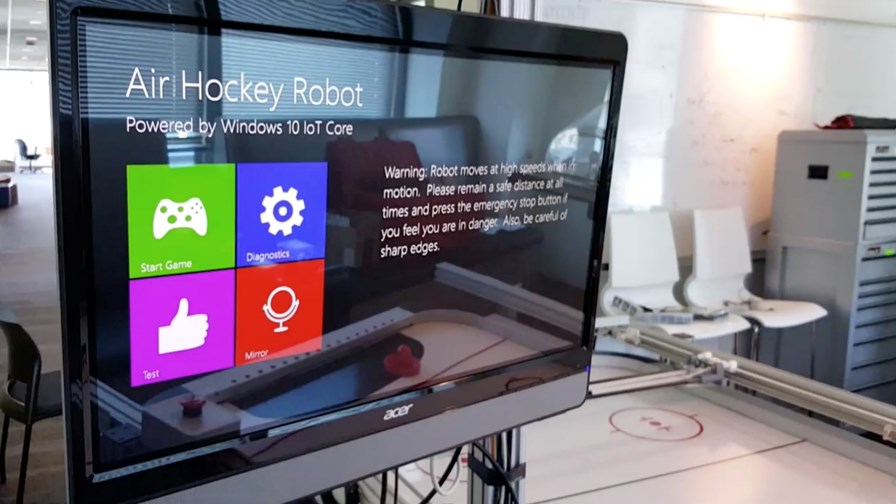 New features for Windows 10 IoT Core
Commercial solutions account for a third of all Raspberry Pi sales
Simplified commercialisation process
Microsoft CEO Satya Nadella is backing a "converged platform" approach for the company, which hasn't gone down to well with his predecessor (and largest shareholder) Steve Ballmer. In Ballmer's view, as reported by Bloomberg during the annual shareholder meeting this week, universal apps "won't work" and instead the company needs to enable Windows Phones "to run Android apps". This was also at the same meeting that Ballmer described Nadella's preference for reporting "annualized revenue run rate" for its commercial cloud business as "bullshit." Could this be the same Steve Ballmer that presided over the disastrous mobile strategy that saw Microsoft buy Nokia's handset business, only for it to then write off the investment as a dead loss? Surely not, this must be some other business guru with the same name?
But moving along… Part of this converged platform for Windows 10 covers IoT, and Microsoft believes that the OS can provide enterprise-grade security from the device to the cloud, and native connectivity for machine-to-machine and machine-to-cloud scenarios using Azure IoT technology. Whilst Windows 10 Enterprise and Windows 10 Mobile Enterprise will support industry devices like ATMs, retail point of sale and handheld terminals, it will be left to Windows 10 IoT Core to support small footprint, low cost devices.
Microsoft has just announced some feature improvements to Windows 10 IoT Core as well as making it available for its commercial partners in addition to the more DIY-based "maker" audience.
Amongst the new features, a new direct memory access bus driver enables developers to run native code, which should make GPIO operations over 100 times faster than on the default driver. "Pin Muxing" enables customisation based on hardware support rather than relying on a default configuration, and there is support for WiFi dongles that use Realtek chipsets. There is also drag-and-drop support for Arduino wiring sketches and library files in Visual Studio, which Microsoft says will speed up the process of creating a Universal Windows App.
Blurring the boundary between makers and OEMs
Interestingly, Microsoft says there has been increasing interest from commercial OEM and ODMs to create products using "maker" hardware. It adds that this year, commercial and industrial solutions will comprise over one third of all Raspberry Pi's sold. Who said the Raspberry Pi was a toy computer? To improve the usability of the mini micro marvel, the Element 14 online community is offering bespoke versions of the Raspberry Pi with Windows 10 IoT Core as part of its solution, allowing both makers and OEMs to start their development with Raspberry Pi 2 and then produce optimised versions of the platform for a commercial solution.
In addition to the royalty free Windows 10 IoT Core SKU that brings automatic software updates to the devices, there is now a new "Pro OEM" SKU that provides the ability to defer updates and control distribution of updates through Windows Server Update Services. Microsoft is also going to make it easy to commercially license royalty-free Windows 10 IoT Core for early adopter businesses, and has created a simplified commercialisation process to obtain free commercialisation rights to ship devices.
Microsoft says it is continuing to evolve its commercial platform ecosystem and is working closely with key partners and through continued engagement with OEMs and the maker community. The new release is available to download now.
Email Newsletters
Sign up to receive TelecomTV's top news and videos, plus exclusive subscriber-only content direct to your inbox.