Is it time for a single enterprise mobile and IoT platform?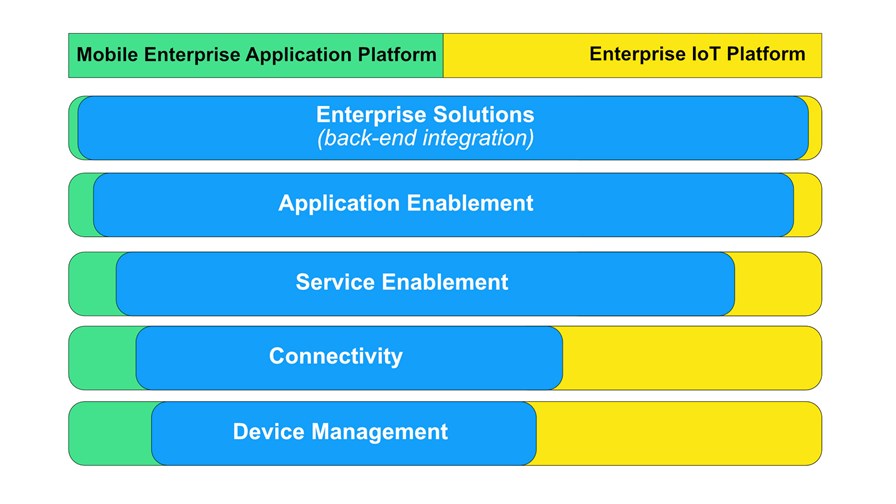 Convergence between mobile enterprise application and enterprise IoT platforms
Mobile devices becoming gateways for IoT platforms
Greater complexity for device management and connectivity
IoT specialists Machina Research have published a new strategy report exploring the growing convergence between mobile enterprise application platforms (MEAPs) and enterprise IoT platforms. It concludes that it is now time for a single enterprise mobile and IoT platform.
Conventional mobile devices, in the form of handsets and tablets, have started to form an integral part of IoT architectures. Whether it's the smart home, connected car, wearables or smart industrial internet applications, these mobile-based devices are becoming more sophisticated and more multi-purpose.
One manifestation of this convergence is that the concepts of enterprise mobility and enterprise IoT have begun to merge. Having all the devices that are integral to an enterprise IoT solution supported on the same platform, promises to deliver significant business process improvements, cost savings and improved customer and employee services and experiences.
"The mobile device is now used as a display, a controller, a sensor, and in some cases, as a gateway for many of the emerging IoT applications," said Emil Berthelsen, Principal Analyst at Machina Research, and author of the report. "Functionally, there is an increasing overlap between Enterprise IoT solutions and mobile enterprise application platforms (MEAPs), albeit with a much broader range of devices and protocols in use within Enterprise IoT resulting in greater complexity for device management and connectivity."
The report notes that enterprises and platform providers will be quick to identify the opportunities offered by such platform integrations. It warns that keeping enterprise mobility and enterprise IoT separate, adds not only additional cost in architectural terms, but also misses the significant opportunities to develop solutions from the shared applications and data. Berthelsen's view is that "particularly for enterprises, the time is here for a single enterprise mobility and IoT platform strategy."
[TelecomTV's video coverage of the Smart IoT London event will be published in two week's time, and features contributions from Machina Research's analysts]
Email Newsletters
Stay up to date with the latest industry developments: sign up to receive TelecomTV's top news and videos plus exclusive subscriber-only content direct to your inbox – including our daily news briefing and weekly wrap.