IoT: The new kid on the block is growing quickly but still liable to take a tumble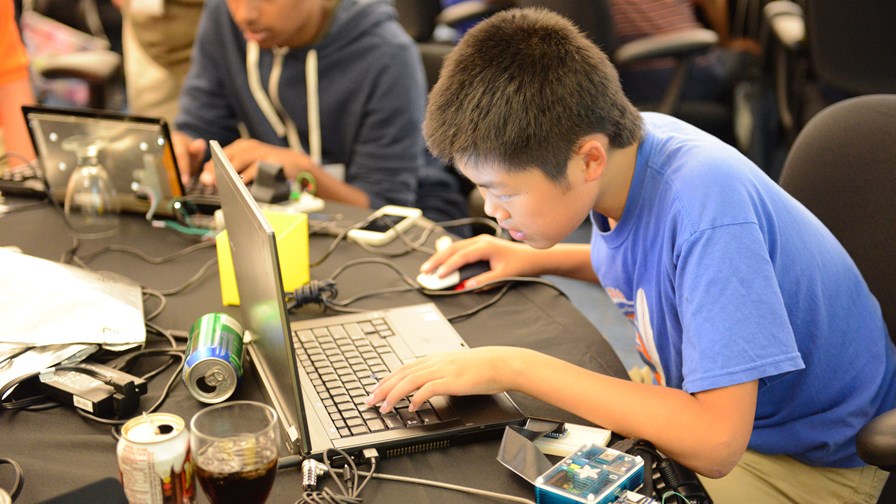 New research indicates that while the Internet of Things (IoT) has massive potential players must face up to the challenge of enabling and ensuring the enablement of seamless interoperability between each connection and making it happen on a global scale.
The Internet of Things may be in its infancy but it's a lusty and noisy child that's having a major impact on the global environment. Much is expected of it and the sector is expanding so rapidly that the toddler is looking likely to outgrow and escape the confines of its play-pen within a very short time. However, a new report says that IoT must learn to walk before it can run or there's a strong chance it might take a nasty fall that'll knock the wind out of it and set back its development
The 'State of IoT 2015 Global Developer Study' undertaken by the global software company Progress of Bedford, Massachusetts in conjunction with Harbor Research, examines what the company identifies as key IoT opportunities and challenges.
Progress interviewed 678 IoT developers and company CIO's from across the globe and has come up with rather a large number of key findings - there are 15 in total.
To begin with, just over half of respondents admit to using the term 'IoT'. Of those that don't, 27 per cent say it's because the term itself is "confusing and can mean many different things." Meanwhile, more than three-quarters of respondents admitted to being "excited about IoT to some degree" but only half of developers surveyed said they feel prepared, as things stand, to deliver on IoT expectations.
Most respondents believe that mass adoption of IoT apps will happen over the next five years and 45 per cent of those polled said they are indeed currently developing IoT applications. Furthermore, the respondents see strong IoT app development across a wide range of industries, the leading sectors currently being Smart Home, Automotive and Wearables. The report indicates that over the next three to five years that list will mutate and re-order itself with Healthcare, Smart City and Automotive set to lead the pack by 2018, 2019 or 2020.
Where's the money?
On the downside, 66 per cent of developers revealed that less than a quarter of the IoT apps they have deployed presently generate any revenues and expectations now are that despite all the hype surrounding IoT, monetising many apps will be a slow process with revenue generation indeed rising - but gradually over a 10 year timeframe rather than more or less instantaneously.
Interestingly, exactly half of the developers questioned say they are not yet equipped with the skills, resources and technological tools necessary to deliver on the high expectations of IoT customers. Interoperability, integration, security and privacy are among the top concerns for developers with respondents are divided on when or if these challenges can or will ever be resolved.
Respondents are also divided on which OS is the most suitable for building and coordinating IoT apps, with Android seen as the best by 29 per cent What's more, there appears to be no developer consensus around any particular platform for developing IoT apps, although Java is the leader for server-side data with the support of 55 per cent of respondents. More than 60 per cent of developers envisage future IoT apps running on the cloud and interacting with multiple devices.
Well over half of the respondents say they use Rapid Application Development (RAD) tools at some time during the apps development cycle but 25 per cant say they never use RAD tools at all. Furthermore, respondents said that during the development phase they face serious face challenges in managing large and ever-increasing amounts of data and dealing with inflexible technologies. So, while the potential for IoT is huge, it's not all wine and roses with variable, and sometimes limited, support and training opportunities available. Many respondents consider the open source community to be a key resource in terms of support and education as well as being an excellent forum and test bed for addressing IoT development challenges.
IoT will also require new software tools and interoperability if apps are to be as ubiquitous as it is being claimed they will. So far, most IoT is characterised by straightforward and simple monitoring applications and related tracking and location services.
The report concludes that the biggest challenge IoT faces is the enablement of seamless interoperability between each connection and making this happen on a global scale will vital to to unlocking IoT's undoubtedly enormous potential.
What is generally agreed is that any new IoT offerings should be highly flexible, forward-looking and as future-proof as possible if they are to have big impact across many market sectors from the aforementioned healthcare through to retail/commercial applications, in facilities and security, transportation, consumer and professional IT and communications, resources, energy and manufacturing.
Email Newsletters
Sign up to receive TelecomTV's top news and videos, plus exclusive subscriber-only content direct to your inbox.