I don't like cricket, oh no; I love it!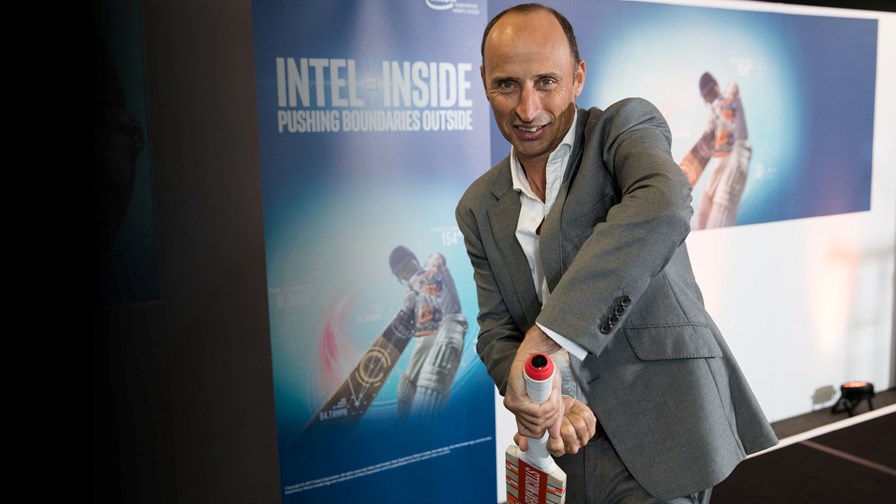 Intel brings IoT technology to the cricketing world
Range of digital solutions for June's cricket Champions Trophy
Connected sensors embedded in players' bats and drones for pitch analysis
Could this innovation finally get Americans interested in cricket? Probably not
Thursday, June 1, sees the start of the most important sporting event of the year. Forget your football, baseball, rugby and ice hockey. You can keep your Super Bowl, Stanley Cup and your World Series. Olympic medals don't cut it this month. Yes, June 1 marks the start of the International Cricket Council (ICC) Champions Trophy – an 18-day competition in England and Wales between the world's top eight cricket nations. Joy unbridled!
"Cricket?" you ask. "Are you serious?". You bet; cricket is officially (according to me) the greatest sport on the planet, and the fact that the greatest and most modest county in England (that will be Yorkshire, obviously) graciously provides the best players for the England team is cause for smug satisfaction. Yet whilst cricket is also venerated by our friends in the Indian subcontinent, as well as Australasia, South Africa and the West Indies, it has yet to find favour in the US. Hence it often gets overlooked in favour of rufty-tufty games that involve lots of clothing.
But not anymore. Thanks to some insightful positioning from Intel, it looks like IoT has come to cricket's rescue and could help propel the sport to a wider audience. "Intel Technologies unleash new insights and fan experiences for cricket at the ICC Champions Trophy 2017," gushed the press release. What's actually on offer are features for broadcasters that include advanced pitch analysis by an Intel drone that will fly overhead of the wicket to analysis playing conditions, and a bat swing profile using a sensor mounted on the handle grip that is powered by an Intel Curie module. Finally, the Internet of Cricket (IoC – we're calling it first!). Oh, and there's also the now obligatory VR experience for cricket fans at the grounds (or "stadiums" as Intel's non-cricket-aware PR team call them. But to be fair, there is a huge learning curve involved in getting to grips with cricket terms and vocabulary).
Intel Inside Leg
"We couldn't be more excited to have Intel as our official innovation partner of the ICC Champions Trophy 2017," said David Richardson, CEO of the ICC. "The innovations Intel is bringing to the game promise to transform how cricket is experienced and enjoyed around the world, and we look forward to partnering with Intel in this effort."
In a first at the Champions Trophy, the Intel Falcon 8 Drone, equipped with HD and infrared cameras will be used for advanced pitch analysis before every match. Images captured by the drone will offer visual data on pitch conditions such as grass cover, grass health and topology, which will be used to generate daily pitch reports for commentators during broadcasts.
But the most exciting element for lovers of the white ball game (that'll be one-day limited over cricket, as opposed to 5-day test match and 4-day county games… told you Cricket had a steep learning curve), is the bat sensor. The sensor is produced by Speculur, using Intel Curie technology, and can be mounted on any cricket bat to generate data for every stroke that the batsman plays. Parameters like back-lift, bat speed and follow-through can be tracked for every cricket stroke. Several batsmen will use these bat sensors in the games at the championship, to the benefit of TV viewers. Cricket has always generated huge amounts of data and is beloved by fans of sporting statistics, so this new innovation is most welcome.
"Speculur BatSense with Intel Inside has the potential to transform cricket across a varied audience from coaches to aspiring self-taught cricketers," said Atul Srivastava, managing director of Speculur. "Coaches can use their insights and expertise along with the bat sensor data to make specific adjustments to a batsman's technique ultimately helping him perform better." Speculur also announced plans to bring this technology to consumers later in the year, available initially in the UK, Australia, India and – shock, horror – the United States in the second half of 2017.
"Our goal is to lead the way forward into the digitization and personalization of sports, transforming the way fans and athletes experience sports," said Sandra Lopez, VP of Intel's Sports Group. We look forward to quizzing Ms Lopez on the vagaries of the LBW rule and where to place Silly Mid Off… Howzat?
Email Newsletters
Sign up to receive TelecomTV's top news and videos, plus exclusive subscriber-only content direct to your inbox.