Ericsson finds telcos lack a well-defined IoT strategy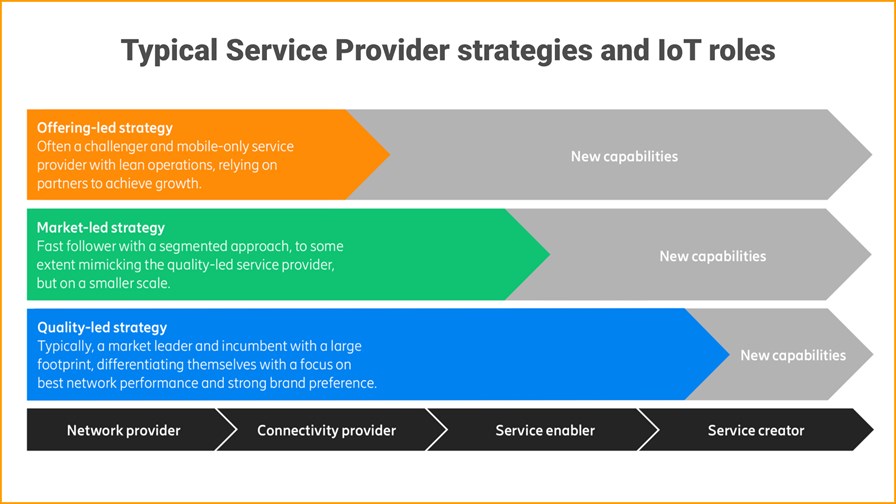 Service providers believe in the commercial potential of cellular IoT
70 per cent do not have a clear strategy; testing potential roles
80 per cent aim to create value beyond connectivity
5G-based IoT use cases are currently still being explored
Do we still believe in 20 billion IoT devices by 2023? If so, how many of those will be either offered or supported by service providers? Ericsson has this morning published a new study based on insights from 20 leading telecom service providers globally as they seek to position themselves in the IoT market. The study comes up with an "IoT positioning framework", into which Ericsson has placed service providers' roles and sub-roles in the IoT value chain. It also provides data on the key capabilities required and case studies for each role.
According to the report, interviewed service providers believe in the potential of IoT and describe new cellular IoT technologies, such as Cat-M1 and NB-IoT, as "game changers". They regard IoT as a totally new type of business that is changing their organisations and operations. Although revenue growth is confirmed as the key driver for market entry, 70 per cent of interviewees do not have a well-defined strategy, instead testing and taking on different roles within the IoT value chain. However, 80 per cent said they plan to eventually move up the value chain, moving on from basic connectivity.
The study found that most IoT businesses tend to be run by a dedicated "start-up" unit, with success measured by a variety of Key Performance Indicators – including IoT-connected device and app download numbers, as well as IoT revenue market share. Fleets and logistics, connected cars, smart cities and industrial automation are the most common sectors targeted by the early IoT leaders.
Service providers are establishing new business models for revenue sharing and increased use of indirect channels; creating new delivery models for as-a- service and online services; and driving innovation with partners and customers, on top of investing in new technologies.
"The report confirms the importance of IoT to the current and future business of leading service providers, no matter where they operate in the world," said Jeff Travers, Head of IoT, Ericsson. "Regarding IoT as a new type of business, service providers are investing in new technologies and establishing new business models for revenue sharing and increased use of indirect channels. They are also creating new delivery models for as-a-service and online services and driving innovation with partners and customers."
Identifying IoT as a totally different type of business compared to mobile broadband, service providers are adding new capabilities by reorganising and investing in new market models, ecosystems and technology. This requires balancing direct and indirect sales channels and the development of new delivery models, including "as-a-service", bundling and online services. Flexible pricing was also highlighted by interviewees as a necessity, including for revenue sharing and success-based pricing models.
Other factors included the capability to scale quickly and select the right partners for use cases in targeted segments, as well as achieve clearly defined processes and create innovative spaces for partners. The report found that a service provider's network capabilities are central to its IoT ambition and, when aligned with its IoT strategy, will have the greatest impact.
When it comes to end-user segments, the B2B market is a prime focus for all that were interviewed, largely due to the fact that enterprises generate the bulk of total market spend. The consumer IoT market addressable by service providers is relatively immature, with limited uptake due to unclear value propositions and competition from over-the-top players. A final salutary point; whilst most interviewees believe 5G will eventually have a substantial impact on IoT, 5G use cases are currently still being explored.
Email Newsletters
Sign up to receive TelecomTV's top news and videos, plus exclusive subscriber-only content direct to your inbox.