EE commits to SDR project and donates 100 units to UK universities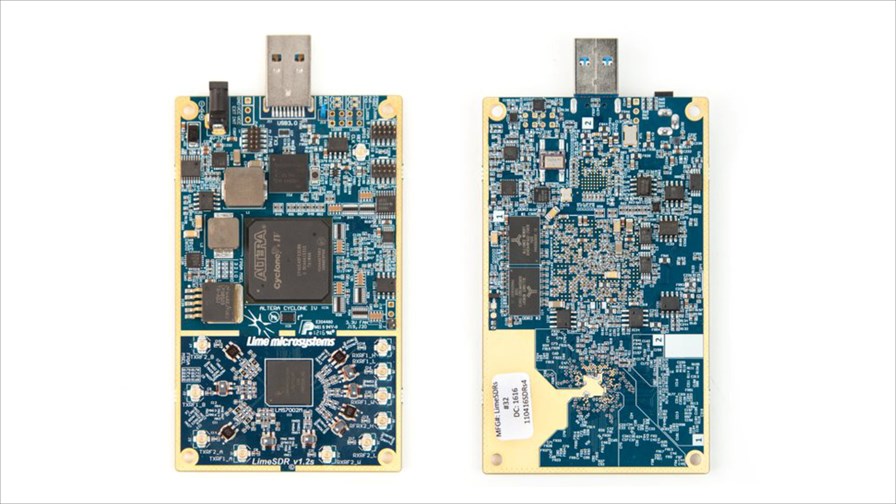 Signs up for a 100-unit bundle of the LimeSDR platform
Will donate the kits to five separate universities throughout the UK
Individual LimeSDR platforms available from $250
IoT gateways seen as a key application for the technology
The software-defined radio (SDR) movement takes a step forward with the news today that EE, the UK's largest operator, is backing the LimeSDR initiative to bring its SDR platform into full-scale production. EE has signed up for a 100-unit bundle of the LimeSDR kit through the crowd-funding campaign, which aims to raise $500,000 to fund the final stages of development and mass production of the technology. These kits will be given to five UK universities nominated by EE, so that they can develop wireless applications on the hardware and share with the wider research community and encourage further open source wireless innovation.
LimeSDR has introduced a total of 20 pledge-level 100-unit bundles, costing $99,000 per bundle (in other words, $1,000 per SDR device). Each bundle has a complete suite of software and set of accessories and includes a support package provided directly from Lime Micro. However, for those with tighter budgets, individual LimeSDR platforms are also available for as low as $249 – although these are stripped-back development platforms.
Last month, EE announced that it was partnering with Lime Micro and Canonical, two of the UK's leading open source technology companies, to launch a fully programmable network capability with the ability to change the way future mobile networks are built. The solution is built on Lime's 'network in a box' solution, which developers can configure by software to provide any wireless service, including 4G and WiFi. The configuration software, available through the Snappy Ubuntu Core stores, should allow developers to create new applications and services for a mobile network.
The telco said it will deploy the new solutions created by this partnership as part of its work with the UK's Telecom Infrastructure Project, with the first project committed to connect an area of the Scottish Highlands and Islands later this year. The telco is working with Lime to provide the programmable development kit to the University of Highlands and Islands, in order to create a bespoke solution for the region. Today's purchase of units for universities is an extension of that earlier deal.
The low cost LimeSDR is an application-enabled SDR platform that can be programmed to support virtually any type of wireless standard – from WiFi, ZigBee and Bluetooth through to GSM, 3G and LTE, and the emerging IoT protocols such as LoRa. IoT gateways are one of the most promising applications so far identified.
"Apps and smartphones revolutionised the mobile experience and this could have the same impact on the network – we're allowing anyone to build an app that can introduce a new service or a new capability to a mobile network," said Mansoor Hanif, Director of Radio Networks at EE, announcing EE's collaboration with Lime last month. "That could be to connect a rural area of the UK for the first time, or to be part of designing how 5G works. This type of innovation is vital to evolving wireless networks, and we're making sure that the UK is at the forefront of that."
Email Newsletters
Sign up to receive TelecomTV's top news and videos, plus exclusive subscriber-only content direct to your inbox.