Deutsche Telekom won't let it bee: uses NB-IoT to monitor beehive populations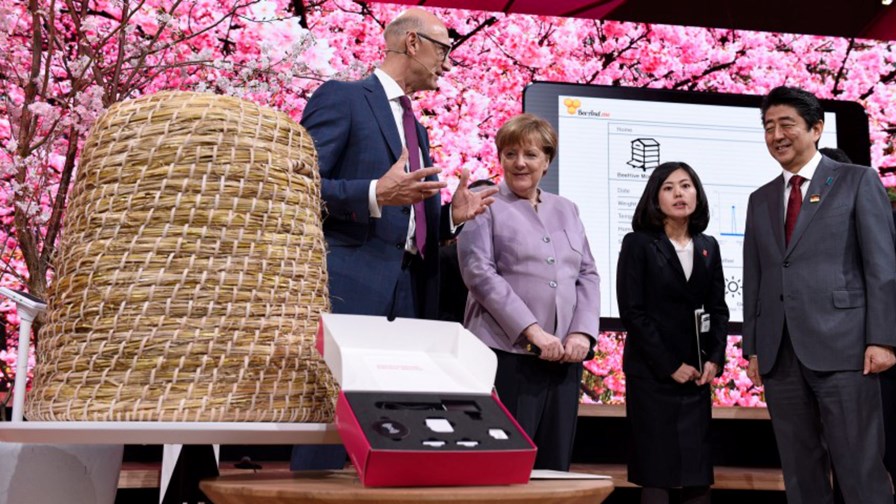 Germany's Chancellor Merkel gets up a close-up look at NB-IoT
NB-IoT network used to connect data from hives to beekeepers smartphones
Solution to help identify effects of Colony Collapse Disorder
After all, the beehive is one the world's smallest industrial plants…
Also at CeBIT this week, Deutsche Telekom is adding to the IoT noise, which is quite understandable as it is the host telco after all. Its latest announcement concerns how narrowband NB-IoT is being used to help solve the mystery of bee mortality.
Okay, so there is a degree of debate around so-called "Colony Collapse Disorder" and whether or not it is influenced by the use of synthetic pesticides, or if it's simply a trend that has been going on for centuries – but the weight of evidence suggests these pesticides are a contributing factor at the very least. What is in no doubt, though, is that there is a recognised fragility of bee populations in general.
Thankfully, IoT is once again at hand to help with all our monitoring and data analytic needs. Germany's Chancellor Angela Merkel got to see for herself how NB-IoT can help, with a one-on-one demonstration from Deutsche Telekom CEO Timotheus Höttges.
Using the telco's NB-IoT network in Germany, data collected by intelligent sensors is transmitted directly from the beehive to the beekeeper. This data includes temperature, air humidity, air pressure, beehive weight (an indication as to how full the combs are) and activity of the bees. The beekeeper can then use their smartphone or tablet app to check on the heath of their bees.
Okay, so this is a pretty niche application of IoT, but then again, isn't that what IoT is all about? Pushing the analogy somewhat, Deutsche Telekom says that a beehive is really the world's smallest industrial plant with 40,000 workers on half a square meter. Okay… As with full-size Industrie 4.0 applications, the beehive demo shows how sensors and NB-IoT continually monitor and provide timely assistance before a bee colony is damaged.
It may be niche but bee mortality is no joke. According to figures from the German Beekeepers' Association, the number of bee colonies has fallen in Germany alone from 2.5 million in 1952 to less than one million today. Worldwide there are an estimated 20,000 different species of bee, yet only nine species produce honey. By far the most important contribution of the honeybee to modern agriculture is their role as pollinators. The global value of the pollination by insects was estimated at €153 billion. The Montpellier Laboratory for Theoretical and Applied Economics in France calculates that the pollination provided by bees creates a total added value to the global economy of €200 billion each year.
The beehive demo might be simplistic, but it's already gaining a lot of wider media attention. Who said IoT had to be difficult?
Email Newsletters
Stay up to date with the latest industry developments: sign up to receive TelecomTV's top news and videos plus exclusive subscriber-only content direct to your inbox – including our daily news briefing and weekly wrap.