Connecting the Smart Factory with NB-IoT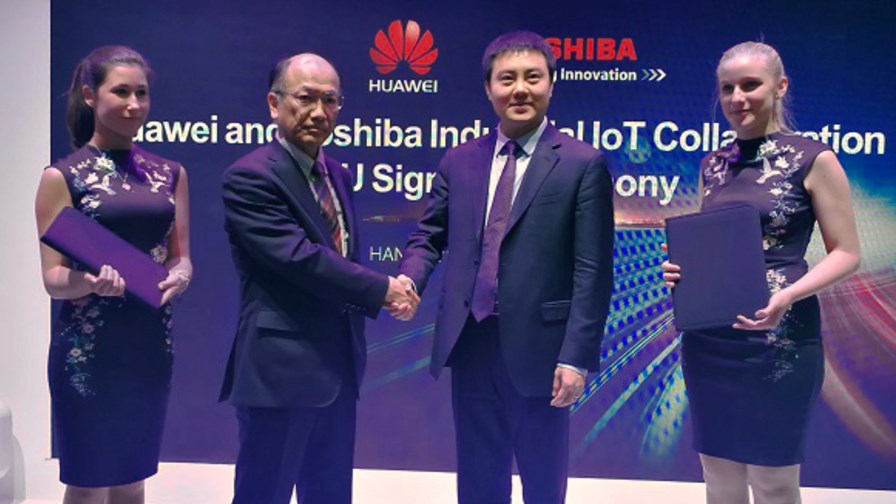 MoU between Huawei and Toshiba to collaborate on industrial NB-IoT
Huawei will integrate NB-IoT within Toshiba's current IoT gateway
Live field tests to develop a suite of smart factory solutions based on NB-IoT
Toshiba to enhance its SPINEX IoT architecture through the partnership
Forget robots for manufacturing; that's so yesterday. Today's smart factories are all about IoT, AI and connectivity. After all, this is the age of the Industrial Internet and Industrie 4.0, and telcos are going to be chomping at the bit for a piece of the action.
Step forward Huawei, who has just signed an MoU with Toshiba to collaborate on the integration of NB-IoT for the development of smart factory solutions. The two companies say their cooperation will accelerate the commercial availability of NB-IoT in a diverse range of vertical industries, supporting a range of applications and deployment scenarios as telcos look ahead towards new business opportunities in vertical industries.
"With mainstream operators having already started the commercial deployment of NB-IoT networks, the current number of NB-IoT deployments has reached 30 worldwide, with more soon to follow," said Edward Deng, President of Huawei Wireless Solution. "NB-IoT has received a great deal of attention particularly from vertical industries since its initial deployments, and has already been applied successfully in roughly 20 different industry categories. The cooperation between Huawei and Toshiba represents that the first NB-IoT application of its kind in the smart factory space. With combined efforts from our two companies, it will bring establish a win-win benefit to both the telecommunication and manufacturing industries."
Both companies will work together to develop enhanced wireless product life cycle management solutions based on NB-IoT technology applied to real-world manufacturing scenarios. As a first step, Huawei will provide the communications technology expertise and help facilitate the integration of NB-IoT technology within Toshiba's current IoT gateway, with initial testing scheduled to be performed in Huawei's NB-IoT Open Lab located in Shanghai. The next phase will comprise live field tests with expectations from both companies to develop a suite of smart factory solutions based on NB-IoT ready for global commercialisation.
Huawei believes the number of connections in smart factories could reach 100 million by 2020, and so the integration of NB-IoT within the smart factory would therefore enhance the data collection ability over wider areas in factories worldwide using cellular network connectivity. This would lead to further improvements in management efficiency of the manufacturing process and the ability to enhance product lifecycle management.
"NB-IoT delivers clear advantages in coverage, security and efficient power consumption, and will serve to improve efficiencies and make factories around the world 'Smart'," said Shigeyoshi Shimotsuji, Corporate VP of Toshiba and EVP of Toshiba Industrial ICT Solutions. "The collaboration will allow us to further enhance SPINEX, our IoT architecture, and will contribute to our ongoing revenue growth strategy. With billions of potential connections soon to be realised by the increasing ubiquity of IoT, working with Huawei and its NB-IoT solution will help us gain a sizable portion of the global LPWA market."
Email Newsletters
Sign up to receive TelecomTV's top news and videos, plus exclusive subscriber-only content direct to your inbox.