China already accounts for 74m M2M connections, and will reach 336m by 2020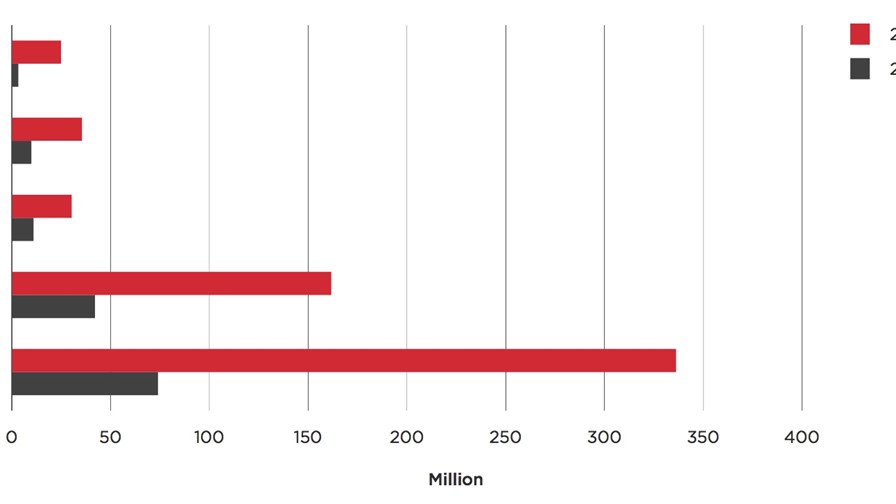 M2M connections CAGR of 29%
68m connected car devices in China by 2020
Smart city projects underway in 202 cities
To mark the opening of this year's Mobile World Congress Shanghai event, the GSMA has published a report highlighting what it says is China's leadership in the worldwide M2M market. According to the report, China is now the world's largest M2M market with 74 million M2M connections, representing just under one third of the global installed base of M2M devices. With a CAGR of 29 per cent, the GSMA expects M2M to reach 336 million connections by 2020.
It says that sectors such as transportation, energy, logistics, utilities and manufacturing (all backed by strong government support, of course) have benefited from the real-time information provided by mobile connectivity to increase efficiency, lower costs and manage infrastructure. There has also been significant growth in the consumer IoT market, particularly the wearables sector, and the connected car market is also expanding.
"China offers economies of scale for IoT unmatched by any other single country," said Josh Builta, Senior Analyst, M2M, iHS Technology. "The country's economic growth has resulted in an increase of the country's middle class, a development which will drive demand for some key cellular M2M applications, such as connected automobiles."
Machina Research forecasts that the number of connected devices providing services within the connected car sector will increase from 16 million in 2015 to 67.9 million in 2020 and reach 130 million by 2024.
Government backing
China has benefited from proactive government support in the development of IoT with funding allocated as part of the country's 12th Five-Year Development Plans, with the goal of scaling the IoT market to $163 billion by 2020. At the same time, the government's IoT Special fund is promoting IoT research and development, applications and services, with annual investment of $1.6 billion (so much for the UK government's £40 million…). The central government has also selected 202 cities to pilot smart city-based projects to collect, store and analyse information related to transportation, electricity, public safety and environmental factors.
"Clearly, China's size offers economies of scale unavailable to other countries, but it's been the government's focused strategy, emphasis on common specifications and cross-sector collaboration that has allowed the Internet of Things to scale, delivering positive benefits to businesses and consumer alike," said Alex Sinclair, CTO at the GSMA. "Connectivity is boosting major industries such as logistics, manufacturing and energy in terms of increased efficiency, but it has also created a new consumer market in areas such as connected vehicles, home appliances and wearables, putting China at the forefront of IoT deployment."
The report says that China's three mobile operators – China Mobile, China Telecom and China Unicom – are all playing a role in the development of the IoT, although this is mainly still in the provision of connectivity and are focused on B2B deployments. However, they are beginning to move up the value chain into providing connectivity management services and systems integration through partnerships.
"Although the IoT relies on many different types of connectivity, including Bluetooth, WiFi, ZigBee and other short- range wireless technologies, mobile networks are playing a critical role in the delivery of IoT services in China, particularly in the automotive and fleet management sectors," said Anne Bouverot, Director General of the GSMA.
Email Newsletters
Sign up to receive TelecomTV's top news and videos, plus exclusive subscriber-only content direct to your inbox.