August hopes to secure the smart home market (quite literally)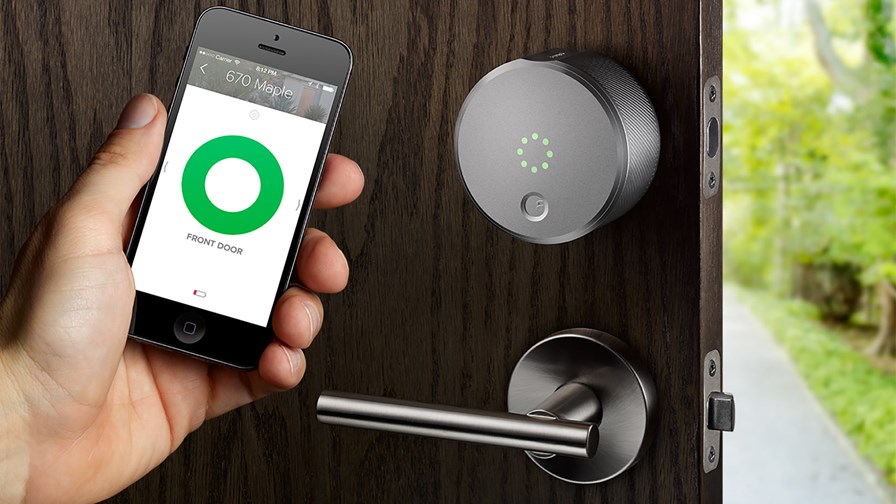 For those looking for the next big thing in the smart home market, who have moved on from smart thermostats and meters, then the humble door lock may provide the answer. Jawbone designer and chief creative officer Yves Behar has expanded his interests from the speaker and fitband company to co-found August, a company focused on producing smartphone-controlled door locks for buildings.
Yesterday, Japanese telco KDDI announced that it has invested in August through its corporate venture fund KDDI Open Innovation Fund. The telcos said that it invested in August because of its "competitive edge in product design and technology to manage and control seamless access to the home".
August's main product, which it launched last October, is the August Smart Lock, enables users to control their door lock directly from their smartphone via Bluetooth. The company says it can be fitted on all single-cylinder deadbolts most commonly found in the North American market, but is not compatible with mortise or Euro-style locks. Neither is it a cheap option, at $250 per lock. And if you want to control your door lock from distances greater than the extension of your arm, then you'll have to buy the companion August Connect wi-fi adapter for a further $50.
KDDI wasn't the only investor in August. The company raised $38 million in venture funding last week, giving it a substantial warchest to break into (excuse the pun) the home automation market; a market that will encompass 36 million homes in Europe and United States by 2017, according to Berg Insight. And that's not including office buildings and hotels. In total it has received $46 million since formation from 24 investors, including Qualcomm and Comcast.
August may well need that warchest if it is to compete against the other design-led home automation company, Nest, which was acquired by Google last year for $3.2 billion. Nest has already added smart smoke detectors to its thermostat offering and has acquired surveillance firm Dropcam. Unless, of course, August's investors have their eye on a quick acquisition from Google, which would provide a tidy return on their $38 million.
Whilst on the face of it, August is just making a door lock that can be controlled a phone, the key to its success is going to be in data. Just as the Internet of Things is not so much about the things themselves, but the analysis and use of the data they provide, so too August's door lock. The smart lock and associated app enable identification, which could prove to be an essential component in smart home solutions. Apple and Google are both trying to develop a universal identity platform based around their mobile OS products, and the smartest of the smart home companies would be wise to tap into that work, rather than compete with it.
For the moment, August looks to be solely focused on developing its smart lock product. There are already 3.2 million homes in North American and European with a smart thermostat, which gives August a realistic target to aim at, and one that is going to require major investment to support. Fellow co-founder and CEO Jason Johnson (who is also the chairman of the Internet of Things Consortium) was quoted as taking inspiration from the Sonos music delivery company: "I believe in delivering not just hardware, but software and firmware as well. I love that my Sonos hardware is over 10 years old, but it's still getting better."
KDDI, meanwhile, says it will "keep investing in start-up companies who have innovative technologies for the forthcoming IoT era that provide new value to customers".
Email Newsletters
Stay up to date with the latest industry developments: sign up to receive TelecomTV's top news and videos plus exclusive subscriber-only content direct to your inbox – including our daily news briefing and weekly wrap.