Anritsu NB-IoT options reduce test software development man-hours by almost 90%
Software Options for MT8870A Universal Test Set provides High-Speed RF Measurements for NB-IoT Devices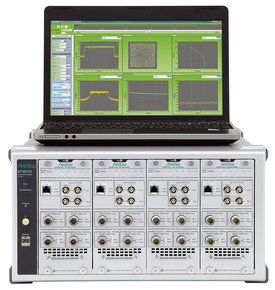 Luton, UK – 23 November 2017: Anritsu Corporation is pleased to announce the availability of the NB-IoT Uplink Tx Measurement MX887067A software and NB-IoT Downlink Waveforms MV887067A package supporting 3GPP RF measurement tests for NB-IoT devices and further strengthening the functions of the popular Universal Wireless Test Set MT8870A.
Installing the NB-IoT options in the MT8870A enables evaluation of communications equipment with built-in NB-IoT functions as well as tests of the RF TRx characteristics of modules. These same options are bundled with a PC application supporting signal analysis to assist customers with development work and design testing. Additionally, a fully automatic measurement application is provided for controlling measuring instruments and chipsets at prototyping and mass-production testing. These application software packages can be used to simplify test program creation and automate measurement, cutting customers' test software development man-hours by about 90%.
Narrowband-IoT (NB-IoT) is the latest standard of wireless technology that has been developed to support IoT devices and services. NB-IoT offers several advantages, including improved power consumption, extended in-building coverage, lower cost and improved security and privacy features. But to be able to meet to growing demand for NB-IoT modules, chipset vendors are looking at cutting the cost of manufacturing by improving measurement efficiency. Anritsu has worked closely with chipset vendors to develop a turnkey system supporting fully automatic measurement. These latest options make full use of optimization technology developed as a manufacturing solution for 2G/3G/4G terminals and have been developed as a multi-device test solution for cutting measurement costs per device as far as possible.
The MT8870A is a Universal Wireless Test Set designed for the mass-production of wireless communication devices, including 2G/3G/LTE/LTE-A, W-LAN, Bluetooth, GPS and FM technologies. Up to four high-performance test units can be installed in one main chassis, with each unit performing completely independent parallel measurements to evaluate up to four wireless communications devices simultaneously.
Installing the developed NB-IoT measurement software (NB-IoT Uplink Tx Measurement MX887067A and NB-IoT Downlink Waveforms MV887067A)in the MT8870A supports fast and easy 3GPP NB-IoT RF tests, including power, frequency, modulation accuracy and Rx sensitivity.
This content extract was originally sourced from an external website (
Anritsu News
) and is the copyright of the external website owner. TelecomTV is not responsible for the content of external websites.
Legal Notices
Email Newsletters
Sign up to receive TelecomTV's top news and videos, plus exclusive subscriber-only content direct to your inbox.