A good week for the Open Compute Project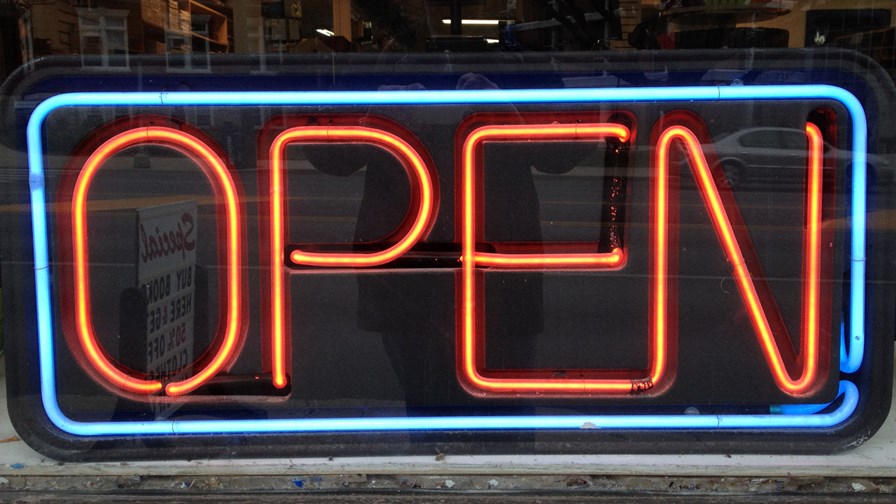 Google finally joins the OCP and contributes power efficiency designs
Microsoft contributes its SDN-based SONiC designs as open source
Facebook comes up with an innovative flash storage solution
Still no sign of Amazon Web Services though
It's been a good week for Open Compute Project (OCP), the Facebook-led project that aims to "reimagine hardware" through the use of shared designs for data centre infrastructure, enabling cross-development to make them more efficient, flexible and scalable. The membership is a who's who of progress telcos and vendors, although there have been a few notable omissions.
That has partly changed this week, as Google has finally joined the party, five years after the creation of the OCP. Google will contribute a new rack specification that includes 48V power distribution and a new form factor to allow OCP racks to fit into its own data centres. Google started work on 48V rack power distribution (as an alternative to the standard 12V) in 2010, and says it found it was at least 30 per cent more energy efficient and more cost effective in supporting higher-performance systems.
"As the industry's working to solve these same problems and dealing with higher-power workloads, such as GPUs for machine learning, it makes sense to standardise this new design by working with OCP," said John Zipfel, Technical Program Manager at Google. "We see an opportunity to contribute our experience and expand the Open Rack specification. We're collaborating with Facebook on a common 48V rack that we intend to submit for consideration by OCP."
Google has said that it sees this initial move as a first step towards a larger collaborative effort with OCP, such as better disk solutions for cloud-based applications, as well as standardised server and networking management systems.
SONiC boom from Microsoft
Google competes head to head with Microsoft in the cloud infrastructure business, although Microsoft joined the OCP back in 2014. Since then it has contributed the Open CloudServer specification (OCS), that powers its own Azure hyper-scale cloud, along with software-defined networking (SDN) technologies to integrate software with hardware via a switch abstraction interface (SAI).
This week, Microsoft announced that it is proposing its SONiC (Software for Open Networking in the Cloud) portfolio, an open source solution for building switches. This is a significant development for Microsoft, which only a decade or so ago thought Linux and open source were its bête noire. The fact that SONiC runs on a flavour of Linux and not Windows is remarkable in itself.
However, whilst Steve Ballmer may have been less than enamoured with Linux, the Microsoft Azure team have been steadily increasing its support for open source programming models, libraries, and Linux distributions. It now says that more than 25 per cent of all virtual machines deployed in Azure are Linux-based, up from 20 per cent just six months ago.
Together with SAI, Microsoft says SONiC will enable cloud operators to take advantage of hardware innovation while giving them a framework to build upon an open source code for apps on the network switch and gain the ability to integrate with multiple platforms.
"In short, we believe it's the final piece of the puzzle in delivering a fully open sourced switch platform that can share the same software stack across hardware from multiple switch vendors," explained Mark Russinovich, CTO of Microsoft Azure. "By contributing SONiC as an open source project to the community on our GitHub repository under an open source license and proposing it for OCP inclusion, we are furthering our history of contributing datacenter innovations to the community."
Take that, Cisco. The SDN battleground is going to be brutal and bloody, and the open source community have proprietary solutions in their sights. Microsoft has picked sides, and just given the OCP members some additional ammunition. Your move, Cisco…
Lightning Flash from Facebook
And finally, Facebook itself made another contribution to the OCP this week. It is proposing a non-volatile memory (NVM) flash storage appliance called Lightning.
Facebook has used flash extensively for many years for its cache and database applications, and most recently as boot drives. However, the number of applications and the capacity footprint have grown rapidly, with SSD density doubling every one and a half years, which means they need to rethink their approach, as current solutions cannot scale effectively.
"One solution for continuing to improve operational efficiency within our data centres is to disaggregate the hardware and software components," explained Chris Petersen, Hardware Systems Engineer at Facebook. "In keeping with that trend, we have created a flash building block – a flash sled – that we can use to better scale out the flash capacity across multiple applications and tune the compute-to-storage ratio."
All well and good, but the biggest (currently) public cloud market provider is still absent from the OCP – Amazon Web Services. Will the market leader join the rest of the pack and share its designs, or will it continue to go it alone? Our money is on the latter, unfortunately. And what of the other OCP absentee – VMware? The fact that VMware is not part of Microsoft's SONiC development, preferring to promote its own solution for SDN, suggests that they too will be sitting this one out.
Email Newsletters
Stay up to date with the latest industry developments: sign up to receive TelecomTV's top news and videos plus exclusive subscriber-only content direct to your inbox – including our daily news briefing and weekly wrap.