Getting industrious: telcos must rethink their offer to smart manufacturers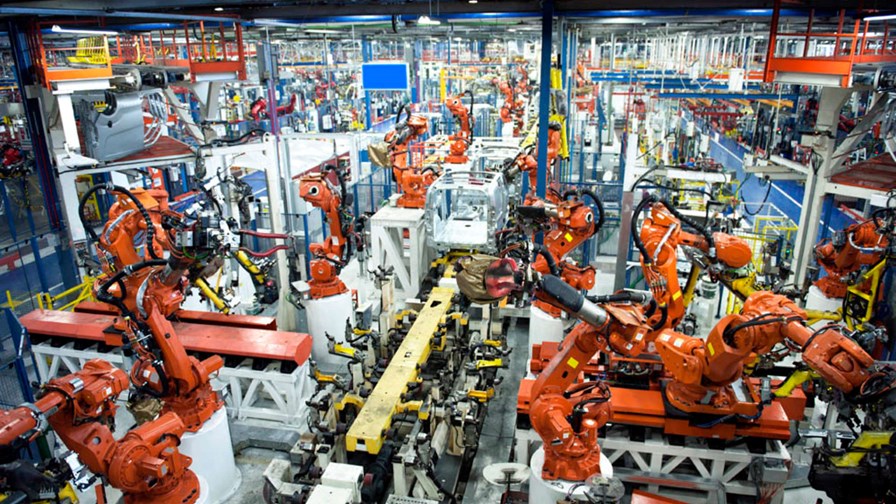 Mobile telcos need to get 'un-telco' to properly tackle the manufacturing sector
Trouble is, they haven't yet and show few signs of doing so
Meanwhile the manufacturing sector is getting 'smart' via its established vendors
The industrial Internet, 'Industrial IoT' and more latterly, 'smart manufacturing' are often cited as key targets for mobile operators wielding 5G. But their ability to tap such a broad and technically advanced vertical is in doubt - at least on current evidence. Smart industry itself has long been pursuing all those loose technical categories mentioned above under its own steam, applying its own terminology and, importantly, contracting its own set of suppliers to see their smart manufacturing innovations through. From this position it's unlikely to get itself all excited when the mobile industry comes to call.
As ABI Research (below) says, "The manufacturing market looks for enhancements, not disruption, and for solutions, not technologies."
At present the mobile industry seems to be trying to offer them the two things (technology and disruption) that they DON'T want.
Earlier this year ABI Research went to the world's premier industry show, Hannover Messe 2018, and compiled a report on what IoT-type trends it found there - the signs weren't brilliant from a mobile telco point of view as we reported at the time (See - How ripe is the industrial market for telecom services?).
Amongst other things it found that manufacturers were confused by choice and baffled by the complexity on offer, especially the confusion introduced by what it describes as the "vociferous role that cloud/IT players such as AWS, SAP and Microsoft are taking in positioning their solutions [being] diametrically opposite to the position being held by traditional industrial vendors."
Now ABI has followed up with a research report, UnTelco in Manufacturing: Telco Opportunities and Market Activities. Having identified what mobile operators might be doing wrong it's setting out the starting points for what it might be able to do right.
The Promise of 5G Alone Is Not Enough For Mobile Service Providers to Enter Smart Manufacturing
London, United Kingdom - 25 Jun 2018
Despite high ambitions for the smart manufacturing sector, mobile service providers (MSPs), are currently secondary players in this market. Consequently, their short-term opportunity in manufacturing is forecasted to be only US$2.6 billion by 2022, according to ABI Research, a market-foresight advisory firm providing strategic guidance on the most compelling transformative technologies.
"The manufacturing market has grown without MSPs so far, and if they don't play their cards right, it will continue to do so," said Pablo Tomasi Senior Analyst at ABI Research. "UnTelco – the need for MSPs to think and act beyond their traditional boundaries – in manufacturing is about entering a well-entrenched sector developing new market strategies and partnerships. MSPs have a chance to enter the smart manufacturing market building from the ground up, gaining trust as partners, and proving that the value of their offering is beyond what is currently delivered in the market. 5G is a promise, but alone is not enough and with doubts on what business model will support it, 5G's ability to integrate with legacy technologies, and the actual results delivered in harsh factory environments, there is much uncertainty about whether 5G will be a game-changer for MSPs in manufacturing."
MSPs must understand their competitive position in the market, be patient, prepare for a long journey, and align their ambitions with what the sector wants. Partnering with market leaders will be essential - the recently announced partnership between Orange and Siemens is an example of what should be a growing trend. 5G will not be in the factory for few years, and to be successful, a wider alignment between industrial vendors and MSPs is essential. Even the private LTE solutions currently available are only at a very early stage in manufacturing and still the lack the success stories needed to prove their value in the market.
"The manufacturing market looks for enhancements, not disruption, and for solutions, not technologies. MSPs should tailor their offerings, including 5G, to these enhancements and solutions," Tomasi concluded.
These findings are from ABI Research's UnTelco in Manufacturing: Telco Opportunities and Market Activities report. This report is part of the company's Telco Cloud Platforms & Digital Transformation research service, which includes research, data, and Executive Foresights.
This content extract was originally sourced from an external website (
ABI Research Media Releases
) and is the copyright of the external website owner. TelecomTV is not responsible for the content of external websites.
Legal Notices
Email Newsletters
Sign up to receive TelecomTV's top news and videos, plus exclusive subscriber-only content direct to your inbox.