What's up with… Optical investments, US telco stocks, the chip giants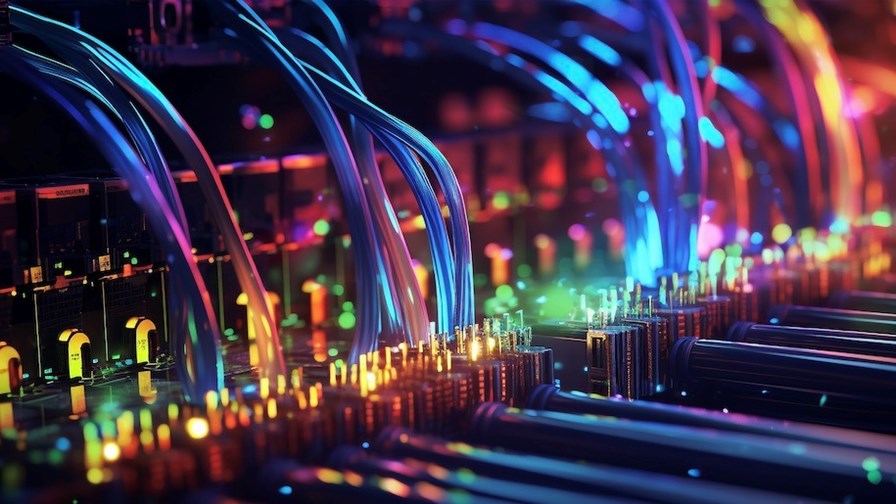 Optical network system investments are on the up
Lead-coated cable concerns hammer US telco stocks
US chip giants plead for trade restriction relief
In today's industry news roundup: All the signs are pointing to increasing investments in optical networking systems, according to research house Dell'Oro Group; the valuations of four US telcos have taken a hammering following reports about alleged toxic lead-coated cables; US chip firms make a plea for an ease in technology trade restrictions; and much more!
Some cheery news for the optical vendor community: Research house Dell'Oro Group believes the optical equipment sector is going to be worth a cumulative US$83bn in the five years from 2023 to 2027, a significant 10% higher than the cumulative value of the market during the 2018 to 2022 five-year period (about $75.5bn in value based on our back-of-the-envelope calculation). By 2027, the market is forecast to be worth almost $18bn per year. "We slightly raised our outlook for optical transport equipment," stated Dell'Oro vice president, Jimmy Yu, in this press release. "We believe the demand for long haul equipment is better than we had originally thought and while working on the report identified more items that could further improve future market revenues than lower them. At the end of the day, although year-to-year spending on optical equipment is lumpy, the direction for bandwidth consumption remains steady, pointing up and to the right," added the analyst. Lumpy is a good way to describe the optical market, which is hard to predict from quarter to quarter and easier to forecast over longer periods (provided the analysts have some good steers from the major network operator investors). And it's hard to argue against the theory that investments in optical transport systems will continue to be strong while data traffic volumes continue to grow, especially between datacentres. The companies set to benefit from the ongoing strength of the optical system sector are Ciena, Huawei, Infinera, Nokia and ZTE, though there are smaller specialists, such as Ekinops, which recently reported improving revenues.
Ongoing revelations by The Wall Street Journal (WSJ) that major US telcos ignored the potential health hazard caused by toxic legacy lead-coated cables have decimated the market valuations of both AT&T and Verizon as investors grow increasingly concerned that the telcos might ultimately face legal action and be forced to make massive payouts. The WSJ (subscription required) first reported that the network operators had "left behind a sprawling network of cables covered in toxic lead that stretches across the US, under the water, in the soil and on poles overhead" on 9 July, and since then AT&T's share price has lost 8.7% of its value and is currently trading at $13.92, having recovered slightly from a 29-year low price last Friday. Verizon's stock has not been hit quite so badly, but it has lost 6% of its value in the past five days and currently trades at $33.04. They're not the only network operators affected: Frontier Communications has seen its share price plummet by almost 33% to $12.37 in the past five days, while the stock of Lumen Technologies (formerly Centurylink) is down by just over 20% to $1.68. It's a bloodbath. AT&T responded to the WSJ article on 9 July, stating that the newspaper's report "conflicts not only with what independent experts and long-standing science have stated about the safety of lead-clad telecom cables but also our own testing, which we have made available to the public and shared with The Journal. The scientific literature and reliable studies in the US and abroad give no reason to believe that these cables pose a public health issue or a risk to workers when appropriate safety measures are in place. Based on information shared by The Journal, it appears that certain of their testing methodologies are flawed and one of the companies responsible for the testing is compromised by a conflict of interest." Make of that what you will… Verizon did not publish a response to the WSJ article, but it's hard to imagine this issue will not be addressed when the operator publishes its second quarter financials on 25 July. AT&T is to issue its latest quarterly report on 26 July. Meanwhile, the WSJ's latest article on the matter suggests the financial liabilities resulting from the expected legal action against the telcos will be "potentially huge".
The US's major chip companies, via their trade body, the Semiconductor Industry Association (SIA), are pleading with the Biden administration to refrain from imposing even greater restrictions on the business they can do with China, because while the sanctions are most definitely cramping the ability of Chinese companies, such as Huawei, to develop and sell competitive technology products, the increasingly tough rules are also hitting the top and bottom lines of major companies such as Intel and Qualcomm. The SIA noted that repeated steps to "impose overly broad, ambiguous, and at times unilateral restrictions risk diminishing the US semiconductor industry's competitiveness, disrupting supply chains, causing significant market uncertainty, and prompting continued escalatory retaliation by China," which recently placed export restrictions on gallium and germanium, two metals used in chip production – the global supply of which currently comes from China. "We call on both governments to ease tensions and seek solutions through dialogue, not further escalation," added the SIA in this statement. "And we urge the administration to refrain from further restrictions until it engages more extensively with industry and experts to assess the impact of current and potential restrictions to determine whether they are narrow and clearly defined, consistently applied, and fully coordinated with allies." According to Reuters, the CEOs of Intel and Qualcomm plan to discuss the ongoing situation with US government officials this week.
Satellite-enabled internet of things (IoT) solutions are tipped to play a key role in making power grid networks more resilient to emerging threats, according to fresh research commissioned by satellite company Viasat and conducted by Censuswide. Its findings, which are based on answers from senior electrical utilities industry professionals, suggested that three quarters (76%) of those surveyed were optimistic about the ability of satellite communications to play a crucial role in improving infrastructure reliability. Furthermore, 75% claimed satellite IoT technology is already helping to mitigate some of the biggest risks facing the industry. It is also believed to be helping to mitigate climate change and threats related to natural disasters, through innovations such as environmental monitoring, early warning systems and remote asset management. Another finding suggested that 79% of those surveyed claimed that satellite communications help in addressing risks associated with cyberthreats through advanced encryption and authentication mechanisms, and secure traffic routing systems.
Philippine operator Globe has showcased a series of 5G-connected robots, which it believes hold "immense value for both the company and its customers". At an event held at its headquarters in the city of Taguig, it demonstrated various robots, powered by 5G, performing their designated tasks "with precision and efficiency", including a concierge robot guiding attendees to booths and meeting rooms, a delivery robot and a cleaning robot. According to the telco, the demonstrations showed the capability of robots in boosting productivity across industries. "These advanced robots are capable of executing various use cases spanning across industries, including hospitality and logistics. They represent a significant leap forward in leveraging 5G technology to drive efficiency and effectiveness in diverse operational scenarios," said Gerhard Tan, director and head of technology strategy and innovation at Globe. Find out more.
Vodafone Group is to bank proceeds of €500m from the sale of another slice of Vantage Towers, the mobile towers company it spun out in 2020 and in which it sold a stake late last year to private equity firms Global Infrastructure Partners (GIP) and KKR. As part of that deal, Vodafone formed a joint venture with its new co-owners called Oak Holdings: Under the terms of the deal, GIP and KKR are allowed to increase their combined stake in the joint venture to be equal to that still held by Vodafone – the full details of the complex arrangement are in this article. Now GIP and KKR have increased their combined stake in Oak Holdings to 40% and Vodafone has increased its total net proceeds from the sale of shares in the towers business to €5.4bn, with more to come if GIP and KKR opt to increase their stake further. For more background on the ownership of Vantage Towers and its assets, see Vodafone sells a slice of Vantage Towers for up to €7.1bn.
- The staff, TelecomTV