Pharma companies in need of stronger mHealth medicine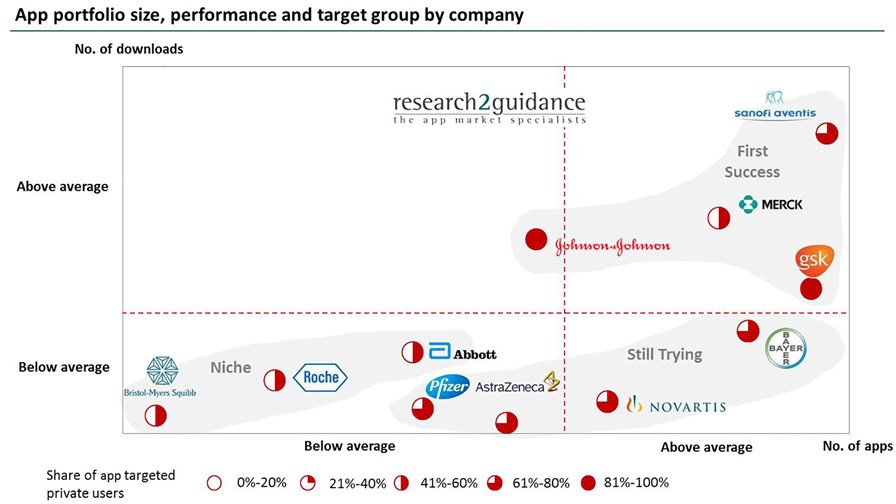 Who's disrupting the mHealth business? Not the pharmaceutical companies, according to a new report from Research2Guidance, who have discovered that the big Pharma companies have no substantial impact on the mHealth app economy.
Yet it's not for want of trying. Some have released more than 100 public apps for the iOS and Android platforms, with which they have generated only limited reach. Each of the leading Pharma companies offers an average of 65 apps in the Apple App Store and Google Play, compared to just one or two from a typical mHealth app publisher. Yet despite the volume, the Pharma leading firms have been able to generate 6.6m downloads since 2008 and have less than 1m active users.
"Given their dominant position in the healthcare market, the investment made into app publishing and the spectacular success stories of garage-type mHealth app publishers, the Pharma companies app portfolios' performance is disappointing," said Ralf-Gordon Jahns, report author and co-founder of Research2Guidance.
He says that the Pharma app publishers can be categorised into three groups: niche players; ones that have achieved some success; and those who are still trying.
Amongst the niche players are Roche and Bristol-Myers Squibb, who use apps to promote their core products and who mainly target healthcare professionals. Merck is an example of a Pharma company with a large app portfolio (over 100) that has been successful and generated above average download numbers. The majority of its apps target the mass market, with 93 per cent of its reach down to its top three apps. Bayer Healthcare and Novartis are example of Pharma companies who are "still trying". They are very active in terms of the number of published apps, but their user reach is low.
As to why Pharma companies are failing, the report analysed the app activities of the top 11 Pharma companies and found three key reasons:
their app portfolios are not globally available, with almost 50 per cent targetting only local markets and are generally available in 3 or less countries;

their app portfolios are built around their core products and not around the actual market demand;
and there is no cross-referencing or common and recognizable design amongst their app portfolios, with some firms using multiple developers (Novartis uses 17 different developer companies).
So do Pharma companies have a role in the mHealth app economy? Or is this one example where the market is better suited to other players? In which case, should telcos switch their focus and partner with other companies within the healthcare sector?
Email Newsletters
Sign up to receive TelecomTV's top news and videos, plus exclusive subscriber-only content direct to your inbox.