What's up with… Oracle & MWC, Orange, Ofcom & 5G spectrum, Apple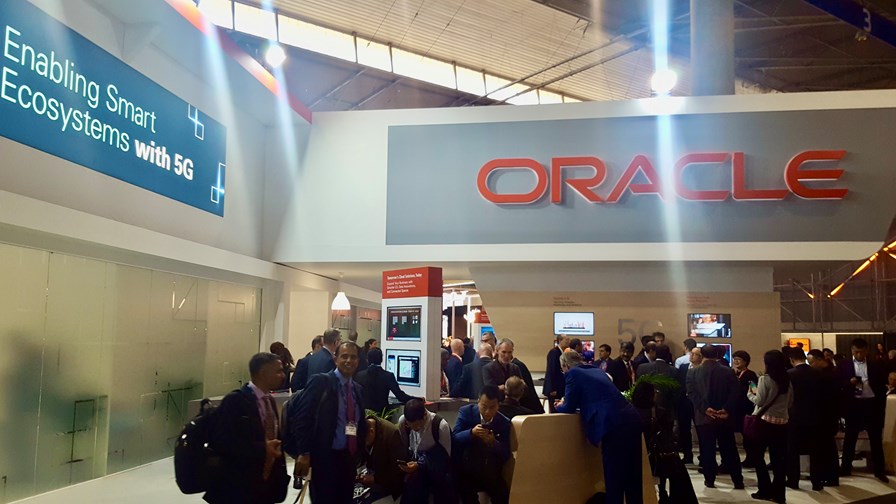 Oracle bows out of MWC21
Orange is going green
Ofcom readies next 5G spectrum auction
Apple plans major investment in Munich
The latest MWC21 development, green moves at Orange and upcoming 5G bidding in the UK are at the front of today's industry news queue.
Ericsson isn't the only big name to be avoiding MWC this year due to ongoing concerns about the Covid-19 pandemic: Oracle has confirmed to TelecomTV that it is not participating in the show this year. On Monday this week, the show's organizer, the GSMA, announced its health and safety plan for MWC21, which is set to start on 28 June in Barcelona, but only hours later Ericsson announced its withdrawal from the show floor. This seems like the critical window for companies to decide whether to commit to an appearance in Barcelona or to hold off for another year.
Orange has signed a major green power supply deal with Total, which will supply the operator with 100 GWh of renewable energy per year for 20 years and build 12 new solar power plants spread throughout metropolitan France with a cumulative capacity of 80 MW to help achieve its commitments. Read more.
UK regulator Ofcom's auction of 120 MHz of airwaves in the 3.6-3.8 GHz band, a prime slice of capacity for 5G services, and 80 MHz of spectrum in the 700 MHz band, which is useful for in-building and wide area (non-urban) coverage, will begin on 12 March, with all four infrastructure-based operators – BT/EE, Hutchison 3G UK (Three), Telefónica UK (O2) and Vodafone – set to participate in the bidding.
Apple is to invest more than €1 billion during the next three years on a new R&D facility and the hiring of hundreds of additional staff in Munich as part of plans to make the German city its European Silicon Design Center. "I couldn't be more excited for everything our Munich engineering teams will discover — from exploring the new frontiers of 5G technology, to a new generation of technologies that bring power, speed, and connectivity to the world," said Tim Cook, Apple's CEO, in this announcement. "Munich has been a home to Apple for four decades, and we're grateful to this community and to Germany for being a part of our journey."
Having been dumped from the NYSE earlier this year, China Telecom is planning to list its shares on the Shanghai Stock Exchange, reports Reuters. It is aiming to raise about $4 billion from the listing, and plans to use those funds for ongoing infrastructure projects, including its 56G rollout.
Disney+ took just 16 months to reach the 100 million milestone for subscriptions to its streaming service, the entertainment giant announced. And yes, that's a lot quicker than other services reached that level of paid subscribers, but it's fair to say that market conditions in the past year or so have been somewhat unusual: The company had initially expected to reach 60-90 million subscribers by 2024. Naturally, it has revised its targets, and now expects to have 230-260 million paying customers in three years' time.
The UK's Digital Regulation Cooperation Forum (DRCF), formed in July last year by regulator Ofcom, the Competition and Markets Authority (CMA) and the Information Commissioner's Office (ICO), has outlined its priorities for the coming year, "marking a step-change in coordination of regulation across digital and online services." Among its priorities is the development of "joined-up regulatory approaches," such as the interrelation between data protection and competition regulation. For further details, see this announcement.
Following the recent announcement that eight vendors have signed to participate in the early endeavours of the UK's SmartRAN Open Network Interoperability Centre (SONIC), Appledore Research analyst Robert Curran has taken a closer look at the work SONIC has planned in this blog.
Big stick for big tech? There is growing speculation that President Biden is set to nominate Lina Khan to the Federal Trade Commission: Khan, according to Reuters, "has a reputation for being a progressive on antitrust with a special interest in Big Tech." Following in the wake of the appointment of Tim Wu, who is to "work on Technology and Competition Policy at the National Economic Council," Khan's appointment would be a further signal that Biden is serious about reinvigorating antitrust action in the US to stem the monopoly power of 'big tech'. Both Wu and Khan are high-profile progressive academics. Wu, a Columbia law professor, is a foundational advocate for the open Internet and is widely credited with coming up with the term "net neutrality". Khan, a professor at Columbia Law School, was on the staff of the House Judiciary Committee's antitrust panel responsible for a report last year on the power of Amazon, Apple, Facebook and Alphabet.
If you thought the early 2020 outbreak of opinions such as "radio tech causes cancer and er... other things" had been debunked and shooed off the stage (burning radio masts and all) to make space for newcontroversies, think again. It's apparently still alive and well in France, according to Euractive.com, which reports that three amendments proposing a "moratorium" on 5G deployment were recently tabled before the French National Assembly during an examination of a bill to combat climate change. They proposed that radio frequencies dedicated to 5G networks be provisionally suspended pending the results of a 5G evaluation on health and climate. The amendments are unlikely to get any traction given the Macron government's support of the 5G effort, but it's a sign that new and potentially more virulent strains of "radio tech causes x" can flare up anywhere given the right conditions.
Africa's overall mobile phone market grew 4.6% in Q4 2020, according to IDC. Feature phone shipments to the region grew 7.6%, while smartphone shipments increased only 0.7% over the same period. Looking at the year as a whole, however, Africa's overall mobile phone market declined 10.0% YoY in 2020, mostly because of COVID-19 in the first half the year. QoQ, South Africa led the way in the smartphone space, with shipments increasing 16.3% in Q4 2020. The Nigerian smartphone market grew 12.1% QoQ, while Egypt's growth was much slower at just 1.8%. IDC says the performance was good in Q4 and indicates that further recovery is to be expected in the second half of this year.
Email Newsletters
Stay up to date with the latest industry developments: sign up to receive TelecomTV's top news and videos plus exclusive subscriber-only content direct to your inbox – including our daily news briefing and weekly wrap.