BT shares recipe for sustainable business digitalisation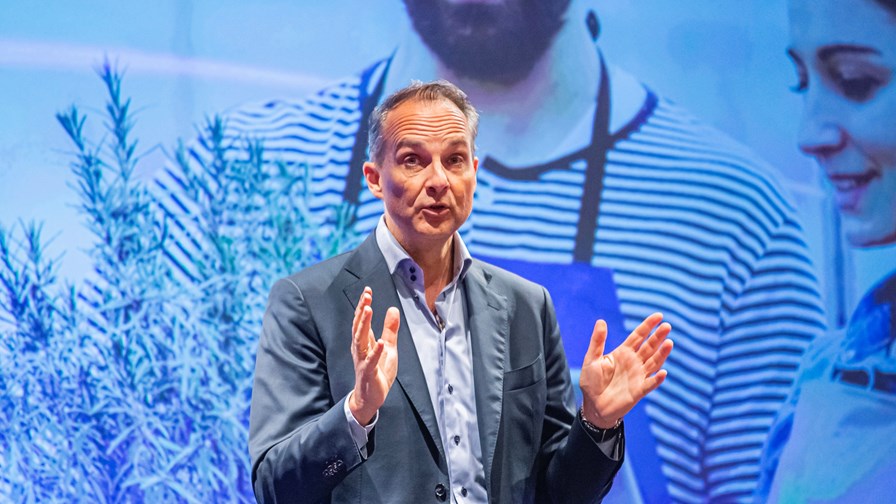 BT held its first-ever Sustainability Festival at R&D centre Adastral Park
BT Business chief Bas Burger believes technology can help enterprises "leapfrog" the problem of climate change
The company is targeting decarbonisation experts to help its customers be more sustainable
BT needs to be careful not to fall into the "greenwashing" trap, according to analyst Kester Mann
IPSWICH, UK – BT's Sustainability Festival 2023 – BT believes it has uncovered a plethora of ways to make its networks greener and enable its business customers to follow that lead. It sees technology and data as crucial to "leapfrog" challenges stemming from climate change.
During its Sustainability Festival held at its Adastral Park R&D centre, BT Business CEO, Bas Burger (pictured above), argued that, compared with 20 or even 10 years ago, the world is far more capable of dealing with the issue of climate change because "our technology is in a [much] better place".
"There is technology available that does not allow us to just incrementally improve the way we deal with climate change and sustainability, but to truly leapfrog some of the problems. Technology is truly going to help us to think about leapfrogging the problem, getting ahead of it and truly getting to a net-zero environment," Burger noted in a keynote speech addressing BT's partners and customers.
However, he acknowledged that technology is also "becoming part of the problem", with the vast volumes of data being processed and transported around the world only set to grow further, as generative AI (GenAI) applications require "five times more power usage because of the compute power it needs. And that's a trend that's also not going to stop," he added. "So, technology in itself also needs to deal with that challenge."
On this train of thought, he noted that nobody can tackle this issue by themselves, and if BT and its partners "feel the sense of urgency, then we will solve this together and hopefully we can get to some really great actions," though he did not provide specific resolutions.
"We are actually building three pillars that help our customers build sustainability – measuring, connecting and scaling. We are helping customers [measure] how their network impacts the footprint, what they are using and how [that] affects the footprint," he explained.
With regards to connectivity, Burger noted that BT is not just providing standard connectivity but is also helping enterprise customers to connect smart, environmentally friendly devices in buildings, fleet vehicles and more, before helping them to collect data from those devices.
In terms of scaling, the BT Business chief noted that the company realises that "the whole compute power hype, and the fact that compute power is damaging to the environment, also means that our customers need to figure out how you can efficiently use digital technology so you don't have to move petabytes [of data] around the world – sometimes moving a little bit is enough. And we have tools in place that can help with that".
Adding to that point, Sarwar Khan, global head of sustainability at BT Business, noted that currently the biggest challenge facing organisations is the ability to measure their impact. Here, he highlighted a few solutions unveiled by BT at the start of 2023 – the Digital Carbon Calculator and the Carbon Network Dashboard – to help customers assess their carbon footprint.
Khan stressed how important it is for BT to strike partnerships with "decarbonisation experts to help our customers digitalise and decarbonise their operations at scale". One step towards this is the collaboration with Johnson Controls to make buildings smarter by combining BT's "secure, resilient networks" with Johnson Controls' OpenBlue digital platform. According to Khan, this will help customers to digitally measure, analyse and optimise energy usage across their buildings.
In terms of data growth, given that data traffic volumes are expected to grow eightfold by 2030 (excluding the impact of AI), potentially driving greater energy consumption and carbon emissions, Khan said BT is doing its part to alleviate the impact of such trends. "We are making our networks much more energy efficient; we are powering them with 100% renewable electricity globally; and we are setting the foundation for our customers to have a low-carbon service," he stated, adding that BT has learned a great deal from using its Carbon Network Dashboard, which delivers a "real-time view of power consumption", using machine learning (ML) to determine and predict anomalies based on historic usage.
Khan shared his insights on BT's other sustainability efforts, as well as evolving customer demands, in a TelecomTV interview, available to watch here.
Other measures taken by BT include the decommissioning of legacy networks, such as copper and older mobile network generations, to focus on newer technologies, such as fibre and 5G, which are both considered more sustainable. This action could save the company as much as £500m by BT's financial year 2030-31 – see BT eyes savings of £500m by pulling the plug on legacy fixed networks.
At the Adastral Park event, BT also demonstrated several liquid cooling solutions aimed at reducing the environmental impact generated across its networks and IT infrastructure – see BT plays it cool with new sustainability solutions.
CCS Insight's director of consumer and connectivity, Kester Mann, welcomed the initiative by BT to produce a festival dedicated to sustainability, suggesting that "it would have been hard to imagine a telecom operator attracting anything like as much interest as was shown at BT's sustainability festival, should it have hosted it as recently as five years ago".
Mann added that the UK telco group "should be commended for putting on an inspiring event and would be right to consider itself as one of the more forward-thinking operators in sustainable technologies".
However, the analyst cautioned that, like other operators, BT "must be careful to avoid falling into the trap of 'greenwashing' – over-emphasising its capabilities and adding a tenuous environmental link to every product and announcement. This could undermine some of the clearly very commendable efforts to tackle climate change it and others are already engaged in."
- Yanitsa Boyadzhieva, Deputy Editor, TelecomTV
Email Newsletters
Sign up to receive TelecomTV's top news and videos, plus exclusive subscriber-only content direct to your inbox.