BT plays it cool with new sustainability solutions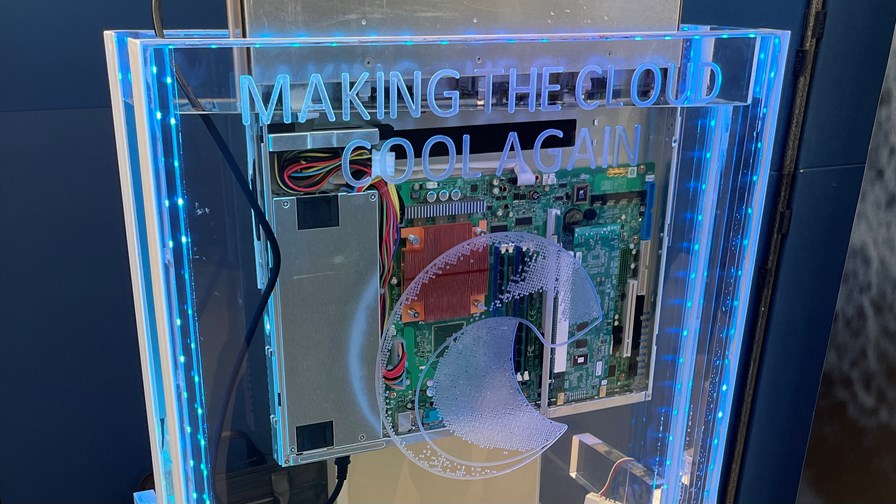 BT is making strides towards its target of being net zero by 2031
It is betting on liquid cooling solutions for its networks and IT infrastructure
The telco hopes to achieve significant energy savings and efficiency improvements
IPSWICH, UK – BT's Sustainability Festival 2023 – As part of its efforts to become a green telco, BT is exploring the use of liquid cooling solutions across its network and IT infrastructure, and, according to the operator, its initial trials with an abundance of partners suggest significant cost reductions could be achieved.
During its first Sustainability Festival, held at its Adastral Park research centre this week, the UK telco demonstrated some of the emerging technologies that, it hopes, will help it become net zero by the end of March 2031 – and the majority of them are focused on ways to keep datacentre equipment cool, a challenge often cited by the whole tech sector as a major pain point.
While the fundamental technology is owned by the vendors of the solutions it had on display at Adastral Park, BT is engaged with them in terms of specific design requirements. Particularly noteworthy were two demonstrations of equipment being fully immersed in liquid. Branded by BT's team as "revolutionary", the concept is based on taking any piece of network equipment, removing its fans, and immersing it in dielectric fluid that does not conduct electricity.
One of BT's liquid cooling solution partners is Immersion4, which is working on a trial to house servers in an immersion tank (see image, above). The company's founder, Serge Conesa, explained that Immersion4's technology can deliver up to 70% in energy savings as it focuses on cooling only the equipment, rather than the whole building (an approach he likened to chilling a bottle of champagne rather than cooling an entire venue).
In another showcase, BT demonstrated full immersion technology from partner PeaSoup Cloud that can save up to 20% in energy consumption (see image, below). BT explained that with this solution not only is there no need to cool the whole building but it means the equipment doesn't need to deal with excessive heat and is not put under strain, which results in longer-lasting components.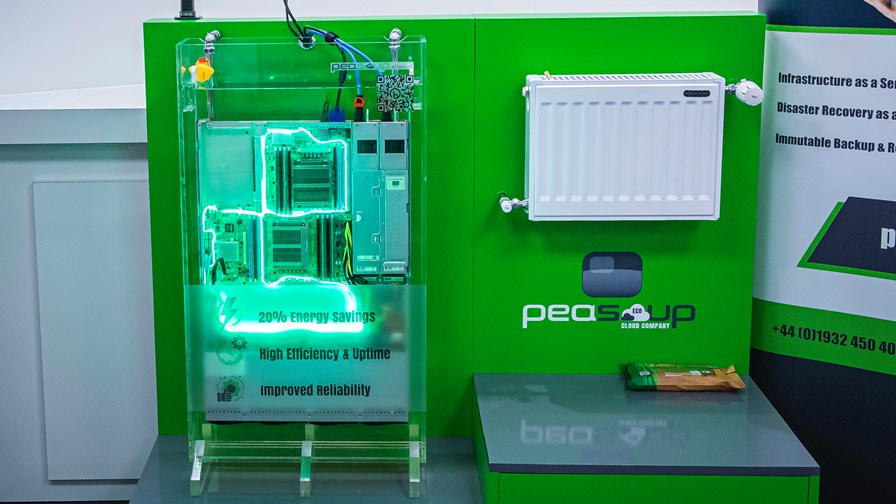 The UK telco also unveiled plans for what it called an 'industry-first' trial of 'precision liquid cooled' network switches using a solution provided by Iceotope and involving Juniper Network QFX Series switches. A demonstration prior to the trial had already shown that the power needed to cool a network switch that is typically deployed in a datacentre could be "significantly reduced", the company stated, adding that it is also exploring the method of cooling using sprayed-on partial immersion of datacentre equipment with Airsys (see image, below).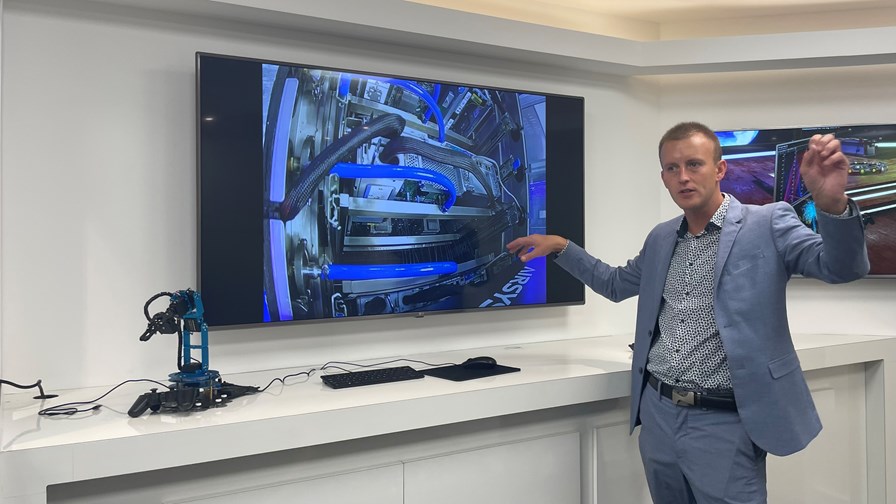 BT's research work with these collaborators is to identify which solutions are optimal for a variety of scenarios and the amount of energy savings they would bring. According to BT's estimations, such techniques could cut out around 40% to 50% of the power needed to cool systems compared to typical air cooling, especially at datacentres, as well as being able to save on real estate footprint and material usage.
The telco also believes that rather than dissipating heat into the air, liquid-cooling systems can channel exhausted heat into being reused for other purposes, such as to heat other parts of a building.
BT's explorations are made with a view to eventually deploying some of them across its infrastructure. The company told TelecomTV that it needs to conduct long-term testing "to learn how to operate the systems in life and the maximum potential energy savings" – a process that is expected to take at least one to two years.
"In a world of advancing technology and growing data demands, it's critical that we continue to innovate for energy-efficiency solutions. Liquid cooling for network and IT infrastructure is one part of a much bigger jigsaw but is an area we're very excited to explore with our technology partners," stated Maria Cuevas, networks research director at BT.
- Yanitsa Boyadzhieva, Deputy Editor, TelecomTV
Email Newsletters
Sign up to receive TelecomTV's top news and videos, plus exclusive subscriber-only content direct to your inbox.