Global 5.5G network pioneers debut: shedding light on a new era
[Dubai, UAE] 13 leading global operators launched 5.5G network pioneers at the 14th Global Mobile Broadband Forum (MBBF). This signifies 5.5G's expansion from scenario-based technical verification to commercial deployment, ushering in a new era of 5.5G.
Operators from different regions attended the launch ceremony, including stc group, du UAE, Omantel, Zain KSA , Zain Kuwait, Ooredoo Kuwait from Middle East, and China Mobile, China Telecom ,China Unicom, CMHK, CTM, HKT, Hutchison Telecom from Asia Pacific.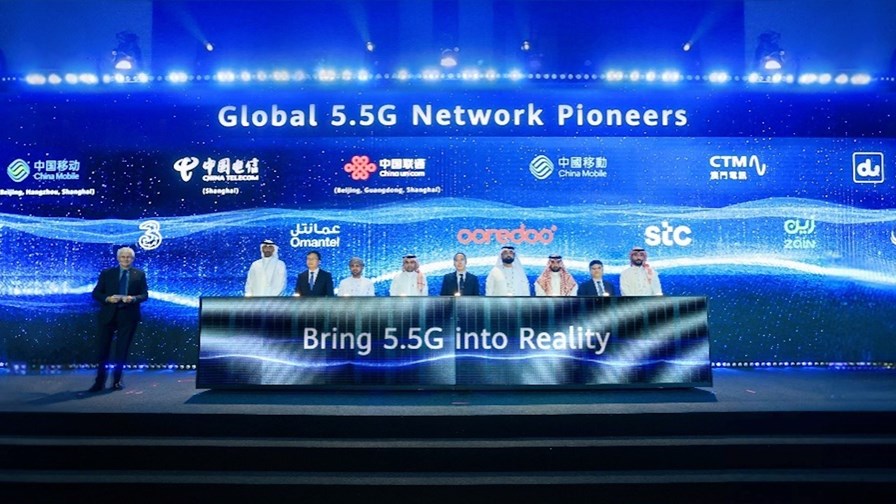 Operators attending the 5.5G launch ceremony
5.5G offers 10-fold higher network capability, compared with 5G, to support new experiences, new connectivity, and new services, thus deepening digital and intelligent social transformation while driving the higher-quality and more efficient development of the digital economy. 5.5G has been experiencing rapid development since being named by 3GPP in 2021. Its key technologies and value have already been verified by a number of leading global operators. Through close collaboration, the industry chain is seeing an increasingly mature 5.5G ecosystem, with major vendors launching their 5.5G devices and chips, 5.5G CPEs, and other device models, while high-end, mid-range, and entry-level devices for XR are ready to further enhance experiences and enrich the ecosystem.
President of GSA Joe Barrett said that"we are excited to see many operators have launched or will launch 5.5G innovations.The ceremony of the global 5.5G network pioneers means we are now entering the era of 5.5G. We are moving from technical and value verification to commercial deployment. We expect that 2024 will be the first year of commercial use of 5.5G. It's our joint effort to scale up 5.5G to accelerate 3GPP technology roll out. "
The Global Mobile Broadband Forum 2023 themed at "Bring 5.5G into Reality" is hosted by Huawei, together with its industry partners GSMA, GTI, and SAMENA. Held on October 10 and 11 in Dubai, UAE, this annual forum gathers mobile network carriers, vertical industry leaders, and ecosystem partners from around the world to explore the success of 5G commercialization and accelerate the commercial use of 5.5G. For more information, please visit: https://www.huawei.com/en/events/mbbf2023
Email Newsletters
Sign up to receive TelecomTV's top news and videos, plus exclusive subscriber-only content direct to your inbox.