Insights from the Telco Cloud-Native TechTalk on MBBF 2023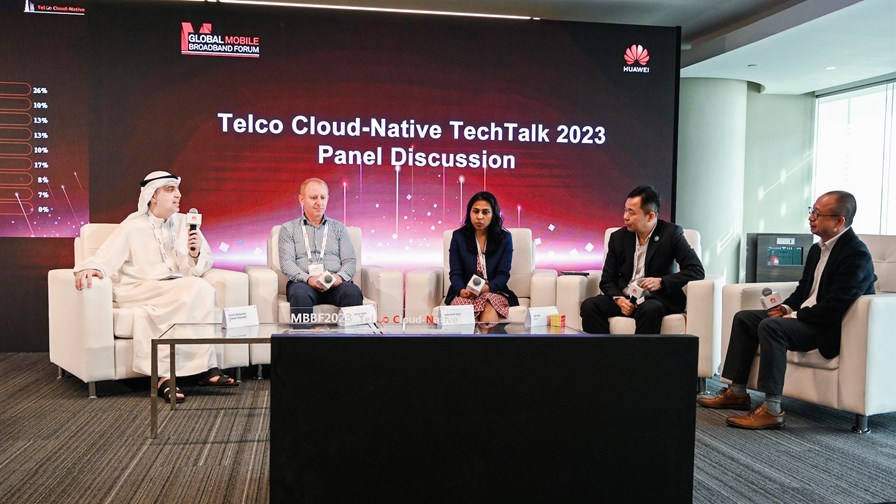 There are still 400 million people in the world who do not live within the confines or within the services of the network. However, there are 3.2 billion people in the world who live within a mobile network, service, or mobile broadband network service but are not using mobile broadband services. That's almost half of humanity. Imagine the economic and societal benefits that we will all get if 3.2 additional people million billion people start using mobility services and engaging in the mobile economy, the digital economy, mobile banking and so on.
This was the underlying theme at the Huawei 2023 Global MBB Forum held in Dubai, and one of the highlights was the CTO Roundtable "Telco Cloud-native TechTalk on Intelligent Core", where industry leaders shared 5G best practices and explored 5.5G innovations. 30+ CTOs debated on two topics: Telco Cloud Strategy Accelerates 5G Business Success and Autonomous Network Enables Digital Transformation.
The opening featured presentations by Jawad Jalal Abbassi, Head of Middle East and North Africa (MENA), GSMA; Izhar Ahmad, Director of Industry Affairs & Communication, SAMENA; and George Gao, President of Cloud Core Network Product Line, Huawei.
They highlighted that while the 5G industry continues to boom and offers great potential, cloud technologies are reshaping the telecom industry, especially in the core network realm. Notably, NFV technologies have been put into large-scale commercial use and have seen remarkable achievements over the past decade. As 5.5G approaches, NFV faces both opportunities and challenges. At the same time, cloud infrastructure needs to maintain carrier-class stability while introducing intelligent O&M management and enhancing agile automation capabilities. Joint efforts are required to accelerate 5G business success, embrace a more prosperous 5.5G, and move towards the next golden decade of NFV.
The first session began with Mr Khalid Mohamed Shareef Alawadhi, International Core SVP at e& Group, who explained the company's evolving strategy for operating part of its network in the cloud across its many properties and the advantages this brings.
Interviews with Juan Carlos Garcia, SVP of Technology Innovation and Ecosystems at Telefónica, noted that there would be a separation of the application and infrastructure layers and the need to manage the network functions across all the systems.
Terje Jensen, Senior Vice President and head of Network and Cloud Technology Strategy at Telenor, mentioned that cloud components can come from various sources, so it is important that the cloud platform is actually working as one set of resources across different instances and also across different locations. That means that automation needs to be ordered all the way and needs to comply with internal requirements of performance, regulatory requirements and requirements from customers.
The following panel raised the issue of cloud complexity with many differing services and looking at one standard for all services, which is difficult because making that standard would involve the ETSI and others. When multi-cloud services catch up with virtualization, and until standards come, operators have to work closely with suppliers to maintain very basic standards for virtualization.
One operator was looking to have a unified cloud but ended up with complex islands of cloud, and migration of data to the cloud became a critical issue. For another based in Hong Kong, the priority for the cloud environment was reliability, and emphasis was based on software to ensure the system was reliable enough. That was also a big investment.
Standardisation is one of the solutions, but it must be open. Operators need to work closely with partners; new services and applications will open a lot of business for the operators, which, by default, will increase the business outcome for partners. But we need to change the way of implementing the standards.
For others, the problem is the ecosystem, where every platform provider has its own tools. And so, once you're locked into that, and your teams have learnt to work with those tools, having to migrate to a different environment means learning over again. Could there be an environment where you could leverage more open-source tooling and develop on that so that there is some common reference?
Another felt that OpenStack and Kubernetes were quite standardised and that harmonizing APIs was the answer. For another, the priority was to harmonize OpenStack and any new contender, maybe using one platform to manage that.
One conclusion reached at the roundtable was that automation of the cloud to have a unified platform was critical. It is one of the pain points that should addressed. The cloud future is bright, but the journey is tough.
During this session a survey was taken titled: "What Are the Top 3 Pain Points in Your Future Telco Cloud?" The top three results were: Cloud becomes more complex and fragmented; difficulties with migration across cloud platforms; and how hard it is to upgrade and embrace too many new technology silos.
In the second session, Issam Toufik, CTO of ETSI, stated that operators hope that NFV can reduce network construction cost and power consumption by introducing standard server hardware so that telecom networks can maintain high performance, reliability, and security capabilities. With the joint efforts of carriers and vendors, telco cloud gradually overcomes the dual challenges of technology and organisational contracts. The success of NFV relies on this collaboration between network operators and vendors and, more importantly, on the consensus reached between them.
Emmanuel Lartey, General Manager of Network Strategy and Architecture at MTN Group, felt that increased revenues would come from the 5G use case coming in and, secondly, bringing down the total cost of ownership (TCO), including CAPEX and OPEX. To give more returns to the shareholders, he proposed using automation APIs to monetize the network and using KPIs to monitor achievements.
He said that MTN is working together with Huawei to test network slicing, which requires end-to-end automation that will enable the efficient allocation of resources based on the enterprise use cases that will happen. Having processes automated is key. If you don't automate the processes, you lose out on efficiency, especially from an employee perspective.
Ms Shanthi Ravindran, Principal Analyst - Communications and Software Domain at Appledore Research, reiterated that the two key requirements across the board are agility and efficiency. This means we must have an infrastructure and an application environment that are a joy to work with but, at the same time, deliver efficiency. So, what we're trying to do is do a lot more with a lot less investment.
IT cloud native may not entirely used in the telecom field. Considering high reliability and best performance, how does automation or other cloud-native technology help to build a carrier-grade telco cloud & core network is one of key elements towards higher level autonomous network.
She thought that maybe the solution was doing something cross-domain. That's why cross-domain orchestration is also key. We are not going to be able to get away from having workload-specific hardware for specific network functions even when they go to the cloud. When we go into the cloud, we need to be aware of these network functions in a way, for example, we previously had configuration files.
She felt that: "these two things together are what could mark a telco cloud as different from a public cloud. And vendors like Huawei have great expertise to deploy this, and it can be deployed in operational environments by engineers who have been working on this for a long time."
Of course, the question of artificial intelligence (AI) and machine learning (ML) arose. It was felt that AI and ML capabilities need to come onto the network.
Another survey in session two asked, "What Do You Think Are the Top 3 Automation Capabilities that Need to Be Improved?" The top three issues were automatic network changes (upgrades, expansion, new deployment), quick fault demarcation & recovery and fast service rollout & agile version iteration.
Autonomous networks and the concepts of utilizing AI sound good, but how will we drive these? This is a big question because you cannot use the benefits of it without best practices. We all have an interest in AI, but without the right input, you won't achieve the right output. For others, when it comes to these use cases and artificial intelligence, how can you trust the system, which is already a closed loop, to deliver the best result?
There is a clear trend where the 5G Core is evolving towards a 5.5G Intelligent Core. Powered by intelligence, the core network will give birth to more and more innovative services, such as New Calling, and create tremendous business opportunities, not just in B2C, but also in B2B and even Network as a Service (NaaS). This, in turn, requires NFV to have broader connotations and adaptive technologies, such as intent-based, declarative management and higher-level intelligence, so as to enhance the automation of telecom networks and advance us into the next golden decade of NFV.
In summary, the session concluded the telco cloud is a key enabler for both agility and network resilience. There are still a number of issues to overcome, but the industry is well on its way to sorting them out, just as the hyperscalers have. Of the many points raised it appears that cooperation between telcos and their partners is key to success.
Email Newsletters
Sign up to receive TelecomTV's top news and videos, plus exclusive subscriber-only content direct to your inbox.