Advancing indoor digitalization, towards 5G-Advanced
[Dubai, UAE] The 5G Indoor Roundtable was held on day 1 of the Global Mobile Broadband Forum (MBBF) 2023. At the event, Eric Bao, President of Huawei's DIS product line, delivered a keynote speech titled "Embrace Indoor Digitalization for the Digital World".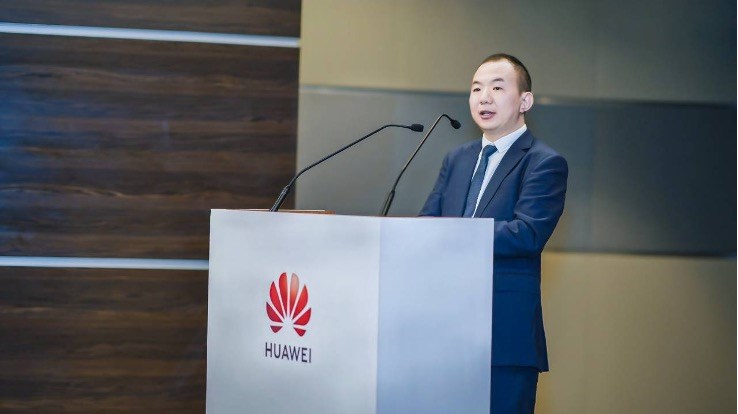 Eric Bao delivered a speech titled "Embrace Indoor Digitalization for the Digital World"
Indoor Networks Face Greater Challenges in the 5.5G Era
Indoor scenarios are key coverage priorities for mobile networks, as they make up more than 80% of data traffic in the 4G era. This statistic is also true for the 5G era, approximately 80% of data traffic is generated indoors. Due to various restricting factors, indoor network construction lags behind outdoor network construction and has a large gap. 5.5G uses more frequencies on a greater number of high bands and coexists with more radio access technologies in even more complicated radio and networking environments. This means that indoor coverage will face even more challenges.
Eric Bao believes that the Digital Indoor System (DIS) overtakes the Distributed Antenna System (DAS) to become a new trend for indoor networks in 2023. "C-band is the preferred for 5G, and 5.5G network will focus on sub-6G and mmWave. Traditional DAS cannot support spectrums above 2.7 GHz and can hardly evolution to 5G and 5.5G. As high-band spectrum is being used in more and more use cases, and indoor services continue to diversify, DIS will become a necessity for indoor networks."
Leading 5G, and Embracing 5.5G: Huawei's LampSite Is Ready
In 4G and 5G eras, Huawei's LampSite solution provides indoor users with ubiquitous Gbps connections, and also helps operators achieve business success by offering superior experiences across high-value scenarios, including airports, metros, malls, and stadiums. As networks evolve toward 5.5G, indoor networks will face even more challenges, including how to simplify deployment across more bands; meet higher traffic demand and lower energy consumption; and improve performance across all scenarios. Eric Bao detailed the latest innovative features of Huawei's LampSite solution and emphasized that the solution can help operators overcome these challenges and maintain their competitive advantages well into the 5.5G era.
Advanced performance for superior experiences. Huawei's LampSite is integrated with ultra-wideband modules to provide 10 Gbps speeds, which enable the connections required to upgrade from Gbps to 10 Gbps and deliver premium experiences. LampSite comes with various types of equipment to ensure high-quality coverage in both open and partitioned places.
Ultra-high energy efficiency for sustainable green growth. Huawei's LampSite has a full-stack low power consumption design, which enables a pRRU to work on more bands while consuming less electricity. The intelligent in-depth dormancy features allow for deep levels of shutdown and fast wakeup, and boost energy efficiency to achieve the "0 Bit 0 Watt" goal.
Converged design and ultra-strong capabilities. Huawei's LampSite enables operators to fulfill various connection requirements for the Internet of Things (IoT) services. It is versatile and can be in a wide range of scenarios, as it features high uplink, sub-meter-level positioning, and millisecond-level latency. This will better position operators to push the boundaries of value-added services and create new sources of revenue.
Energy-efficient indoor networks that deliver first-class experiences for various services are key to sustaining growth and driving the digital economy. 5.5G presents a wealth of fresh opportunities for the industry to overcome emerging challenges. The industry has already started walking the road to 5.5G. Eric Bao called upon "all industry players to work with operators and vertical partners to promote the industry progress based on unified standards towards shared goals, so as to unleash 5.5G's business value".
Huawei hosts the MBBF 2023 together with GSMA, GTI, and SAMENA. This annual event brings together mobile network carriers, vertical industry leaders, and ecosystem partners from around the world to explore the success of 5G commercialization and accelerate the commercial use of 5.5G.
Email Newsletters
Sign up to receive TelecomTV's top news and videos, plus exclusive subscriber-only content direct to your inbox.