BlackBerry doubles down on enterprise mobility management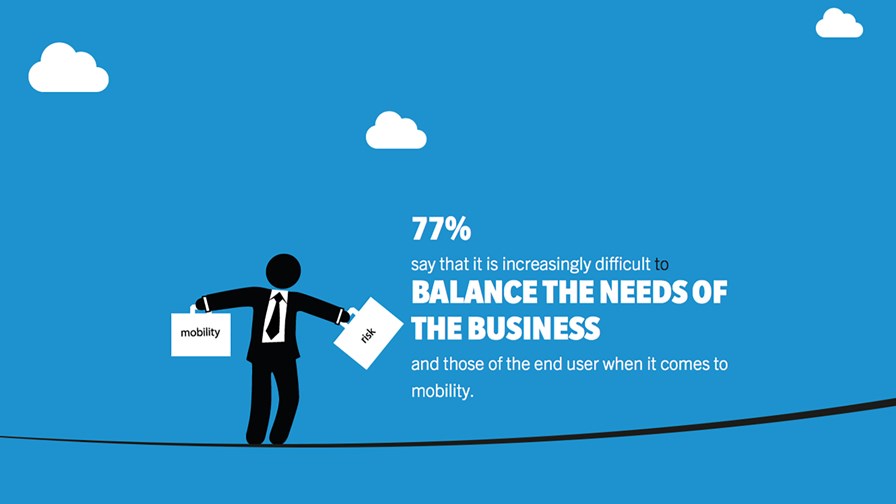 Shifting the focus from its somewhat controversial approach to handset design, BlackBerry held an event in San Francisco yesterday to reaffirm its expertise in mobile device management for enterprises. It launched new enterprise services and solutions and announced partnerships with telcos and vendors.
According to a global study conducted by BlackBerry and Loudhouse Research, even the most highly regulated organisations lack confidence that data is fully protected. It found that 76 per cent of them say the risk of legal liability and costly lawsuits will increase unless they make a concerted effort to adopt a comprehensive EMM strategy. 57 per cent said they would consider curtailing policies that allow employees to use their personal mobile devices at work (BYOD) in favour of more secure end-to-end solutions.
Kieran Norton, Principal for security and privacy at Deloitte & Touche , said that while its clients recognise the potential upside of mobile driven innovation, "at this time we still see many companies grappling with the implications of mobile technologies and finding the 'sweet spot' where new business opportunities are exploited while managing risk and balancing the trade-off between control and user experience."
The company's enterprise portfolio is built around BES12, its latest cross-platform enterprise mobility management (EMM) solution that securely controls access, data and applications across all mission-critical endpoints and devices, whether they be running on iOS, Android, Windows Phone or BlackBerry's own handsets. It will be resold be mobile operators, including Vodafone, Verizon Wireless, Orange France, Rogers and SingTel.
Last year, Strategy Analytics found that in multi-platform EMM, BES10 offered the highest level of security with the lowest five-year cost of ownership. BlackBerry obviously believes that BES12 will generate even better TCO savings. It is also the firm's first EMM that goes beyond mobile devices to also support IoT and M2M management.
"The portfolio provides easy and safe access to corporate data, manages an array of employee IDs, and offers new ways to securely and conveniently collaborate with colleagues," said John Sims, president of Global Enterprise Services at BlackBerry. "Everything we and our broad-based ecosystem of partners, including systems integrators, mobile operators and distributors, do is to deliver greater productivity and efficiency to our customers."
Android security
BlackBerry announced a strategic partnership with Samsung to provide a secure mobility solution for Android. Available from early next year, enterprise customers can purchase an end-to-end secure solution that integrates BES12 with Samsung Galaxy smartphones and tablets that run Samsung KNOX (the Korean firm's own enterprise security offering, which adds a protected workspace area to Android devices separate from personal data).
"We share the goal to provide enterprises with the most secure mobility solutions through this partnership with BlackBerry," said Injong Rhee, SVP of KNOX Business Group, Samsung Electronics. "Samsung KNOX is focused on delivering secure mobility solutions to enterprises and, combined with BES12, we will offer more options for customers that need enhanced levels of security on Android devices."
BlackBerry has also announced a couple of other EMM components. "Blend" shifts IT administration from managing devices to managing information movement, with the aim of reducing the need for VPNs and lowering total cost of ownership. "WorkLife" allows enterprises to add a separate corporate phone number to personal devices brought in by their employees (or vice versa), eliminating the need for personal expense submissions and associated admin.
"Orange is glad to see BlackBerry come back with a new strategy focused on the B2B market enabled by BES12," said Valérie Cussac, VP Mobile Enterprise at Orange. "This EMM solution leverages the strengths of our network, and completely meets the challenges of our enterprise customers as they implement their digital transformation."
As well as EMM solutions, BlackBerry announced some additional services around identity, access and collaboration. Enterprise Identity is a way to manage secure access to cloud-based services, including SaaS and internal apps. VPN Authentication uses PKI-based, two-factor authentication as an alternative to hardware tokens. And BBM Meetings is a collaboration app that allows voice and video conferences for groups of up to 25 people on BlackBerry 10 or Android smartphones, and also on PCs and Mac.
Email Newsletters
Sign up to receive TelecomTV's top news and videos, plus exclusive subscriber-only content direct to your inbox.