SK Telecom signs MOU with MobiledgeX
Joins hands with MobiledgeX to cooperate in the field of Mobile Edge Computing

Expects to enhance data speeds and reduce latency of its 5G network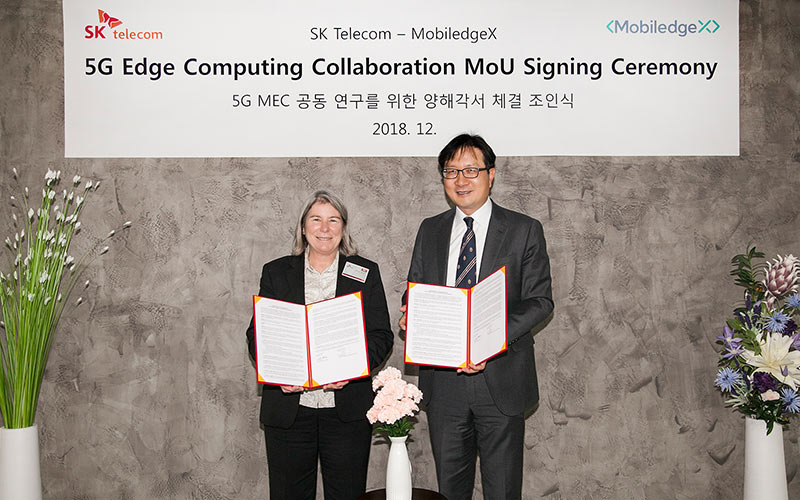 SK Telecom (NYSE:SKM) today announced that it signed a Memorandum of Understanding (MOU) with MobiledgeX*, an independent company founded by Deutsche Telekom, to cooperate for the development of Mobile Edge Computing technologies and business models.
(*MobiledgeX is an edge computing company founded by Deutsche Telekom AG and headquartered in Menlo Park, California, focused on delivering developer-facing edge cloud services.)
Mobile Edge Computing (MEC) is a technology that provides cloud and IT services within close proximity of mobile subscribers. As MEC leads to enhanced data speeds and significantly reduced latency, SK Telecom plans to apply MEC to its 5G base stations or routers.
MEC is also expected to be widely utilized in the 5G era, particularly in areas such as autonomous driving, disaster response robots/drones, cloud gaming and AR/VR.
Under the MOU, SK Telecom and MobiledgeX will make joint efforts to develop innovative Mobile Edge Computing solutions and expand the mobile edge infrastructure ecosystem. As the standards for interworking between different MEC technologies are not yet established, the two companies plan to integrate their respective MEC platforms and provide their common platform to global 5G service developers to expand the ecosystem.
"In the 5G era, Mobile Edge Computing will be a key technology for next-generation industries including realistic media and autonomous driving," said Park Jong-kwan, Senior Vice President and Head of Network Technology R&D Center of SK Telecom. "Based on this partnership, SK Telecom will continue to drive technology innovations to provide customers with differentiated 5G services."
"MobiledgeX is excited to join hands with SK Telecom to build a collaborative ecosystem where everybody wins," said Eric Braun, Chief Commercial Officer of MobiledgeX. "Together with SK Telecom, MobiledgeX will usher in a new era of business models, operating efficiencies and mobile experiences."
This content extract was originally sourced from an external website (
SK Telecom Media Centre
) and is the copyright of the external website owner. TelecomTV is not responsible for the content of external websites.
Legal Notices
Email Newsletters
Sign up to receive TelecomTV's top news and videos, plus exclusive subscriber-only content direct to your inbox.