Akraino Edge Stack makes its formal debut with telco-specific architecture blueprints for 5G and IoT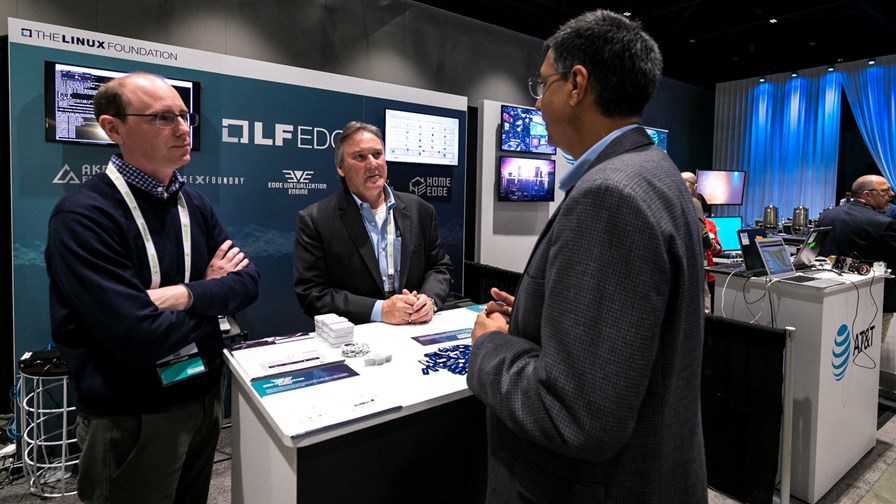 Inaugural release unifies multiple sectors of the edge;
Release 1 delivers tested and validated deployment-ready blueprints;
Creating a framework for defining and standardising APIs across stacks;
Akraino is part of the LF Edge organisation
Forget the expanding universe, for telcos it is all about the ever-expanding network edge, which just got a little bit bigger yesterday with the news that the Akraino open source project has published its first software release. Although it was only launched in February 2018, Akraino had a rich pedigree with seed code from AT&T and has enjoyed plenty of support during its short time under the Linux Foundation's LF Edge umbrella.
Akraino Edge Stack, to give the project its full name, is focused on creating an open source software stack that supports a high-availability cloud stack optimised for edge computing systems and applications. It is being designed to improve the state of edge cloud infrastructure for enterprise edge, OTT edge, as well as telecoms edge networks. The project promises to give users new levels of flexibility to scale their edge cloud services quickly, to maximise the applications and functions supported at the edge, and to help ensure the reliability of critical systems.
"Akraino Release 1 represents the first milestone towards creation of a much-needed common framework for edge solutions that address a diverse set of edge use cases," said Arpit Joshipura, general manager, Networking, Automation, Edge and IoT, the Linux Foundation. "With the support of experts from all across the industry, we are paving the way to enable and support future technology at the edge."
Turning the clock back by just over a year, Mazin Gilbert, VP of Advanced Technology at AT&T Labs, said that "Akraino Edge Stack, coupled with ONAP and OpenStack, will help to accelerate progress towards development of next-generation, network-based edge services, fuelling a new ecosystem of applications for 5G and IoT."
Within a month, Akraino had gathered much wider industry support, with Intel open sourcing major components of its Wind River Titanium Cloud portfolio and its Network Edge Virtualization SDK. China was also quick to join in, with support from China Mobile, China Telecom, China Unicom, Huawei, New H3C Group, Tencent, ZTE and 99Cloud. Many others also came on board, including Red Hat, Dell EMC, Ericsson, Juniper Networks, Nokia, Qualcomm, Radisys and Altiostar.
Akraino Release 1
After navigating the necessary governance and structural processes to become a project under the recently announced LF Edge, it has now been able to publish its first public documentation. LF Edge says Akraino R1 delivers a deployable and fully functional edge stack for edge use cases ranging from Industrial IoT, Telco 5G Core & vRAN, uCPE, SD-WAN, edge media processing and carrier edge media processing. It is currently comprised of 11 blueprint families with over 19 specific blueprints under development to support a variety of edge use cases. The community is testing and validating these blueprints on real hardware labs supported by users and community members.
Here's a breakdown of six of what it says are "ready and proven" blueprints:
Radio Edge Cloud (REC), part of the Telco Appliance Blueprint Family, is described as a telco-grade edge cloud platform for containers. It's main use case is supporting the near real-time RAN Intelligent Controller (RIC), a new network element that enables external applications to control aspects of the 5G radio network. More details on this from the recent ONS North America conference.
Integrated Edge Cloud (IEC) Type 1 (Small Edge) and 2 (Medium Edge) targets telco applications with small and medium deployments of Edge Cloud and supports Arm processors and architecture.
The Network Cloud family of blueprints for hardware configuration and fully automated deployment of multiple edge sites from a remote Regional Controller, which has relevance to 5G.
The StarlingX Far Edge Distributed Cloud blueprint looks at edge and "far edge" use cases at high-density locations such as malls, airports and stadia.
Edge Lightweight and IoT (ELIOT) supports use cases for IoT gateway and uCPE (SD-WAN), including Industrial IoT and smart cities where there is limited hardware capacity.
The Kubernetes-Native Infrastructure (KNI) Provider Access Edge blueprint leverages best practices from Kubernetes to manage edge computing stacks at scale on bare metal or public cloud.
"The Akraino Edge Stack release represents a significant milestone for open source collaborations in edge computing to reflect alignment across industry segments on common integration, validation criteria and tools for solution stacks," said Imad Sousou, Corporate VP and GM of System Software Products, Intel. "Blueprints, also known as common solution stacks, for network and edge cloud use cases will be essential for Akraino adoption at scale."
"We are encouraged by the progress of the efforts in the Akraino project and we will continue to support its continued evolution and progress in the project as well as through our related contributions to VCO with OPNFV, and our continued efforts to make NFVi manageable at the network edge," said Tom Nadeau, Technical Director, NFV, RedHat.
"Nokia brings to REC its long experience in building network elements, creating a telco grade container platform that is optimal for edge cloud deployments, such as O-RAN's RIC," said Tommi Hiltunen, Head of Cloud Infrastructure R&D, Nokia Mobile Networks.
Meanwhile, the Akraino community is already planning R2, which will include both new blueprints and enhancements to existing blueprints, tools for automated blueprint validations, defined edge APIs, and new community lab hardware.
Email Newsletters
Sign up to receive TelecomTV's top news and videos, plus exclusive subscriber-only content direct to your inbox.