IBM unveils its Cloud for Telecoms and an impressive posse of partners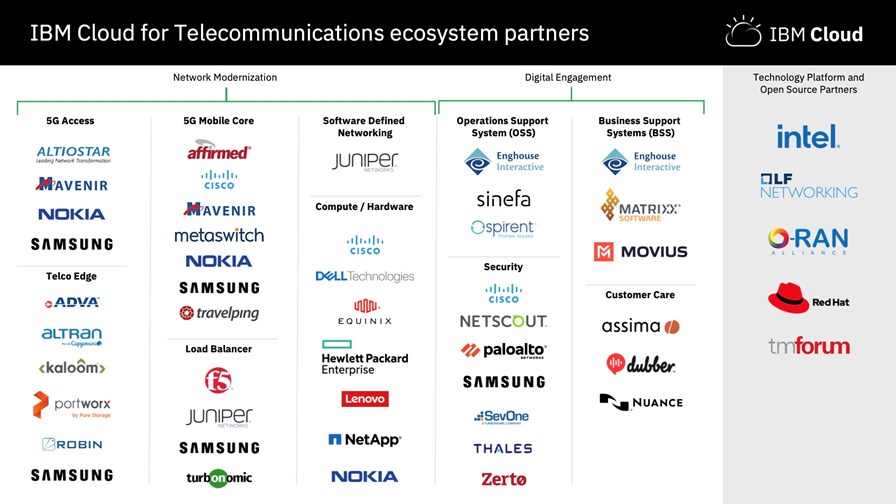 IBM targets telcos with hybrid cloud architecture
Red Hat technology underpins the platform
35 partners sign up to be part of the associated 'ecosystem'
IBM offers access to a money pot for partner development
IBM has upped the ante in the telco cloud partnership world with the launch of IBM Cloud for Telecommunications, which the tech giant describes as "an open, hybrid cloud architecture designed to help telecommunications providers address the specific challenges of the highly-regulated industry: accelerating business transformation, enhancing digital client engagement and improving agility as they modernize their enterprise applications and infrastructure to unlock the power of 5G and edge."
The announcement marks IBM's big move to use the cloud savvy of Red Hat, which it acquired in July 2019 for $34 billion, to address the cloud native, distributed platform needs of wide area network operators (fixed line and wireless/mobile telcos, cable operators), which need to revamp their entire underlying platforms and operations to be able to address the needs of their customers (particularly enterprise users) in a cloud-oriented, 5G world.
And IBM didn't want to leave it any later, because the telco community has been gettin' jiggy with the public cloud giants (AWS, Azure, Google Cloud) during the past year. And while telcos will not want to commit to develop their future with just one major hyperscaler, dance cards are being marked right now and IBM will not want to miss out on the telco cloud tango.
The platform is built on IBM Cloud Satellite, a distributed cloud architecture that can run on public or private (on premises) cloud platforms and which is based on Red Hat's cloud native OpenShift containerization software modules. IBM recently announced it had teamed up with AT&T to combine the capabilities of IBM Cloud Satellite with the operator's 5G access services in order to help enterprises managed their applications in hybrid edge environments.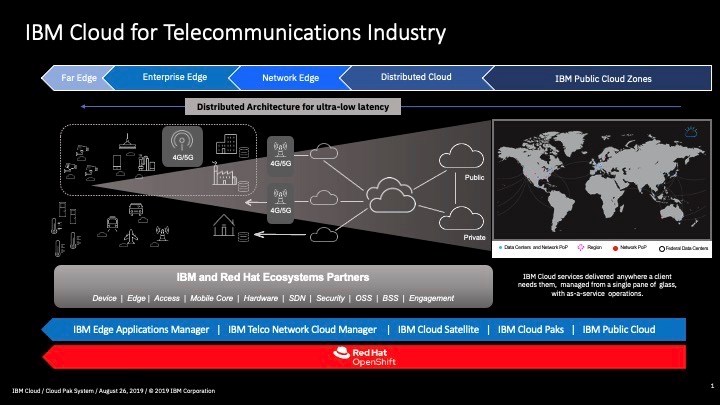 And in true cloud sector style, IBM isn't trying to do this on its own – it has attracted a very impressive partner ecosystem comprising (currently) a wide variety of technology vendors and developers, neutral connectivity and platform hosts (Equinix) and two key industry associations (O-RAN Alliance and TM Forum). The list of partners is below and also in the graphic above, and is a very interesting mix of major telecoms technology and infrastructure names – such as ADVA, Cisco, Dell, HPE, Intel, Juniper, Nokia, Samsung – and highly-regarded specialists, including Altiostar, Affirmed Networks and Metaswicth (now both owned by Microsoft, which makes their inclusion even more interesting), F5 Networks, MATTRIX Software, Mavenir, Palo Alto and many more, including a few lesser-known but very interesting outfits such as Travelping and Zerto.
IBM is also working with systems integrators such as Wipro, which is developing enterprise solutions based around edge and 5G capabilities based on IBM Edge Application Manager, and HCL, which is working with companies in the telecoms sector to "develop digital and cloud-native solutions" using the AI capabilities of IBM Cloud Paks.
And here's something to get the R&D juices flowing… IBM is also opening up its Cloud Engagement Fund (value unspecified, other than it is "part" of a $1 billion cash pile) to its ecosystem partners for "funding, technical enablement, and creating proofs of concept." Form an orderly queue, please!
So now the gloves are off. IBM has already brokered cloud relationships with AT&T, Vodafone Business, Verizon Business and Bharti Airtel… let's see which others it can court.
The partners
Here's the roll call of IBM Cloud for Telecommunications partners and a brief line about why each one is relevant (all in IBM's words, it should be noted…but interesting all the same!):
- Ray Le Maistre, Editorial Director, TelecomTV
Email Newsletters
Sign up to receive TelecomTV's top news and videos, plus exclusive subscriber-only content direct to your inbox.