Up Periscope! Captain Chen of the submarine BlackBerry discerns a new dawn on the horizon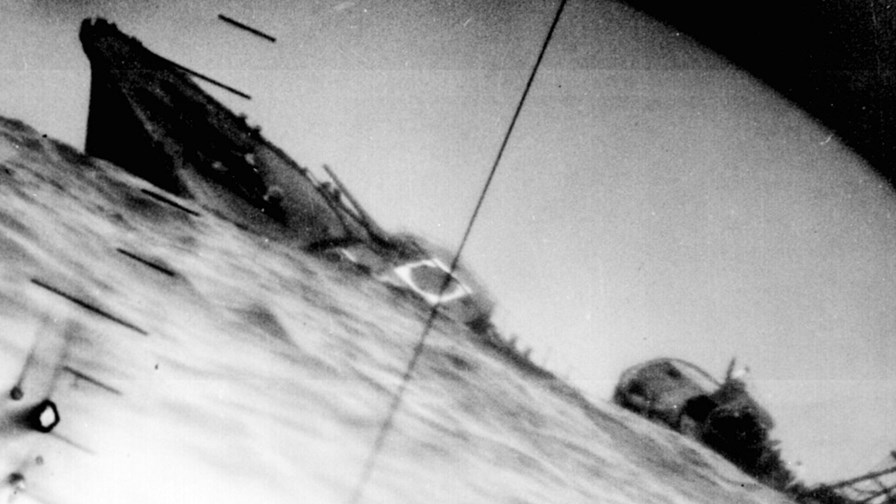 There's a famous old Bob Newhart comedy sketch where he plays the commanding officer of the submarine USS Codfish. On its current two-year mission the boat has fired torpedo's at Miami Beach, sunk nineteen ships, "the lowest peacetime tonnage ever recorded", there has been a mutiny and officers have mysteriously disappeared. Then comes the payoff: "Men, we will be surfacing in just a moment and you might be happy to know that you will soon be gazing at the familiar skyline of either New York City.... or Buenos Aires. I can't quite make it out".
Now, apply that to the state of the Canadian smartphone manufacturer BlackBerry and the publication yesterday of its Q1 figures. They are being presented as a triumphant turn-around in BlackBerry's fortunes but they are nothing of the sort.
Much PR spin is being applied and the news trumpeted that the company managed to make a very modest US$23 million profit for the first quarter of the current financial year. However, and here's the rub, the profit is down to an accounting exercise based on adjustments to the General Accepted Accounting Principles (GAAP). The "adjustments" are described as being "non-cash changes" and once they are taken out of the calculation the reality is revealed. BlackBerry actually made a loss of $60 million.
John Chen has been at the helm of the BlackBerry for seven months now and has been striving to turn the drifting vessel around. It is proving to me a mammoth task. Look at the headline figures: on the plus side the company's cash pile has grown from $2.7 billion to $3.1 billion and its "adjusted" gross margin has grown by five points from 43 per cent as at Q4 last year to 48 per cent in Q1 of fiscal 2015
.
On the downside, Blackberry "recognised revenue" on just 1.6 million handsets and that revenue was $966 million compared to $3.07 billion this time last year. Yup, things are obviously going swimmingly. In 2007 RIM (as the company it was then called) had 50 per cent of the all-important US handset sector. By the end of 2013 that share had fallen so low that it was barely above zero and RIM was in meltdown.
In a conference call to analysts as yesterday's figures were released, John Chen made it explicitly clear that in future BlackBerry will focus its North American efforts on "the enterprise" and what he called "regulated industries" and also enthused about the fact that BlackBerry phones "remain very popular in Indonesia". That's alright then. After all, under the terms of its deal with Foxconn, the Taiwanese company that actually designs and makes the BlackBerry Z3, BlackBerry itself makes a whopping 10 per cent margin on every device sold.
Mr. Chen says the company needs to sell more than 10 million devices a year for the hardware side of the business to turn a profit. According to the Q1 figures BlackBerry sold 2.6 million handsets in that period but "recognised" in the accounts only 1.6 million of them because of "poor inventory calculations" (in other words, stocktakers who can't count properly) and "prior write-downs in previous quarters" (i.e, adjusting to the reality of a harsh diet after years of over-egging the pudding).
Given the state of the market and the company, BlackBerry seems likely to struggle to break-even on the devices side - hence a new push into the mobile device management area and a focus on selling licenses for its EZ Pass system that permits company's and enterprises to trade-in their old Blackberry (and other company's) MDM licenses and get "free management" on the BlackBerry platform as the quid pro quo.
Mr. Chen is realistic enough to accept that getting BlackBerry back on course will be a long and difficult process and whatever eventually emerges from the fog won't look anything like the vessel that sailed so blithely and blindly into it.
The company is determined to remain a (now minor) player in the handset market and has announced that it will introduce two new phones this year. The first id the he touch screen BlackBerry Passport (it is to be launched in London in July and wouldn't it be supremely ironic if the Passport goes on sale in the UK while Brits still can't get hold of real passports for themselves because of a massive backlog of applications caused by over-zealous job-cuts, inefficiency, buck-passing, obfuscation, denial and downright in-your-face lying on the part of the UK Passport Agency?). The second new model is the BlackBerry Classic which harks back to the future by having a full QWERTY keyboard.
Meanwhile, BlackBerry has sacked some 58 per cent of its workforce since late 2012 and continues to hack-away at cost and time will tell if the attrition and austerity will ever be enough to bring the company back from it's prolonged near-death experience.
Let's finish with another nautical reference, this time from Jules Verne's "20,000 Leagues under the Sea". Various kidnapped individuals are trying to devise a way to escape from the Nautilus, the submarine commanded by the mysterious and deluded Captain Nemo.
Conseil: (a French manservant) "I want to escape too! You said you had a plan".
Ned Land (a Canadian harpoonist. Yes, more serendipitous irony) : "I do have a plan. Trouble is, it won't work."
Email Newsletters
Sign up to receive TelecomTV's top news and videos, plus exclusive subscriber-only content direct to your inbox.