Oh dear, now Windows Phone is being blamed for a slowdown in smartphone sales. Will Microsoft ever catch a break?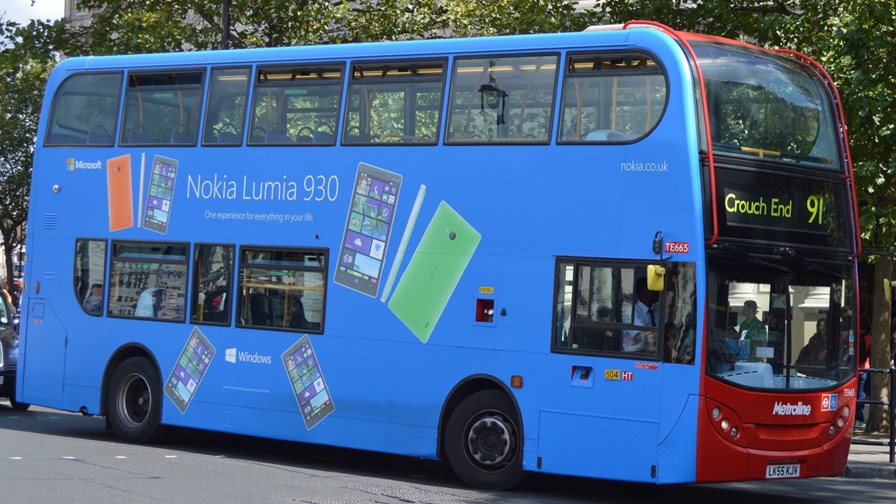 IDC predicts lower shipping forecasts for Windows Phone
10% decline year-on-year for 2015 expected
Alleged images of the cancelled McLaren phone leak
Is there anyone who loves the idea of universal apps?
As if having to attempt to sell the merits of your new company-wide converged mobile platform strategy to investors whilst being heckled by your predecessor wasn't bad enough, now Microsoft is being blamed for a slowdown in global smartphone sales.
Last week began badly, with Steve ("et tu, Brutus?") Ballmer telling Microsoft shareholders that universal apps "won't work" and instead the company needs to enable Windows Phones "to run Android apps", which was just what his successor Satya Nadella didn't need to hear.
It ended even worse, with research firm IDC singling out Windows Phone for a slowdown in global smartphone sales this year. The firm expects growth to drop to single digits for the first time, with growth of 9.8 per cent to reach a total of 1.43 billion units for the year.
"The slower growth is expected to intensify slightly over the 2015-2019 forecast period and is largely attributed to lower shipment forecasts for Windows Phone as well as alternative platforms (phones running operating systems other than Android, iOS, and Windows Phone)," the firm stated in its report.
Despite all the effort Microsoft has put into the launch of Windows 10, IDC does not expect Microsoft's share of the smartphone OS market to grow much over the coming years. In 2015, the firm estimates the average selling price (ASP) of Windows Phones to be $148, which is $71 lower than Android's ASP of $219, thanks to the Nokia-enabled push into the low-end mass market. While this approach helped drive shipments up to 34.9 million units in 2014, IDC is forecasting a year-on-year decline of 10.2 per cent in 2015, followed by further decline in 2016. Ouch. It adds that the weak results can largely be attributed to the lack of OEM partner support.
And talking of Android, IDC says its market share is expected to grow slightly from 81 per cent in 2015 to 82 per cent between now and 2019. And that's all shades of Android, from Core to forked version. It's nearest competitor, iOS, is expected to maintain a market share of around 14 to 15 per cent.
In terms of the alternative OS market, IDC is not optimistic that, collectively, these alternatives will exceed a single percentage of the overall market. Whilst Firefox continues to push hard and Blackberry soldiers on, the Sailfish OS from Finnish company Jolla is not fairing so well – in fact, the company has just postponed its next investment round in order to restructure its debt. Prospects are not looking good.
Android dominates
Looking at the IDC data in more detail, China has been driving the growth in the smartphone market in recent quarters, but the country's economic slowdown is having a negative effect on worldwide growth, such is the sheer size of the market. However, IDC says that China has now largely become a replacement market, and as a result, shipment growth in China is only forecast to be in the low single digits. It's the Middle East and Africa region that will see the highest growth in 2015, with shipments expected to increase nearly 50 per cent year-on-year.
The research firm believes the main driver of smartphone growth will continue to be the success of low-cost devices in emerging markets, both for first-time smartphone buyers as well as replacement buyers.
"We believe that, in a number of high-growth markets, replacement cycles will be less than the typical two-year rate, mainly because the components that comprise a sub-$100 smartphone simply do not have the ability to survive two years," said Ryan Reith, Program Director at IDC. "Offering products that appeal to both types of buyers at a suitable price point will be crucial to maintaining growth and vendor success."
In the developed markets, the focus is on how to get the latest models into the hands of eager customers as quickly as possible, and that could mean financing and trade-in options from vendors.
"Apple has taken the lead with its iPhone Upgrade Program, and several other vendors are expected to implement similar plans in the months ahead," said Anthony Scarsella, Research Manager with IDC's Mobile Phones team. "These plans could represent the most effective way to get flagship devices into the hands of consumers while speeding up the upgrade cycle through trade-in and incentives."
If only…
Returning to Microsoft, a glimpse of what might have been was revealed last week. Photos reportedly of the cancelled "McLaren" Windows Phones surfaced online. The high-end phone, whilst never officially announced by Microsoft, was apparently cancelled in July 2014, just weeks before launch. It would have featured "3D Touch" technology.
Poor old Windows Phone. The platform just isn't able to catch a break, no matter how many times they change its name and appearance. Incidentally, my personal Windows Phone sits unloved and unwanted in a box – I gave up on the incredibly frustrating user experience and lack of app support months ago, and not even an attempt to use it as a car satnav replacement worked (it consumed more power than the in-car charger was able to deliver). I must be O2's favourite customer, paying for a service I never use. And no, not even the prospect of universal apps will bring me back. Remember Elop's "Burning Platforms?" Char-grilled, more like.
Email Newsletters
Sign up to receive TelecomTV's top news and videos, plus exclusive subscriber-only content direct to your inbox.