Show me the money: new reports evaluate the role of telcos in financial services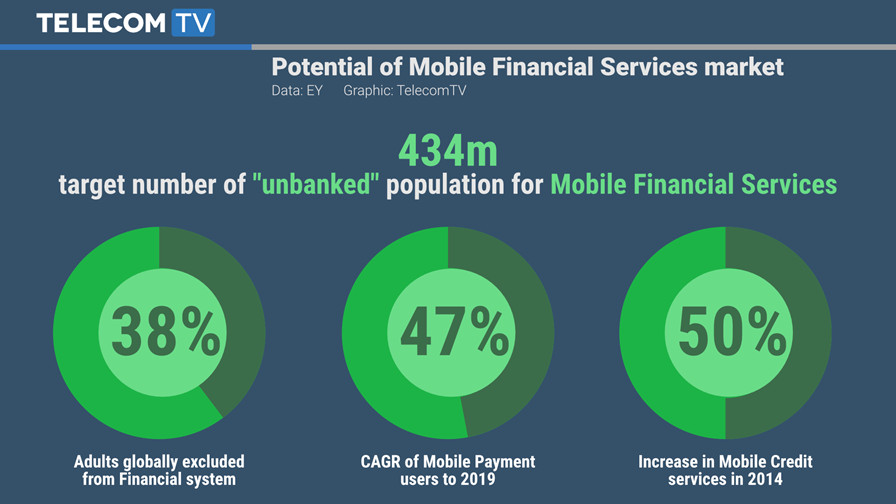 Three new reports on telcos and financial services; two from ITU, one from EY
Role of regulators evaluated; cooperation needed between sectors
434m "unbanked" can be served by mobile financial services in the near term
Mobile payment services seeing highest rates of adoption
The ITU Focus Group on Digital Financial Services (DFS) has published two new reports as it seeks to develop an international framework of good practice guidelines for regulators, operators and providers in the telecoms and financial services sectors. In addition to the four research papers published last month it has now released two new reports: one on regulation in the DFS ecosystem and another on consumer protection.
"Regulation in the Digital Financial Services Ecosystem" identifies categories of regulation and addresses a number of issues relating to managing the regulatory environment. It includes an analysis of how regulators currently work together and provides a sample MoU template that national regulators can adopt to formalise their collaboration and interaction in the DFS sector.
"Both telecom and financial services regulators have a crucial role to play in rolling out digital financial services that are accessible to everyone around the world," said Chaesub Lee, Director of the ITU's Standardisation Bureau. "Collaboration between the telecom and financial services regulators can therefore ensure a conducive regulatory environment for digital financial services to flourish."
The second report, "Commonly identified Consumer Protection themes for Digital Financial Services", identifies four common themes that policy makers or regulators may want to consider when developing laws, regulations or guidelines around consumer protection. This includes provision of information and transparency, fraud prevention, dispute resolution and data privacy and protection.
"Trust is an essential ingredient for digital financial services to succeed," said Sacha Polverini, Senior Programme Officer of the Bill & Melinda Gates Foundation's Financial Services for the Poor programme. "The move away from cash will only work if the solutions and processes being put in place to replace it are reliable, trustable and easy to use. This is why consumer protection is an essential part of the work we have been doing."
The digital iceberg
Independent of the ITU work, Ernst & Young (EY) has published its new report on "Decoding mobile financial services – Innovation and collaboration to drive growth". For financial institutions, EY believes mobile financial services can help serve a vast mass market, which otherwise may be out of reach due to high physical infrastructure costs. They can also provide an additional revenue stream for telcos.
"The area of mobile financial services is at the tip of a digital iceberg," said Prashant Singhal, Global Telecommunications Leader at EY. "We expect to see the world change the way banking is done in the next two to five years, as both telcos and financial institutions leverage mobile as a platform for growth. Given complementary competencies and infrastructure, they are well-positioned to collaborate, bring synergies and innovation to mobile financial services and meet changing customer demands."
According to the report, it is the "mobile payments" category that has seen the highest rate of adoption so far; however, other service areas have also begun to take off. Mobile credit services saw a big increase in usage in 2014 and, according to the report, many of these new service launches are driven by strategic partnerships between financial institutions and telcos. Mobile microfinance and mobile insurance services are also showing signs of success.
Globally, among the people who still lack access to the financial system, approximately 620 million live in countries that have introduced regulatory frameworks or encourage nonbank entities to participate in the financial services domain. Most of these countries have a considerable gap in their levels of mobile penetration and inclusion in the financial system. EY analysis of the potential market indicates that approximately 434 million of this "unbanked" population can be served by mobile financial services in the near term.
India, the Philippines, Democratic Republic of Congo, Colombia and Tanzania top the list of countries with the highest number of unbanked people that have the potential to be served by mobile financial services, according to the report. But whilst innovation in MFS has led to better user convenience and increasing uptake, it has also brought new privacy and security challenges.
"In view of changing consumer preferences and needs, organizations need to be able to create a balance between the user convenience and security aspects of mobile financial services," added Singhal. "To this end, security measures such as tokenisation and biometric authentication are likely to have a strong impact on the digital payment industry. Robust know-your-customer, anti-money laundering and transaction authentication procedures will remain a key focus to combat cyber threats."
Email Newsletters
Sign up to receive TelecomTV's top news and videos, plus exclusive subscriber-only content direct to your inbox.