What's in a word? Telefonica UK goes from NOC to SOC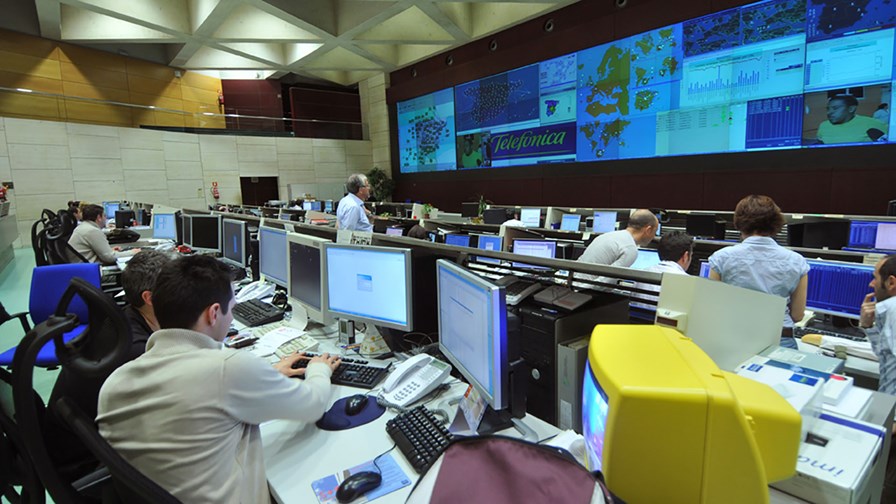 Operator's British Network Operations Centre to become a Service Operations Centre
All part of being evermore customer-centric
Emphasis on how users "feel" about the network
Pro-active network management. "SOC it to me"
At a press event held in central London yesterday Telefonica announced that its UK NOC will evolve into a SOC. The rationale for the change is that the new Service Operations Centre will enable O2 UK to focus increasingly on "customer-led" network decisions rather than on engineering-led and -based determinations that that have been the industry norm since Alexander Graham Bell was a lad. Nokia, which is in a long-term relationship with Telefonica and O2 UK, is the vendor/partner in the NOC/SOC transmogrification process.
Tim Smith, VP of Nokia Software Europe, explained that in the SOC environment "all incoming data feeds and languages will pass through a mediation platform that translates them to a common language and standardises, analyses and aggregates them" to permit "deep understanding of the customer experience".
In essence, the aim is to provide a commonalised set of customer-led information upon which network decisions (and remedial actions such as proactively preventing service degradation or re-allocating resources and bandwidth) can very quickly be made. It's all about being proactive rather than reactive.
Brendan O'Reilly, CTO of O2 UK, added, " Going forward the emphasis will be more and more on customer-led decisions, the linking of many systems, the application of new analytical tools, the introduction of new metrics and real-time decisions predicated on how customers 'feel' about the network."
A little later, journalist eyebrows were raised when the notion of the tracking of "Customer Delight" was introduced. We were bemused by just how something so subjectively amorphous, transient and elusive might be defined and measured. Fortunately Tim Smith was able to supply at least a partial answer by claiming that reduced customer churn is a prime indicator of Customer Delight (except in part of Asia Minor where Turkish Delight is measured by the kilo).
What's more, it seems Telefonica already has its own scale by which to measure where delighted users stand on the customer satisfaction ladder. It is the NCX (Network Customer Experience) ranking, which currently (well, as at the end of December just past anyway) stands at 79 on a calibration that runs from 1 to 100. Brendan O'Reilly expects the reading will rise by at least a couple of points as the shift from NOC to SOC progresses.
Most of the questions put to the representatives from Telefonica and Nokia centred on exactly what the tangible benefits between the NOC and the SOC will be and the answers tended towards "this is a work in progress and the measured benefits will become more apparent over time but we are determined on the course we have set ourselves and the industry and the media will be able to judge our performance because we are making ourselves publicly accountable for the delivery of verifiable metrics". And good on Telefonica and Nokia for that.
SOC as important for IoT as for the consumer
Telefonica's evolution from NOC to SOC is already underway in other parts of the world such as Germany, Chile and Argentina but is just beginning in the UK and the initiative in Britain is the first time that Nokia has been the primary vendor in such a process. Telefonica sees "reaching the next level in automated customer experience management" and the flexibility and adaptability that results, "as a key differentiator"
Unsurprisingly, given the wave of network transformation washing around the world, the focus on virtualisation, the cloud, cloud security, network flexibility the Internet of Things, Machine Learning and AI will all have major roles to play. Of course, for IoT it's not a matter of what "good" looks like and IoT devices are highly unlikely ever to be deemed as "delightful" as far as users are concerned, but automation is a big factor in the evolution of the SOC and a forensic approach approach to IoT services - and how they can be improved - is indicated.
Telefonica's UK SOC is in trial phase right now and will go live in Q4 this year when the first use cases will be made public. More will follow as commercial rollout accelerates and the move from network-centric to customer-centric operations continues apace.
Email Newsletters
Stay up to date with the latest industry developments: sign up to receive TelecomTV's top news and videos plus exclusive subscriber-only content direct to your inbox – including our daily news briefing and weekly wrap.