IBM's Tencent cloud targets the growing SME public cloud sector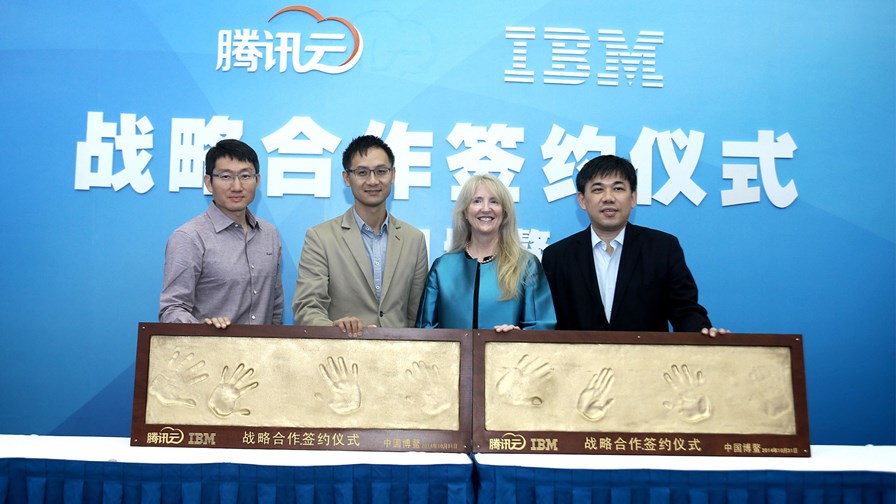 IBM has partnered with Tencent Cloud to collaborate on providing public cloud with Software-as-a-Service (SaaS) solutions for businesses in China. Both companies will focus on emerging SMEs, especially in the smarter cities and smarter healthcare sectors. The aim is to enable these companies to utilise mobile, cloud computing and big data tools to transform their internal processes and operations.
Tencent Cloud is a strategic platform group within the Tencent internet company. It provides enterprises and developers with access to a complete cloud solution with cloud service, cloud data and cloud operations.
"Tencent has a stable and reliable cloud computing platform, while IBM has abundant industry expertise aimed at the enterprise," said Taosang Tong, President of the Social Network Group and senior EVP of Tencent. "We will work together to bring 'Internet mode' to more enterprise-level clients through cloud computing."
IBM and Tencent Cloud will deliver a range of services to SMEs, including consulting, cloud migration, integration and technical support services; and specific SaaS solutions for customer care, digital marketing, enterprise asset management and smart office automation.
"The industry dimension makes this especially appealing for businesses," said Nancy Thomas, Managing Partner with IBM's Business Consulting Services in China. "IBM and Tencent's shared vision is not only to bring the scale and cost benefits of cloud computing to enterprises in China, but to add differentiating value by serving the particular needs of specific industries. That is the key to unlocking the transformative power of cloud computing."
According to research firm IDC, there will be a tenfold increase in the number of cloud apps over the next four years. Two-thirds of these new apps will have an industry-specific or role-specific focus, with the majority of the growth driven by developers in cloud application ecosystems.
In fact, new research from IDC released this morning suggests that global public IT cloud services spending will reach $56.6 billion in 2014 and grow to more than $127 billion in 2018. This represents a five-year CAGR of 22.8 per cent, which is about six times the rate of growth for the overall IT market. In 2018, public IT cloud services will account for more than half of worldwide software, server, and storage spending growth.
IDC expects SaaS will continue to dominate public IT cloud services spending, accounting for 70 per cent of 2014 cloud services expenditures. This is largely because most customer demand is at the application level. The firm believes the cloud services market is now entering an "innovation stage" that will produce an explosion of new solutions and value creation on top of the cloud. Many of these new solutions will be in industry-focused platforms with their own innovation communities, which will reshape how companies operate their IT and how they compete in their own industry.
"Over the next four to five years, IDC expects the community of developers to triple and to create a ten-fold increase in the number of new cloud-based solutions," said Frank Gens, SVP and Chief Analyst at IDC. "Many of these solutions will become more strategic than traditional IT has ever been."
Email Newsletters
Sign up to receive TelecomTV's top news and videos, plus exclusive subscriber-only content direct to your inbox.