Deutsche Telekom takes aim at AWS with launch of new public cloud service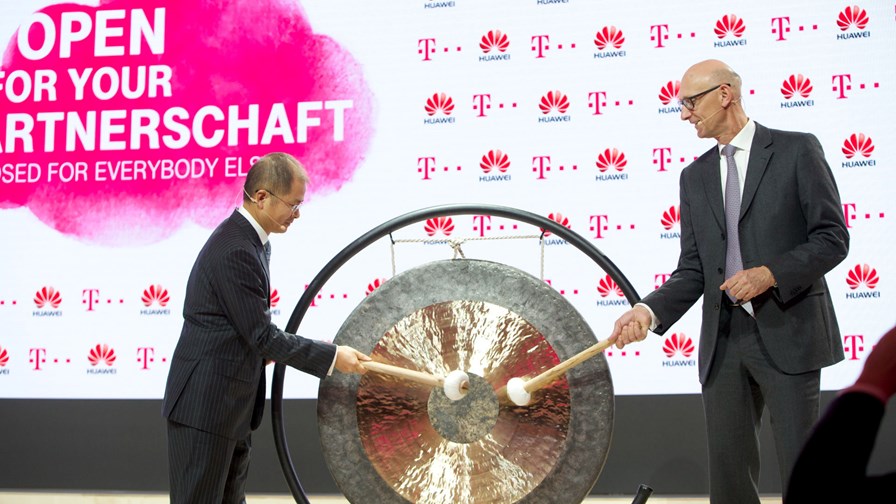 SMEs and corporates can instantly book IT resources
Offering a virtual Linux server for under €0.12 per hour
Hardware from Huawei, cloud management from T-Systems
Partnership agreement with KPMG
Deutsche Telekom has launched its Open Telekom Cloud, which it describes as a public cloud combining flexible IT resources with service and rigorous German data protection regulations. It's target – "US competitors" that are dominating the market, with Amazon's AWS sitting at the top of the list.
"We are adding a new, decisive cloud offering to our existing portfolio of private cloud services that can be reached easily from the public Internet", said Tim Höttges, CEO of Deutsche Telekom. "For our customers, whether major corporations or SMEs, this is an important new service for their digitisation – and an essential milestone for us in our ambition to be the number one provider of cloud services for business customers in Europe."
Hardware and solution expertise is being provided by Huawei, whilst data centre, network, and cloud operation and management are being provided by T-Systems.
"Huawei and Deutsche Telekom have a common strategy and vision in terms of cloud computing," said Eric Xu, Huawei Rotating CEO. "The strategic partnership allows each party to fully play to their strengths, providing enterprises and the industry with various innovative public cloud services that are beyond those provided by over-the-top content players."
"More and more customers are discovering the advantages of the public cloud, but they want a European alternative," said Anette Bronder, head of the T-Systems Digital Division and in charge of the cloud business. "With the Open Telekom Cloud we are now offering customers the right platform and solution. It is simple, secure and affordable."
Ms Bronder adds that the Infrastructure-as-a-Service (IaaS) solution is priced on a "on-demand" and pay-as-you-go basis. A virtual machine with Windows server with two vCPUs and 2GB RAM costs less than €0.17 per hour, with the alternative open Linux server with two vCPUs and 8GB RAM less than €0.12 per hour.
Open architecture for the IaaS solution
T-Systems has based the architecture the OpenStack platform, utilising its open and widely adopted APIs to make integration of existing applications and development of innovations much easier. It also wants to use the public cloud platform to support the emerging IoT market. The Open Telekom Cloud will be set up in T-System's data centre in Biere, which, together with its twin centre in Magdeburg, host almost all of Deutsche Telekom's ecosystem of technology and software partners.
According to analyst firm Pierre Audoin Consultants (PAC), there is significant demand for a Germany-based public cloud solution. "Access to a scalable, inexpensive public cloud provided by a German service provider from a German data center under German law will be very attractive to many customers in Germany," explained Andreas Zilch, SVP at PAC Germany. "The combination of a competitive service and German legal security represents a unique selling point right now."
In the first rollout phase, enterprises can order IT infrastructure and software solutions via a central booking portal in just a few clicks, making resources available in minutes. Later phases will introduce new services. The telco aims to double its revenue from cloud-based services for business customers by the end of 2018. Last year, revenue from cloud services rose by a "significant double-digit figure" at T-Systems.
"We will continue to create differentiating and innovative cloud services to meet the needs of enterprises and the industry, strengthening T-System's leading position," added Dr. Zhang Haibo, Head of Global Public Cloud Solutions at Huawei.
Deutsche Telekom has also announced that it is combining its cloud competencies with those from KPMG to help companies with their digital transformation projects. Working together, the two companies say they can determine which cloud solution is the best match for a given customer's needs and then support the companies as partners for the simple, secure, cost-effective digitization of business processes.
Email Newsletters
Stay up to date with the latest industry developments: sign up to receive TelecomTV's top news and videos plus exclusive subscriber-only content direct to your inbox – including our daily news briefing and weekly wrap.