UK households love new gadgets but they're not rushing to ditch the old ones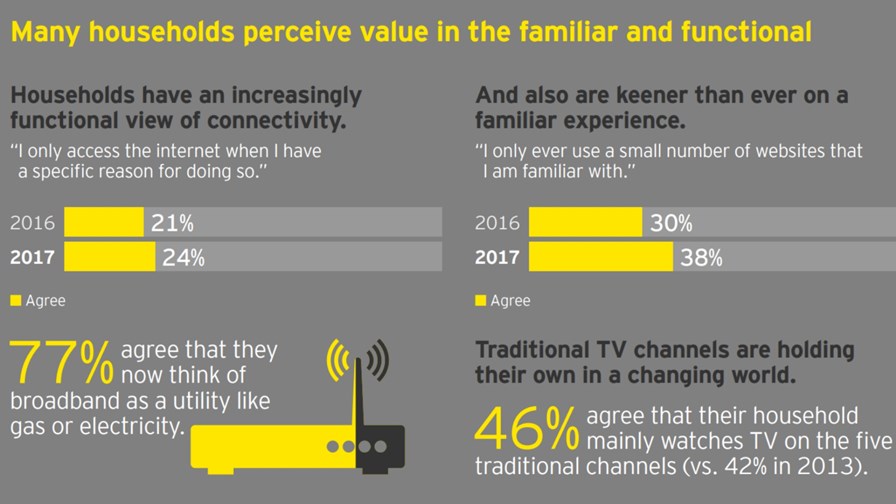 The broadband smart home gets ever greater acceptance
But the old technologies (TV and fixed line telephony) aren't going away
Households recognise digital downsides
EY (formerly Ernst & Young) has completed a survey into household digital behaviour in the UK and reports that, for the first time, the Internet has overtaken the 'telly' as the most watched screen, with 56 % of households spending more time on the Web, up from 49 % recorded by the last such EY survey in 2016.
But if there's a trend to digital there are also signs that increased familiarity is breeding, if not contempt, then certainly a degree of wariness around some of those online impacts. As Facebook has discovered, it's not a one-way street.
First the 'pro' points
45% of households think the internet is very important in terms of working or running a business from home, up from 41% in 2016, so it's not just viewed as an entertainment portal. Nearly half of all the households surveyed are now familiar with the smart home concept as its products become mainstream.
Part of this upside appears to be that households may now be less inclined to see technology as exciting for its own sake. Instead they're taking a more nuanced view of digital 'gadgets' with only 29% agreeing that they were keen on getting them before everyone else, down from 34% last time. In line with this, they now tend to think of broadband as a utility like gas or electricity - this may be an inevitable outcome of being encouraged to swap providers on a regular basis. Householders know from personal experience that one broadband service is pretty much like any other. The important thing is that it work reliably.
Oldies but goodies
What EY insists on calling 'legacy' services (landlines and traditional TV) are holding onto their shares at 40% and 46% respectively, which might indicate that they are not viewed as the pejorative 'legacy' by their users at all. (EY even insists on classifying the PC as a 'legacy' device - not many companies I know have kicked out all their PCs or 'desktop computers' and handed round smartphones as replacements), Still that's a quibble - we know what they mean. The familiar access devices tend to sustain because they meet a need and we all know how to use them.
The downsides
Because of rampant digital usage EY maintains that many households are suffering from 'digital fatigue' and 40% are starting to talk openly of seeking 'down time" or 'digital detoxes'. This figure increases for 18-25 year olds (45%) and 25-34 year olds (50%).
Data privacy and security is another big one. Nearly three quarters of households (71%) are cautious about disclosing personal and financial information over the internet, even when using a site they know and trust. a figure that is up from 61% in 2016 and 52% in 2013.
"Households are enjoying unprecedented levels of connectivity, transforming their social and home lives as well as their viewing and working habits, says Praveen Shankar, Partner and Telecommunications Sector Leader at EY. Companies need to focus on allaying customers' doubts about trust and privacy in order to maintain momentum and growth."
Adrian Baschnonga, Global Lead Telecommunications Analyst, EY says: "This year's findings reveal that not all households are moving at the same speed towards a more digital world. Technology now permeates all aspects of our lives, yet higher levels of convenience are partnered by new sources of anxiety.
"Reliability and security are ever more important considerations for households. As a result, educating and reassuring customers will help build greater trust in the growing range of technology products and services for the home."
Email Newsletters
Stay up to date with the latest industry developments: sign up to receive TelecomTV's top news and videos plus exclusive subscriber-only content direct to your inbox – including our daily news briefing and weekly wrap.