Sonus and Genband claim merger a 'perfect fit' to support industry shift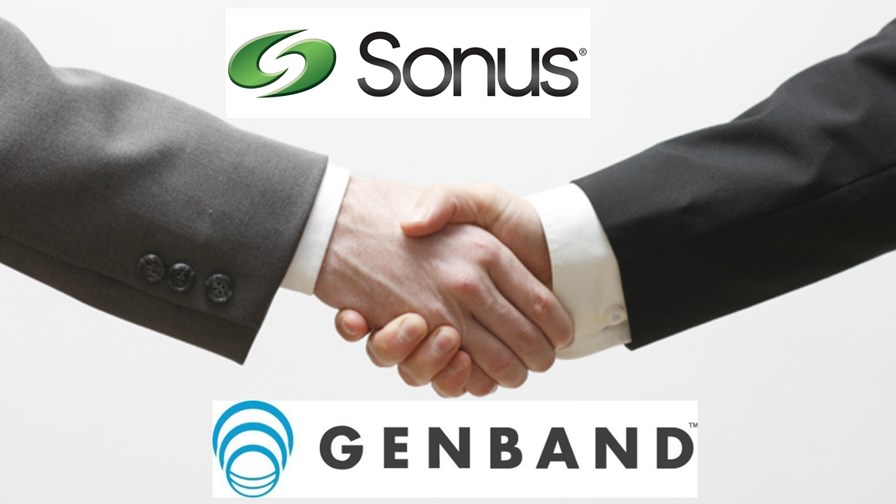 Merger to market leader in real-time communications
Complementary strengths provided merger logic
Both companies have transitioned to support industry transformation to IP and cloud
Genband and Sonus have announced a merger which they say will give the combined company a lead in next-generation communications networking combining Sonus's position in real-time communication virtualization, cloud-based session initiation protocol (SIP) and 4G/voice-over LTE solutions and security initiatives, with Genband's 's network modernization, unified communications, mobility and embedded communications solutions.
The calculation is that together the two companies will be will be better placed to assist with transformations to IP and cloud-based networks for communication for service providers and enterprise customers .
Sonus and Genband shareholders will each own approximately 50 per cent of the combined company. Based on the closing price of Sonus' common stock on May 22, 2017 of $7.79 and estimated net cash at the time of closing, the transaction values the combined company at approximately $745 million.
The two companies' combined 2016 revenue and EBITDA would have been approximately $680 million and $50 million, respectively and the combined company is expected to realize annual cost synergies of $40 million to $50 million by the end of 2018. In combination it is claimed that it will generate at least $100 million in annual EBITDA, with fiscal year 2020 EBITDA projected to be approximately $140 million.
"Together, Sonus and Genband will create a market leader in real-time communications with enhanced capabilities to support our customers' move to cloud-based solutions," said Raymond Dolan, President and Chief Executive Officer of Sonus. "The transaction is expected to generate significant near- and long-term value for shareholders, who we believe will benefit from their ownership in a combined company with increased scale and resources to invest in and accelerate each company's growth initiatives."
David Walsh, Chief Executive Officer and Chairman of Genband, said he was "delighted to combine with Sonus at a time when the world's largest service providers and enterprises accelerate the modernization and transformation of their networks. Like Sonus, Genband has transitioned its business to support this industry shift and we have seen improving profitability over the last couple of years and into 2017. Our heritage and culture fit perfectly together and the combined talent going forward is second to none. This is truly an ideal combination."
Email Newsletters
Sign up to receive TelecomTV's top news and videos, plus exclusive subscriber-only content direct to your inbox.