UK achieves 95 per cent "superfast" broadband coverage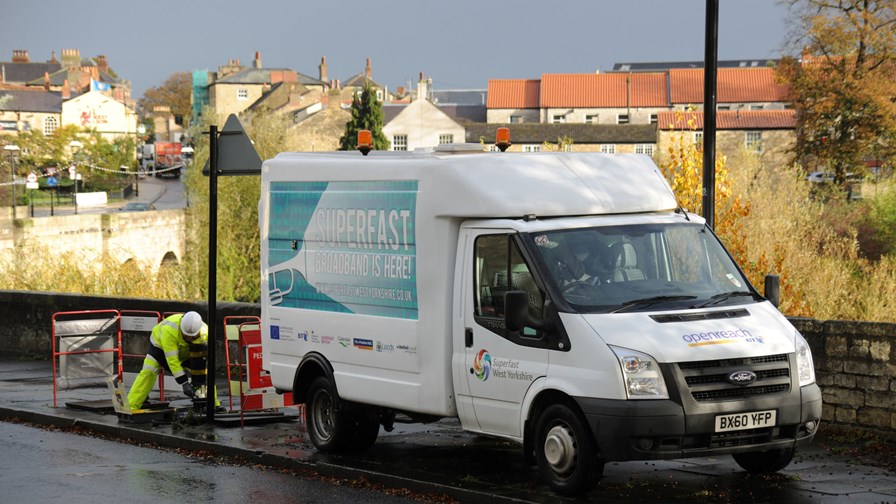 Government says it has delivered on its election pledge for broadband
24Mbit/s broadband now available to 19 out of 20 UK homes and businesses
Openreach says it covered 27m properties between 2009 and December 2017
Openreach CEO reaffirms his commitment to a fully-fibre future
The UK Government has today reported that it has delivered on its commitment to extend superfast broadband to 95 per cent of the UK by the end of 2017. Citing figures published by Think Broadband, it says that more than 19 out of 20 UK homes and businesses now have the opportunity to upgrade their internet connections to speeds of 24Mbit/s or faster (yes, in the UK, that's "superfast"), which is more than double what Ofcom advise is required by a typical family home.
"Over the last five years, the Government's rollout of superfast broadband has made superfast speeds a reality for more than 4.5 million homes and businesses who would otherwise have missed out," said Secretary of State, Matt Hancock. "We've delivered on our commitment to reach 95 per cent of homes and businesses in the UK, but there's still more to do in our work building a Britain that's fit for the future. We're reaching thousands more premises every single week, and the next commitment is to making affordable, reliable, high speed broadband a legal right to everyone by 2020."
The £1.7 billion Government rollout of superfast broadband to areas deemed "not commercially viable" by industry (and delivered in the main by BT's Openreach unit) has so far reached more than 4.5 million UK premises, says the government, the majority of which are in rural areas. It also says this (partial) closing of the digital divide has also delivered a boost to local economies, creating around 50,000 new local jobs and generating an additional £8.9 billion in turnover in the areas covered by the scheme.
The government notes that over 2.25 million homes and businesses have taken up superfast broadband in areas covered by BDUK projects. To date, BT has set aside £477 million to extend coverage over the full lifetime of these contracts. It adds that there will be up to £687 million available for local authorities to re-invest and take superfast speeds to those homes and businesses not already covered by existing plans.
From superfast to ultrafast
"Everyone at Openreach is determined to deliver decent broadband speeds to every home and business in Britain," said Openreach CEO Clive Selley. "Today represents an important milestone in this mission, and it's important for me to recognise the huge contribution of our engineers and planners in what has been a titanic and complex engineering project. More than 27 million homes have been upgraded since 2009, and the UK now enjoys faster speeds, and broader coverage than all of the major EU economies."
Over the last 12 months Openreach says that it has upgraded the network serving more than 774,000 premises across Britain. It adds that it is still working hard to address the remaining not-spots in partnership with government, local authorities and communities, and to deliver the next generation of broadband technologies across the country. The business is currently consulting with its wholesale customers on how to achieve its ambition of making "ultrafast" FTTP (i.e. 100Mbit/s or more) available to 10 million premises by the mid-2020s, and says it will be publishing an update on this process in the near future.
"The Government intends to introduce a Universal Service Obligation, which will give people the right to request broadband speeds of 10Mbit/s by 2020 and we'll be working with the industry including other network operators, Government and Ofcom to deliver this crucial policy pledge," added Selley. "I have been clear that full-fibre is the future and whilst 95 per cent superfast coverage is an incredible achievement, technology never stands still. We want to build a future-proof, large-scale full fibre network that will reinforce Britain's position as a leading digital economy in the world."
"The shift towards full fibre and ultrafast broadband is gaining momentum so it's important the remaining five per cent becomes two per cent in the next couple of years and subsequently an even smaller number," said Andrew Ferguson, editor of the think broadband website. "Those who still have slow broadband are becoming more worried about being left behind, especially with the new full fibre promises making headlines every week."
Email Newsletters
Stay up to date with the latest industry developments: sign up to receive TelecomTV's top news and videos plus exclusive subscriber-only content direct to your inbox – including our daily news briefing and weekly wrap.