Running scared of the regulator, BT at last to spend more on broadband access infrastructure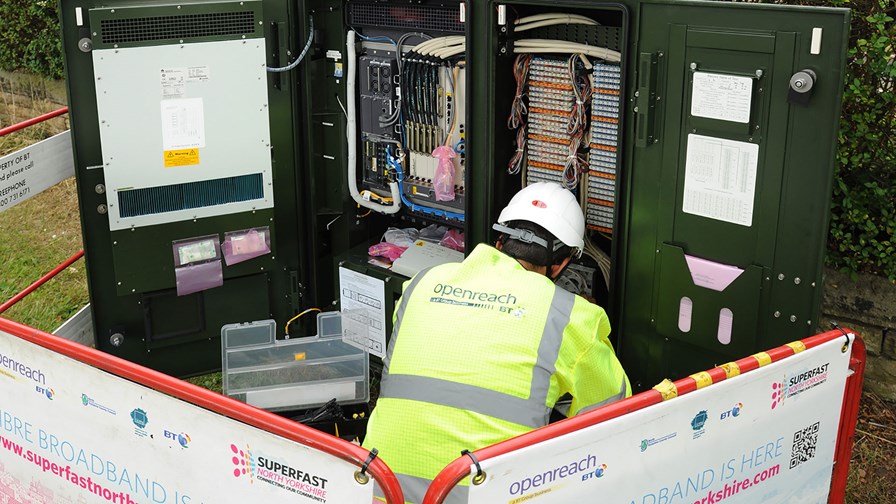 Attempt to make a virtue of necessity.
£6 billion investnment promised over the next three years
Subject to "regulatory certainty": shorthand for "Keep your hands off Openreach, Ofcom!"
Revenues and profits up
This morning the UK's incumbent telco, BT, is making a great deal of fuss about it's newly published plans to invest "billions more" on fibre-based broadband access infrastructure, 4G and, (would you believe it after no more than a few solid decades of subscriber complaints?), you, that grand old chestnut, customer service. In a press release, which on close reading reveals a larding of weasel words like "ambition" rather than straightforward promises to improve its largely poor and very geographically limited broadband infrastructure, the carrier simply ignores the fact that it has been forced, at last, to act by dint of pressure from the UK telecoms regulator, Ofcom.
BT is desperate to hang on to its Openreach wholesale division, a business goose that has laid clutch after clutch of golden eggs for the carrier and helped boost it's balance sheet by billions of pounds. For years on end BT has steadfastly either ignored, refuted or obfuscated over complaints by its competitors such as Sky and TalkTalk, who pay BT to use the "last mile", that it has deliberately underinvested in infrastructure and favoured its own interests while discriminating against rivals.
Eventually, (and it did take an unconscionable time) the complaints finally got the belated attention of Ofcom, a regulator whose bark (well, more of a high-pitched petulant yap really) is definitely worse that its underused bite, which, in the fullness of time (and I mean "full-on fullness"), eventually recommended a form of operational separation between BT and Openreach after finding that the business, whilst supposed to be operating at an arm's length from its parent, was in fact still clasped closely to its matronly bosom and still has an incentive to make decisions in the interests of BT and ensure detriment to its competitors.
Being forcibly structurally sundered from Openreach would hit BT hard. Last year the division accounted for 30 per cent of the revenue of the entire BT group and having employed delaying tactics for as long as it possibly could (and threatening Ofcom with a decade of court cases and litigation should it dare to try fulfill its mandated duty as telecoms regulator) BT, now backed into a corner, is changing tack and has today announced "a further wave of investment to help the UK remain the leading digital nation in the G20."
If you didn't notice that first wave, you are not alone. To quote the incomparable Marriot Edgar in his poem "Albert and the Lion", "They didn't think much to the ocean. The waves, they was fiddlin' and small. There was no wrecks... nobody drownded.'Fact, nothing to laugh at, at all."
There's "promises", and then there's "ambitions"
So BT Openreach and the newly acquired EE will spend "around six billion pounds in capital expenditure over the next three years." This, we are told, is the first phase of a plan "to extend superfast broadband and 4G coverage beyond 95 per cent of the country by 2020."
The press release continues, "Ultrafast broadband will be deployed to a minimum of ten million homes and businesses in the same period, subject to regulatory support, with an ambition to reach twelve million. Note that "with regulatory support", that's a big carpet under which can be brushed all sorts of rubbish, including promises. Note also the "ambition" to "reach twelve million".
There is also to be "an increased focus on Fibre to the Premises (FTTP) technology within the plan with the aim being to reach two million premises with the technology, mainly in new housing developments, high streets and business parks".
"Customer service will be another area of focus with the company revealing a series of new initiatives to better meet the evolving needs of its customers." Perhaps they can start by having a human being answering the phone when a subscriber rings in with a problem and then actually doing something about it.
Gavin Patterson, the CEO of the BT Group commented "Customer expectations are increasing all the time and we need to work hard to meet those new demands. That is why contact centre work is being returned to the UK and why Openreach is aiming to halve the number of missed appointments within a year. Customers want higher standards of service and we are determined to provide them with just that." Well better late than never, but believe it when to you see it.
After all, it took an awfully long time for it to sink in and action to be taken. BT's call-centres in India have long been a major bone of contention where customers are concerned and Openreach's miserable record of missed appointments and its average 48-day gap between order placement and (hopeful) fulfillment is justly infamous.
However, better service is now promised - or at least an ambition - and "a range of new initiatives" will see "BT Consumer set to reduce the standard time to fix line faults by 24 hours (not "TO 24 hours" you'll note). The company also "pledges" to handle 90 per cent of customer calls in the UK by March 2017. Yippee!
Mr. Patterson added, "The UK is a digital leader today and it is vital that it remains one in the future. That is why we are announcing a further six billion pounds of investment in our UK networks, subject to regulatory certainty. That is not particularly subtle code for "We'll only do this if Ofcom backs down from calls for us to divest ourselves of Openreach."
Ofcom may be backing off, but the EU regulator is made of sterner stuff
The new investment plan was announced simultaneously with BT's full-year earnings report to March 31 this year. It shows a 15 per cent rise in pre-tax profits to £3.03 billion and revenues up by six per cent to £18.9 billion. The results also show that the £12.5 acquisition will cost BT some £550 million in integration costs.
So, BT remains a highly profitable telecoms behemoth and also a quasi-monopoly as far as the last mile is concerned and is determined to avoid a regulator-imposed structural separation of Openreach from the parent company, hence the disclosure in today's results that BT has proposed to Ofcom that the two parties should come to a "voluntary agreement" that would avoid "a prolonged period of uncertainty for the industry." (code again, this time for increased certainty for the industry but the demise of BT's beloved golden goose).
More than anything else BT is scared stiff that Ofcom might yet refer the Openreach problem to the European authorities. The result of an investigation by Brussels would almost certainly result in enforced structural separation and BT knows it. That's why it is now coming over all sweetness and light and making promises - or at least listing some ambitions.
And one last thing; today's results show that the BT pension is in net deficit to the tune of £5.2 billion net of tax. It's a massive black hole that will take some filling and BT will have to fill it at some time or other - unless it has ambitions there too?
Make no mistake, BT isn't doing any of this out of altruism and a commitment to foster competition, it's doing it because if it doesn't the Sky and other bits and pieces might actually fall on it and cause some serious headaches.
Email Newsletters
Stay up to date with the latest industry developments: sign up to receive TelecomTV's top news and videos plus exclusive subscriber-only content direct to your inbox – including our daily news briefing and weekly wrap.